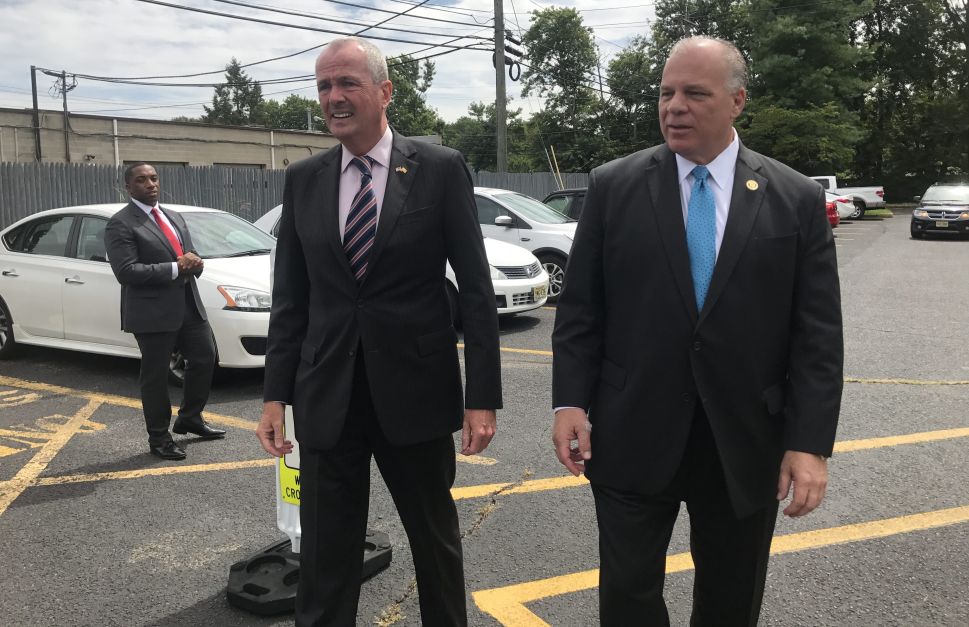 Independence Day is still a month away, but talk coming out of Trenton these days is making it appear more likely New Jersey residents will go into the holiday facing another shutdown of state services.
On Thursday, Senate President Steve Sweeney said he'd be willing to force a governmental shutdown to win passage of his plan to reform the way school funding is distributed. And on Friday, Gov. Phil Murphy ordered state departments to begin drawing up plans in preparation for such a shutdown.
Murphy's order came after a Friday morning meeting between top aides representing his office and legislative leaders ended in acrimony, with Murphy's representative leaving the room and slamming the door, according to POLITICO. The source of the friction had been Sweeney's school funding plan, according to reports.
The plan establishes a seven-year timeline for shrinking aid to schools that are overfunded according to the state funding formula and shifting it to underfunded districts with growing enrollments. Sweeney contends the plan gives the overfunded districts time to gradually raise taxes to make up for the reduced funding while also trimming costs and eliminating positions through attrition.
The plan, however, is opposed by some education advocates and by the New Jersey Education Association, the state's powerful teacher's union.
Murphy and the legislature are also feuding over Murphy's plans to raise more than $1.5 billion in new taxes. The governor is calling for a millionaires tax and a hike in the state sales tax, as well as new taxes on ride- and home-sharing services. He also wants to legalize and tax the recreational use of marijuana.
Sweeney and Assembly Speaker Craig Coughlin have said they're opposed to raising the sales tax. Sweeney, who in the past has supported a millionaires tax, has warned that the recent GOP federal tax overhaul has hit New Jersey residents hard. He says a millionaires tax will drive wealthy residents from the state.
Sweeney playing hardball also forced Murphy to order an immediate freeze on state spending and hiring, according to NJ.com.
That's because the senate president has said he won't support a plan to shift funds from one area of the budget to another unless Murphy restores $123 million in legislative spending priorities to the budget. Murphy had cut the items in his budget proposal, the report said.
While Sweeney and Murphy, the state's two top Democrats, have never been close, the budget fight has highlighted just how fraught their relationship is.
One thing angering Sweeney is a pro-Murphy group's plans to air advertisements promoting the governor's progressive agenda. While the ads don't mention the legislature, Sweeney views it as an attempt to pressure lawmakers during the budget negotiations, according to POLITICO.
Murphy has dismissed those concerns, the site reported.
The governor and legislature must agree on a new budget by June 30, or face a shutdown.
Last year, the state government shut down for three days over the Independence Day weekend after Republican Gov. Chris Christie and the Democrats battled over the spending plan.
Quote of the Day: "If you are the governor, you have to figure out how to bring people together. If things fall apart, it's your fault, 100 percent." — Republican Assembly leader Jon Bramnick, on Gov. Phil Murphy and the possibility of a state government shutdown.
Phil Murphy Signs Law to Combat Surprise Medical Bills
Gov. Phil Murphy signed a bill into law on Friday to combat expensive surprise medical bills that cost New Jerseyans hundreds of millions of dollars each year.
Christian Hetrick, Observer Read more
Murphy prepares for state shutdown after high-level budget talks end in drama
New Jersey moved closer to the second state government shutdown in as many years Friday as Gov. Phil Murphy's administration froze state spending and ordered departments to prepare for the worst possible outcome.
Politico Read more
Is N.J. really headed for another government shutdown? Here's a look at the drama unfolding
You might not be able to pinpoint the exact moment in recent months when a second straight state government shutdown in New Jersey became a possibility. But there's no question Friday is the day it went from maybe to menacing.
NJ.com Read more
Phil Murphy orders immediate spending, hiring freeze
Gov. Phil Murphy's administration on Friday ordered an immediate freeze of state spending and hiring — all because of an esoteric accounting maneuver caught up in charged state budget talks.
NJ.com Read more
Moran: Sweeney v. Murphy: The duel is arranged
When Gov. Chris Christie ran the show in Trenton, his fellow Republicans were so obedient it was creepy to witness, like watching a zombie movie.
NJ.com Read more
Sweeney's Fix For School Funding Could Cut Some District's Adjustment Aid
With only weeks to go before the next state budget needs to be adopted, Senate President Steve Sweeney has proposed new legislation that would rework New Jersey's school-funding law to get more money to school districts where state aid hasn't been keeping pace with enrollment.
NJSpotlight Read more
Chris Christie: 'Outrageous claim' that Trump cannot obstruct justice
Former New Jersey Gov. Chris Christie knocked the claim from Donald Trump's legal team that, by nature of his office, the President cannot obstruct justice and could simply shut down the Russia investigation altogether.
CNN Read more
Hold onto your hats, Jersey! We're in for one nasty Senate race between Menendez and Hugin.
U.S. Sen. Robert Menendez is "leading a lavish lifestyle courtesy of corruption." Former Celgene Corp. executive Bob Hugin is a "greedy drug company CEO."
NJ.com Read more
Menendez: Hugin's money could make a dent
U.S. Sen. Bob Menendez isn't taking anything for granted.
While he's running for reelection against a Republican for statewide office in a decidedly-blue state, he acknowledges that the money of Republican front runner Bob Hugin could make the election less than a sure thing.
New Jersey Globe Read more
As New Jersey's Democratic Primaries Take Center Stage, Some Progressives Feel Squeezed Out
At this stage in her Democratic primary campaign, Tanzie Youngblood has mastered the politician's art of interrupting strangers in diners to talk about politics. Approaching slowly and clutching a campaign pamphlet with her image, she leaned over and quickly shifted the conversation from what to order to universal health care.
New York Times Read more
NJ elections 2018: Why our primaries matter nationwide and what to know before you vote
From Alpine to Cape May, New Jersey contests for U.S. House seats this year could help determine whether Democrats pick up the 23 Republican-held districts they need to win a majority.
The Record Read more
Steve Lonegan, John McCann play the Trump card as GOP primary for NJ congress seats looms
John McCann and Steve Lonegan both want to build a wall, and both want to outlaw sanctuary cities. They are opposed to an assault weapons ban in response to recent massacres and school shootings. And they believe cutting taxes stimulates the economy.
The Record Read more
Sherrill takes some punches and holds on to her cash
The race for the Democratic nomination in the 11th district has taken something of a sour turn in recent weeks, but the Mikie Sherrill, the target of much of the negative campaigning has not made such a shift herself.
New Jersey Globe Read more
Dover's election ballot won't add Spanish instructions, Morris judge rules after challenge
A Superior Court judge has rejected a challenge to the English-only official election ballot in Dover, the Morris County town most populated by Latinos.
Daily Record Read more
Like Christie, Murphy's DEP says no to Superfund for Pompton Lakes cleanup
Gov. Phil Murphy's administration has no plans to seek Superfund status to speed cleanup of a contaminated plume and former DuPont munitions site in Pompton Lakes, despite pleas for such action from many residents who must live with the cancer-causing pollution.
The Record Read more
Oliver preaches the importance of diversity, inclusion in the workplace
For Lt. Gov. Sheila Oliver, the key to business success is simple: diversity and inclusion.
ROI-NJ Read more
Advocates embark on 300-mile NJ walk supporting licenses for undocumented immigrants
About a dozen immigrant advocates embarked on a 300-mile walk across New Jersey on Friday to generate support for legislation that would let people who are living in the country without authorization apply for and receive state driver's licenses.
The Record Read more
NJ Transit delays loom as agency struggles to hire engineers to drive trains to NYC
Officially, NJ Transit rail passengers will endure six months of modified schedules starting next week because of work on a required safety system the agency needs to complete by December.
The Record Read more
This county is booming, but most Shore areas haven't recovered their mojo. Here's the breakdown
New Jersey's population hit a major milestone this year: 9 million residents, a number it's been flirting with since 2013. And with the release of the latest population estimates from the Census, some cities should be celebrating, too. Hudson County is booming, Central Jersey is steadily thriving and Newark and Jersey City are battling it out for the title of largest city in the state.
NJ.com Read more
Gov. Phil Murphy: Fight those who push against LGBTQ inclusion in NJ
Donning a rainbow colored lei, Gov. Phil Murphy pledged to make New Jersey a "beacon of inclusion and a model of diversity" while speaking at a fundraiser for the state's largest LGBT advocacy organization.
Asbury Park Press Read more
The cop in the Wildwood beach arrest that went viral on video was a temporary officer. Jersey Shore towns use them every summer
A viral video of a violent clash between a young woman and a temporary Wildwood police officer on the beach on Memorial Day weekend highlights the difficulties for New Jersey Shore towns as summer brings with it out-of-town crowds.
Inquirer Read more
Mayor Trashes Woman As Wildwood Takes Tourism Hit From Arrest Video
Mayor Ernie Troiano said people have been canceling their summer vacation at this shore resort after seeing video of police tackling and punching a 20-year-old woman on the beach on Memorial Day weekend.
NJ101.5 Read more
Mulshine: Wildwood daze: In civilized places, drinking on the beach is no big deal
I imagine you saw that scrum involving a Philadelphia woman and the Wildwood police that went viral on the internet.
NJ.com Read more
Town's gun-sale restriction plan draws fire from the NRA
The battle over gun control is coming to Piscataway amid a contentious Democratic primary, as local officials weigh an ordinance that would make it very difficult for weapons retailers to set up shop in the township.
NJ.com Read more
Glen Rock superintendent says schools are safe despite police radios not working inside
Glen Rock's superintendent reassured residents that the local schools are safe following discussion by the Borough Council that police radios do not work inside the buildings.
The Record Read more
'Mother Teresa of Camden' helping city's children fulfill dreams
Several years after arriving in North Camden in 1991 to teach second grade, Sister Helen Cole found a new calling: counseling families devastated by violence.
Inquirer Read more
Activists march against gun violence from Somers Point to Ocean City
The last straw for Janet Yunghans was the Valentine's Day shooting at Marjory Stoneman Douglas High School in Parkland, Florida, when 17 people were killed.
Press of Atlantic City Read more
PSEG Plans to Spend More Than $5 Billion on Power Grid Upgrade
Public Service Electric & Gas plans to align its capital spending with state energy policies by filing requests to invest $2.9 billion on a clean-energy initiative and $2.5 billion to upgrade its power grid.
NJSpotlight Read more
Corporate raiders ruined lives as they destroyed Toys 'R' Us, politicians say
Following the announcement that bankrupt Toys 'R Us would close all its stores and layoff its 33,000 employees — including 1,600 people at its New Jersey headquarters and 11 other locations — the state's two U.S. senators and a House colleague on Friday called on the chain's owners to "support" those workers any way they can.
NJ.com Read more
Alleged no-show job scam another black eye for Edison police
When news came out Friday of five more officers charged with official misconduct over alleged no-show jobs, one of the first commenters chimed in with a familiar retort: "ah yes… Edison again!"
NJ.com Read more
'Trenton Makes' Bridge Now In Neon Lights
The iconic "Trenton Makes" bridge was lit with new state-of-the-art letters on a special anniversary on Thursday night.
NJ101.5 Read more
'We're all Freehold': Why one borough resident started the Unity Walk
When Shauntelé Patterson first moved here from Sayreville four years ago, she didn't know the difference between the borough and the township.
Asbury Park Press Read more
Stafford GOP primary: 14 candidates fighting for 7 seats
Fourteen candidates are competing to win Republican nominations for seven seats on the Township Council — which includes the mayor's office — in Tuesday's GOP primary election.
Asbury Park Press Read more
Editorial: Make plans now to improve school bus safety
Another school year is ending across New Jersey, and as the semester winds down it is time for school administrators, superintendents and boards of education to once again start asking hard questions, and assessing their existing academic and administrative protocols before the 2018-2019 academic year rolls around.
The Record Read more