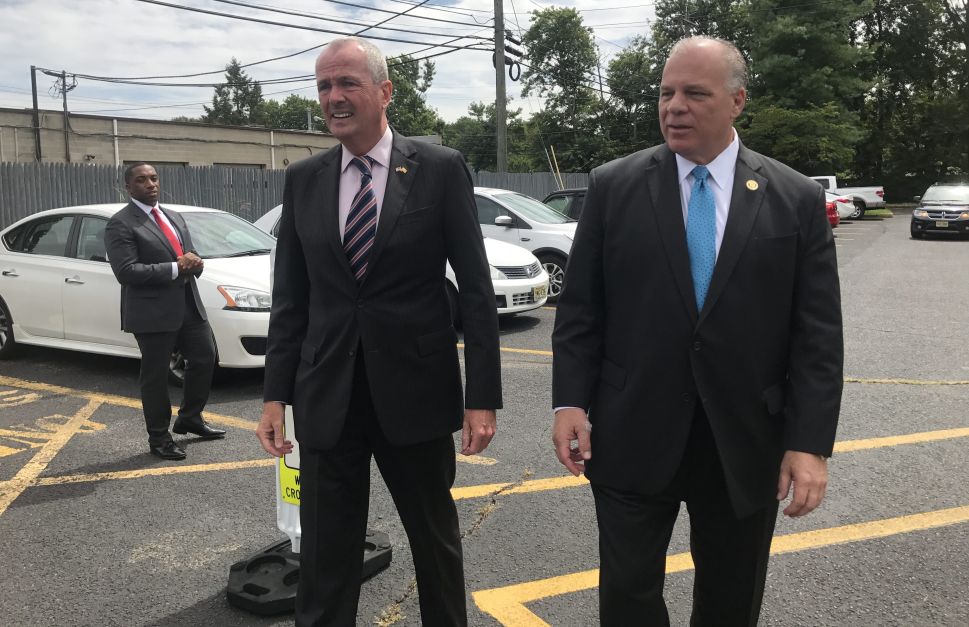 Democratic legislative leaders on Wednesday turned down Gov. Phil Murphy's offer to strike a budget deal and instead offered a budget compromise of their own.
Senate President Steve Sweeney and Assembly Speaker Craig Coughlin are proposing a tax on short-term rentals that's expected to raise $250 million and $110 million in higher taxes on sales of homes worth at least $1 million. The plan also keeps in place a proposed hike in corporate taxes, but extends that plan for four years instead of the two originally proposed.
Murphy, however, has indicated he doesn't support the rental tax, which would affect vacationers along the New Jersey shore, according to a report by NJ 101.5
But both sides said they remained confident a budget deal can be reached before Sunday morning. Failure to reach a deal is likely to trigger a state government shutdown.
While most of the attention around the budget has been focused on competing tax plans, a report in NJSpotlight details how failure to reach a compromise could impact tax breaks that both sides in the fight say they support.
These include a three-year expansion of the Earned Income Tax Credit for low-wage workers in New Jersey, establishment of a new state income-tax credit for child and dependent-care expenses, a hike in the state income tax write-off for property taxes and restoration of funding for the Homestead Property Tax relief program.
Quote of the Day: "If people come with goodwill on all sides, and I have no reason to believe there isn't, I think we can solve this in 30 minutes." — Gov. Phil Murphy, on adopting a state budget.
NJ government shutdown 2018: Wednesday meeting canceled as Murphy reviews proposals
Another day closer to the budget deadline threatening to shut down state government, first-year Gov. Phil Murphy expressed optimism Wednesday that a deal could be hammered out — and quickly.
The Record Read more
Latest Tax Plan Calls for Tax on Short-Term Shore Rentals
Democratic legislative leaders want to raise taxes on short-term vacation rentals, like those common along the Jersey Shore, and sales of million-dollar homes in their latest counter to Gov. Phil Murphy's budget plan.
NJ101.5 Read more
Tax on shore rentals? I don't like it, Phil Murphy says of Dem leaders key budget offer.
A core piece of a legislative counterproposal to Gov. Phil Murphy's budget that would tax short-term rentals is a no-go with the governor.
NJ.com Read more
NJ Budget Battle: Tax Breaks Also At Stake
Several tax hikes that could be enacted with the state's next budget have gotten a lot of attention in recent weeks, but a number of proposed tax breaks are also at stake in the ongoing budget talks between Gov. Phil Murphy and legislative leaders.
NJSpotlight Read more
Here's what's open during in New Jersey during a government shutdown
A possible state government shutdown at midnight on June 30 has the potential to ruin Independence Day plans throughout the state because state parks, golf courses and marinas would be closed.
The Record Read more
How NJ Legislature almost made a $7 billion tax mistake
Last Thursday, as Democratic lawmakers scrambled to pass a $36.5 billion spending plan in defiance of Gov. Phil Murphy, they also rushed through an inscrutable, 24-page bill meant to raise the corporate tax rate and help balance the budget with about $915 million in new revenue.
The Record Read more
Jersey City payroll tax waiting for gov's signature
The proposed Jersey City payroll tax awaits Gov. Phil Murphy's signature, but it's unclear whether it will become law.
NJ.com Read more
Supreme Court deals blow to NJ's public unions, setting up battle with conservatives
The U.S. Supreme Court dealt a blow to organized labor Wednesday when it reversed a 41-year-old precedent allowing unions representing government employees to collect fees from workers who choose not to join.
The Record Read more
N.J. pension has $18M invested in alleged Superfund deadbeat. That may soon change.
The Passaic River in Newark remains a mess, so toxic from industrial dumping that people are forbidden from eating the fish and crabs they catch there, and the water is still years away from being cleaned up.
NJ.com Read more
Spearman wins Assembly seat
Former Camden City Councilman William Spearman was elected to the New Jersey State Assembly tonight, winning a special election convention to fill the vacancy caused by the resignation of Arthur Barclay last week.
New Jersey Globe Read more
In 2018 NJ election, Democrat Mikie Sherrill edges Republican Jay Webber in poll
Though both are unknown by many voters, Democrat Mikie Sherrill holds a slight edge over Republican Jay Webber in the 11th District race that is crucial to Democrats' hopes of retaking the House, according to a Monmouth University poll released Wednesday.
The Record Read more
Recall? Thousands of petitions try to take down N.J. mayor
Voters in Mahwah may get to decide in November whether Mayor Bill Laforet keeps his job.
NJ.com Read more
Legislature Set to Advance Contentious Nursing Home Staff Bill
When Sherry McGhie started in nursing-home care nearly 30 years ago, she was responsible for roughly half the number of residents she is today, and far fewer faced mobility challenges or mental illness. Staff had time to provide proper care and companionship to all the seniors under their watch, she recalled.
NJSpotlight Read more
Lakewood SCHI: School founder attacks state AG's 'chest thumping' in charges
Armed law enforcement officers returned to the controversial School for Children with Hidden Intelligence in Lakewood in April, seeking more financial records in an ongoing public corruption and theft investigation.
Asbury Park Press Read more
Thousands Across NJ Will Protest Immigration Policy on Saturday
At least 16 demonstrations will be held in New Jersey on Saturday to protest President Donald Trump's "zero tolerance" policy on illegal border crossings, particularly the administration's policy of separating children from their parents at the border.
NJ101.5 Read more
State Starts to Wind Down Program To Encourage Solar Installations
The state is beginning to phase out the way it has promoted solar energy in New Jersey, a program that has come under intense scrutiny because of its high costs to utility customers who bear the brunt of its expense.
NJSpotlight Read more
Confidential documents suggest Horizon misled public on how it picked hospitals for OMNIA program
When the OMNIA line of health plans were introduced in 2015 with the promise of revolutionizing health care options in the state, Horizon Blue Cross Blue Shield of New Jersey said it was offering consumers high quality care at the lowest price.
NJ.com Read more
Regional heroin sweep pushed addicts into treatment, attorney general says
A one-week, multi-county police initiative that nudges recently-arrested heroin addicts into detox met with astounding success earlier this month, securing treatment for more than 80 percent of the drug users authorities picked up, the state attorney general said Wednesday.
The Record Read more
Cop's guilty plea on drug charge prompts Paterson's next mayor to suggest police cameras
Mayor-elect Andre Sayegh, reacting to Wednesday's criminal conviction of a city cop, said his administration would look into installing dashboard cameras in police vehicles and possibly getting body cameras for officers.
The Record Read more
Margate beaches not 'ruined,' experts say
Dune construction on Margate's beaches did not ruin them, three experts from the State of New Jersey, the Army Corps of Engineers, and Stockton University said Wednesday.
Inquirer Read more
Red Bank council puts puppy sale ordinance on hold
A public hearing scheduled for Wednesday night on a controversial pet shop ordinance is being put off until July 18, according to sources on both sides of the debate.
Asbury Park Press Read more
Here comes Amazon—Burlington County prepares for traffic with a $10 million road project
Burlington County is launching a $10 million road project to prepare for an anticipated increase in truck traffic when Amazon opens a 1 million square foot distribution center in the area this year.
Inquirer Read more
Atlantic City Hard Rock, Ocean Resort open
Two new Boardwalk casinos that were due to reopen Thursday started taking bets from gamblers a day early.
Press of Atlantic City Read more
Editorial: Court delivers flawed ruling on public worker rights
Anyone who follows politics or policy debates in New Jersey is well aware of the political heft public sector unions carry in New Jersey. The question now is whether that heft will remain the same in the aftermath of the Supreme Court's long-anticipated and costly decision in the so-called Janus case out of Illinois.
The Record Read more