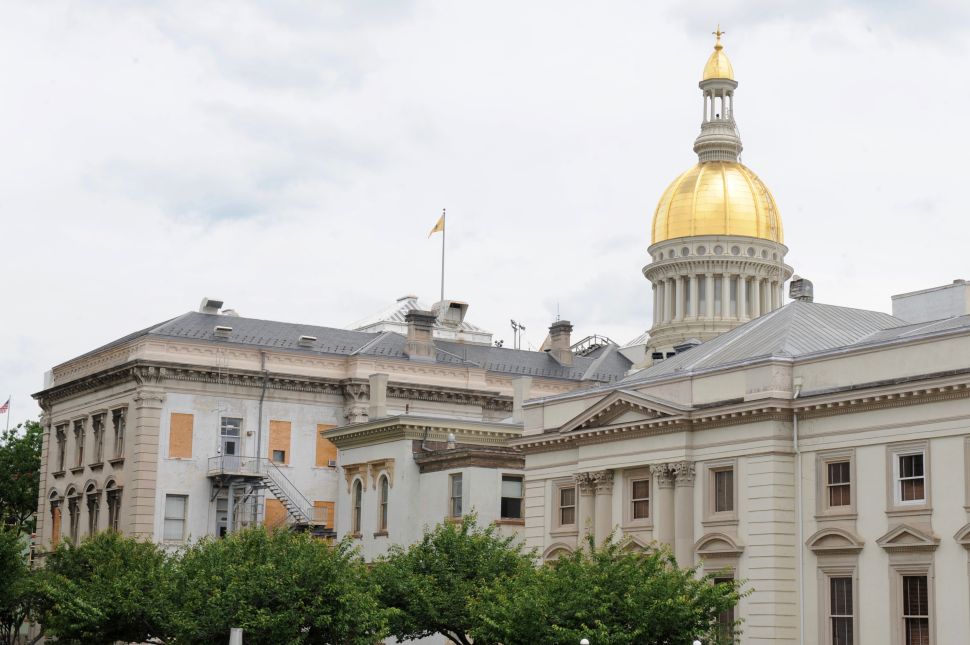 It was a day of drama and action in the state house Thursday, as the Democratic legislature passed a $36.5 billion state budget after legislative leaders failed to reach a compromise on the spending plan with Democratic Gov. Phil Murphy.
Murphy, whose competing $37.4 billion budget plan calls for $1.5 billion in new taxes, accused legislators of perpetuating the short-term fiscal policies of former Gov. Chris Christie.
Murphy wants to impose a millionaires tax, raise the state sales tax, impose new taxes on internet purchases, as well as ride- and house-sharing services, and legalize and tax marijuana. Murphy's plan calls for increased school funding, more aid for NJ Transit, free community college for low-income students and expanding the state's pre-k program.
Senate President Steve Sweeney and Assembly Speaker Craigh Coughlin oppose both the millionaires tax and sales tax hike and are pushing an alternative plan that would temporarily raise taxes on corporations. They contend raising taxes will just increase the flight of residents from the state.
No matter which budget is adopted, it's likely New Jersey residents will face a new tax on online purchases, since the U.S. Supreme Court cleared the way for such a measure with a ruling Thursday.
Residents are also likely to be hit with a shopping bag tax, as the legislature passed a measure to impose a 5-cent fee on both plastic and paper shopping bags. While the fee is ostensibly meant to reduce plastic pollution, it would also seem to discourage use of paper bags. And 4-cents of the fee will go to state coffers. The money is supposed to be used to fund lead abatement programs, but the legislature has already inserted language into the bill allowing them to use the money to plug holes in the regular budget.
Murphy seems intent on linking the Democrats to Christie, the two-term GOP governor who left office with record-low approval ratings following the Bridgegate scandal and a failed presidential bid. But Murphy, who was ambassador to Germany during much of Christie's first term, also seems to forget that residents gave the former governor the high approval ratings during that time, when he teamed with Sweeney and other Democrats in the legislature to enact measures aimed at addressing the state's crushing tax burden.
Murphy, a millionaire who campaigned for his first elected office on a pledge to aid the state's middle class, contends residents won't mind paying more in taxes if they feel they are getting good value for their money. Critics claim Murphy is more interested in establishing his progressive credentials for a future presidential run than actually addressing problems affecting most state residents, a charge the governor has repeatedly denied.
Quote of the Day: "It's just unthinkable that they would do that, because the New Jersey pension system is the worst-funded pension system in America. How can legislators having to deal with this tremendous problem be giving themselves more at the same time?" — Steven Malanga, a fellow at the conservative Manhattan Institute on a measure that would make it easier for some state politicians to boost their public pensions.
Paper or plastic? NJ lawmakers pushing a 5-cent fee on both, angering environmentalists
Single-use plastic and paper bags would be slapped with a 5-cent fee under a bill being rushed through the Legislature amid frenzied negotiations over a roughly $37 billion state budget.
The Record Read more
Lawmakers Look to Divert Funds Before State Has Money in Hand
The Legislature is poised today to impose a 5-cent fee on single-use carry-out bags, but the money may not end up in a lead abatement program as originally intended.
NJSpotlight Read more
N.J. Democrats are battling over budget because Murphy wants to be president, top Republican says
A top Republican state lawmaker says there's a reason Gov. Phil Murphy is battling with his fellow Democrats over the state budget: He's planning to run for president.
NJ.com Read more
N.J. teacher pay among highest in U.S. But some say that paycheck isn't enough to survive
New Jersey has the fifth highest teacher salaries in the nation, but some educators in the Garden State are still struggling to get by, according to an informal survey by NJ Advance Media.
NJ.com Read more
NJ lawmakers once again moving quickly to boost pensions for some of their own
New Jersey lawmakers are rushing ahead with a bill that would boost retirement benefits for their colleagues as they plan votes on a budget that likely means a state government shutdown, all while the pension system remains one of the nation's most troubled.
The Record Read more
NJ remains on verge of shutdown as budget bill heads to Phil Murphy
New Jersey remains on the verge of the second state government shutdown in as many years after Democrats who control the Legislature approved a budget bill Thursday that Gov. Phil Murphy has vowed to veto.
The Record Read more
Senate Dems Pass $36.5 Billion Budget Alternative, with Help from Bateman and Corrado
Following futile talks with Governor Phil Murphy, one in the morning and one in the afternoon, the state Senate this evening proceeded with passage of its own $36.5 billion budget as an alternative to Murphy's version.
InsiderNJ Read more
Senate Passes Corporate Business Tax Hike with 21 Votes
The Senate passed the corporate business tax hike complement to the budget bill by a party line vote of 21-19.
InsiderNJ Read more
Budget talks fall apart again after Murphy, lawmakers meet twice
Budget talks between Gov. Phil Murphy and legislative leaders stalled again on Thursday, prompting lawmakers to push ahead with their own spending plan as the governor blasted his fellow Democrats as irresponsible fiscal stewards.
Politico Read more
Murphy waving GOP senators off budget
Phil Murphy's making calls.
The governor has been reaching out to Republican senators to try to stop any GOP votes that might otherwise go to Senate President Steve Sweeney's budget.
New Jersey Globe Read more
NJ shutdown: Phil Murphy, top lawmakers talk budget compromise with eye on tax surprise
With nine days to approve a budget, New Jersey's top lawmakers and Gov. Phil Murphy came no closer to reaching a deal over tax increases that would avert the second government shutdown in two years and pump more money into schools and trains.
The Record Read more
Supreme Court ruling on online sales tax could mean windfall for New Jersey
A Supreme Court ruling Thursday means consumers will find themselves paying sales tax on more of their online purchases, but it is also expected to be a windfall for New Jersey and other cash-strapped states.
The Record Read more
Phil Murphy wants to make it a lot more expensive to buy a gun in N.J.
Gov. Phil Murphy is proposing to significantly hike fees for buying and selling firearms in New Jersey, a move that would raise the cost of gun permits and licenses for the first time in half a century and likely trigger a legal challenge from Second Amendment advocates.
NJ.com Read more
Money Drains as Lawmakers Slow to Approve Refinancing of NJ Transportation Debt
Cash-starved New Jersey has a chance to save nearly $250 million by refinancing a significant amount of its transportation debt, but state lawmakers have yet to give their legally required approval of the deal.
NJSpotlight Read more
Will N.J. get legal weed this year or what? Here's what we know.
Shortly after Gov. Phil Murphy was elected, lawmakers said they wanted to get weed legalized in his first 100 days.
NJ.com Read more
After Trenton Shooting, NJ Looks to Crack Down on Stolen Guns
In the wake of the Art All Night shooting spree earlier this week, efforts are being fast-tracked in the state Legislature to crack down on a certain type of gun crime.
NJ101.5 Read more
Unintended political consequences
Senate President Steve Sweeney's non-plan plan to merge 191 of New Jersey's smallest municipalities could have some unintended political consequences:
New Jersey Globe Read more
Woman says she lost two jobs because of Democratic chair fight
West New York's former health officer alleges in a new lawsuit that she was fired from that job and lost a second job in Guttenberg as part of the intra-Democratic war related to the recent county Democratic chair fight.
Jersey Journal Read more
GOP chairman slams Grossman
Seth Grossman's statements on race may have killed his chances of earning party support after his surprise victory in the second congressional district's Republican primary earlier this month.
New Jersey Globe Read more
Murphy to Undo Contentious Christie Makeover of Mental Health Addiction Services
Just eight months after a controversial government reorganization of an array of mental health and addiction services, oversight of those programs will return to the Department of Human Services, under a plan the Murphy administration is expected to unveil today.
NJSpotlight Read more
Uncorking the Cap: Law Would Make It Easier for NJ Drinkers to Get Wine Shipments
Six years ago, the New Jersey Legislature relented and joined most states in allowing residents to have wine shipped to their homes. But unlike most other states, there was a catch: Jerseyans could only get delivery of wine from small wineries.
NJSpotlight Read more
New Jersey to join multi-state lawsuit against Trump over family separations
New Jersey plans to join nine other states and the District of Columbia in suing the Trump administration to challenge a policy that led to the separation of children from their parents at the southwestern border, Attorney General Gurbir S. Grewal announced Thursday.
The Record Read more
Toms River Orthodox synagogue supporters: Change zoning or we may sue
Time is running out for Toms River officials, say foes of a measure that requires a minimum of 10 acres to build a house of worship in the township.
Asbury Park Press Read more
Judge under fire for allegedly lying to help friend win custody of child for Mother's Day
A state Superior Court judge in Passaic County is facing removal from office for allegedly aiding a friend in a child custody dispute, lying to authorities and manipulating phone records to cover her tracks, a panel of judges told the state Supreme Court.
The Record Read more
Judge: Rockaway Township councilman can't sue mayor over 'lawful' health benefits
A judge has dismissed a legal request by Councilman Tucker Kelley to sue the mayor along with one current and seven past council members for receiving taxpayer-funded health benefits for part-time positions.
Daily Record Read more
Paterson whistleblower gets $175,000 settlement in air quality lawsuit
The school district's former occupational health officer is getting $175,000 to settle a lawsuit in which she claimed she was fired over her attempts to expose potential air quality problems at various Paterson schools.
The Record Read more
Teen Sought Gun to Shoot Up Graduation
A student at New Egypt High School had planned to shoot his fellow classmates at their graduation and was looking to buy the weapon to carry out the killing spree, according to the Ocean County Prosecutor's Office.
NJ101.5 Read more
JCP&L controversial Monmouth power line faces final vote
Jersey Central Power & Light's quest to build an $111 million high voltage line between Aberdeen and Red Bank is coming down to the wire.
Asbury Park Press Read more
Burlington City's waterfront to sparkle decades after land was cleared of rowhouses, factories
Claudine Conaway vividly remembers growing up and raising a family in a Burlington City rowhouse by the Delaware River, only to be forced out with her neighbors — more than 100 African American families — to make way for urban renewal more than 40 years ago.
Inquirer Read more
Three Woodland Park sites eyed for affordable housing developments
The borough could one day be home to a site similar to the Fair Lawn Promenade on Route 208.
The Record Read more