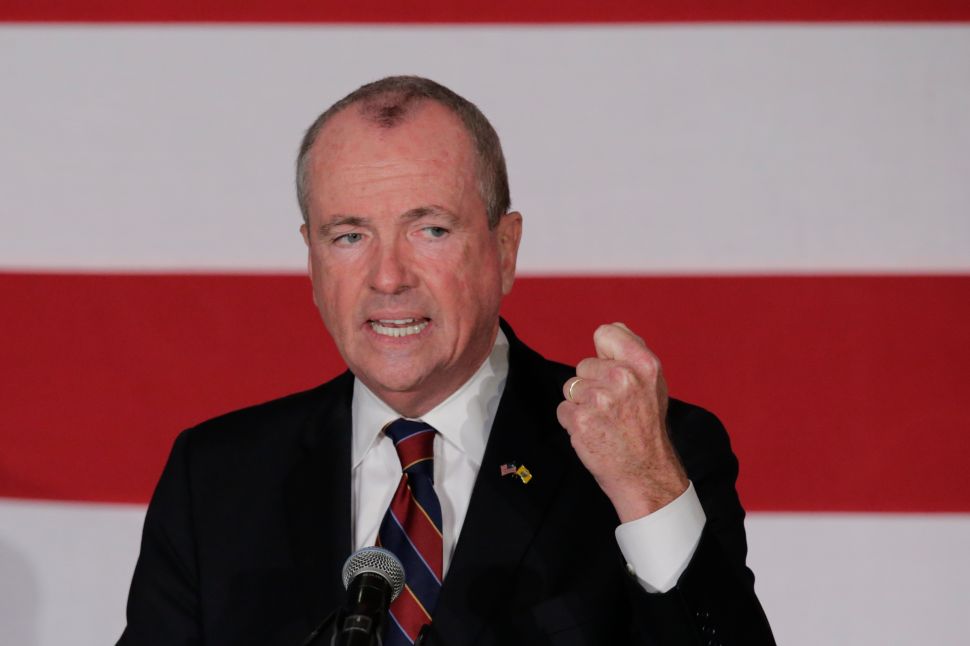 Stymied by a legislature that won't go along with his planned $1.5 billion in tax hikes, Gov. Phil Murphy on Monday vowed to cut nearly $1 billion from the alternative budget proposal approved by lawmakers in his own party.
Murphy, whose own $37.4 billion budget plan is actually about $900 million more than the legislative plan that he's vowed to take a scalpel to, contends the Democratic legislature's plan is fiscally unsound. He wouldn't say what programs he would target with his promised $855 million in cuts, according to a report in NJ.com.
Even if Murphy does cut the legislature's $36.5 billion budget, the Democratic spending plan would still be close to $1 billion over Republican Gov. Chris Christie's 2017 budget, which was $34.7 billion.
Murphy is battling with legislative leaders, who oppose his plans to impose a millionaires tax and raise the state sales tax. Senate President Steve Sweeney and Assembly Speaker Craig Coughlin contend the plan will drive high-wage earners out of the state, while the sales tax increase will just add to what is already one of the heaviest tax burdens in the nation.
The legislature instead wants a temporary hike on corporate taxes and a tax amnesty program, a plan Murphy refuses to consider since he says it doesn't provide a stable source of revenue.
State leaders must agree on a budget by July 1 or face the possibility of a government shutdown.
There was some talk of a possible compromise, with Murphy accepting a combination of scaled-back hikes in the corporate and millionaires' tax plans as a way to fund his progressive agenda. Murphy's budget calls for free community college for low-income residents, expansion of state pre-k programs, increased school funding, aid to NJ Transit and payments into the state's belegaured pension program. Murphy contends residents would be willing to pay higher taxes if they feel they are getting good value for their money.
New Jersey leads the nation in outmigration, and residents consistently list the state's high tax burden as one of its biggest problems. In 2016, 63 percent more people moved out of New Jersey than moved in, according to United Van Lines 40th Annual National Movers Study.
Quote of the Day: "That's unfortunately the option that we'd be left with." — Gov. Phil Murphy, threatening to trim the state budget by $855 million if the legislature doesn't go along with his spending plan, which calls for $1.5 billion in new taxes.
New Jersey's Budget Battle: Insight Into Phil Murphy's Likely Strategy
New Jersey's current budget battle clearly does not rise to the level of the Cuban Missile Crisis, but JFK's negotiation tactics can apply to any issue. Here's some insight into what Gov. Phil Murphy is probably thinking and doing.
Donald Scarinci, Observer Read more
Pilot Flees After Illegally Landing Plane on Restricted New Jersey Beach
A single-engine plane landed on a restricted U.S. Coast Guard beach in Cape May County, New Jersey. Beachgoers reported seeing the plane flying erratically, very close to the surface of the ocean. The pilot is still missing.
Jessica Sulima, Observer Read more
Phil Murphy Warns He'll Make Huge Cuts If There's No Budget Deal With Democratic Leaders
Gov. Phil Murphy said Monday that absent a last-minute deal with his fellow Democrats who run the New Jersey Legislature, he will be forced to cut $855 million in spending from the state budget lawmakers passed last week.
NJ.com Read more
NJ Shutdown Showdown? Phil Murphy, Fellow Democrats Enter Final Stretch in Budget Battle
Gov. Phil Murphy and New Jersey's top state lawmakers begin a crucial six-day stretch Monday that will likely determine two things:
NJ.com Read more
The NJ Budget Is on Murphy's Desk: Here Are 4 Things That Could Happen as Shutdown Looms
Gov. Phil Murphy and the Democrats who control the Legislature continued their fight Monday over a package of tax increases and spending plans, a standoff that could mean nearly all state services shuttered and thousands of workers furloughed without pay.
The Record Read more
Stile: What's Really Behind the Fight Bringing New Jersey to the Brink of Another Shutdown?
Forget the debate over tax hikes. Put aside the discussion over the risk of prompting millionaires to pack up and leave for lower-tax states. And ignore the debate over who has accurate revenue forecasts—no one really believes them, anyway.
The Record Read more
Why Gov. Murphy and Lawmakers Can't Agree on New State Budget
Despite all the buster and ballyhoo, there's still room for compromise—and still time to end the impasse before a government shutdown becomes imminent.
NJSpotlight Read more
Small New Jersey Towns Forced to Merge? Not Likely, Say Lawmakers
New Jersey lawmakers and invited experts are once again trying to find ways to cut costs and lower taxes in the state which includes the nation's highest property taxes.
The Record Read more
Murphy Not Keeping a Headcount on Veto Override
Gov. Phil Murphy on Monday maintained that he isn't keeping a headcount of votes he and his team are whipping against a possible veto override vote that could come if Murphy vetoes outright the budget the legislature passed on Thursday.
New Jersey Globe Read more
Sources: No One Talking Full-Blown Veto
On the first Monday after the Legislature defiantly presented its own $35.6 billion budget to Governor Phil Murphy, sources said 'no one [sic] talking veto yet.'
InsiderNJ Read more
Moran: Murphy Still Fighting Legislature's Budget Gimmicks, Voodoo Solutions
Gov. Phil Murphy has no political experience, and that's hurt him at times.
But it has one advantage: He hasn't been in Trenton long enough to form the bad habits that created the state's fiscal mess in the first place. He hasn't transformed into a werewolf like the rest of them.
NJ.com Read more
In NJ, a Crisis of Legal Help For Unaccompanied Minors
uch of the focus over the past week has been on the U.S.-Mexico border, where federal agents have been separating children and parents crossing into the United States illegally. Many of those children are arriving in New York and being placed in foster care, and a few have arrived to New Jersey.
NJSpotlight Read more
Top Judge Eyes $1M Lawsuit After Fall Near Courthouse
The city of Camden may be facing a million-dollar lawsuit from someone who knows the law pretty well: the top judge in the Camden County Courthouse.
NJ.com Read more
NJ Creates Bank to Loan Towns Money for Roadwork
New Jersey towns now have a new option to move forward with local transportation projects.
The state has created the New Jersey Transportation Infrastructure Bank, a partnership between the Department of Transportation and the New Jersey Infrastructure Bank, which will provide low-interest loans for municipal and county transportation projects.
NJ101.5 Read more
New Jersey Pulls Ahead of New York in Bag Fee, but Measure Still Faces Uncertainty
After nearly a decade of languishing in the New Jersey Legislature, a plastic bag bill has finally landed on Gov. Phil Murphy's desk.
WNYC Read more
NJ Hospitals Take a Hit During June Frenzy at the Statehouse
The promotion on Cooper University Hospital's website invites people with "sore throats, fever, cold symptoms and minor lacerations" to come to its emergency room.
NJ.com Read more
Van Drew: GOP Shouldn't Be Held Accountable for Grossman Comments
Some Democrats in the second congressional district aren't falling into step with a strategy being pushed by the Democratic Congressional Campaign Committee.
New Jersey Globe Read more
Diane Allen Launches PAC to Help Get Women Elected in New Jersey
For former New Jersey State Sen. Diane Allen, it's a matter of principle.
"I truly believe until our legislature reflects the people we represent, we don't have a true democracy," she said. "I feel that the more women that get in, the better people are being served."
Inquirer Read more
Prevention, Risk Reduction Focus of First NJ Spotlight Opioid Roundtable
New Jersey has made progress reducing the number of opioid prescriptions written and the risks associated with this substance-use disorder. But more must be done to prevent people from turning to addictive drugs and keeping them as safe and healthy as possible if they do become dependent.
NJSpotlight Read more
NJ Commissions Tell Schools to 'Redouble Efforts' on Bias
The New Jersey Division on Civil Rights and the New Jersey State Interscholastic Association on Monday urged school officials 'to redouble efforts to keep bias out of interscholastic sports.'
Inquirer Read more
First FDA-Approved Drug Made From Marijuana Has NJ Ties
The U.S. Food and Drug Administration on Monday approved the first cannabis-derived drug for sale, which has shown to control seizures in children with life-threatening forms of epilepsy.
NJ.com Read more
Can Sports Betting Do for Atlantic City What Donald Trump Couldn't?
The last time there was so much hype about the future of this troubled seaside resort, Donald J. Trump was doing most of the hyping.
New York Times Read more
Gambling Is Back at 2 Once-Shuttered Atlantic City Casinos
People are winning and losing money again for the first time in years at two Atlantic City casinos that had been shut down.
Associated Press Read more
No Jail for County Worker Who Stole $10K in Food Stamps
A former social services clerk in Passaic County was sentenced to five years of probation on Friday for using food stamps that did not belong to her, authorities said.
NJ.com Read more
Trump May Be Heading to New Jersey This Weekend
President Donald Trump may be headed to New Jersey this weekend.
NJ.com Read more