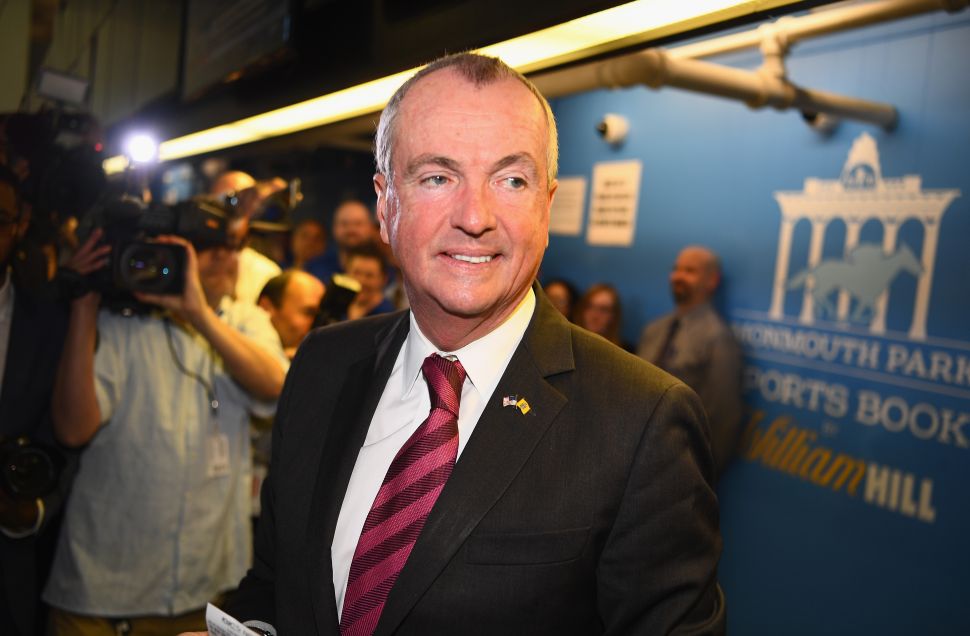 On Tuesday, Gov. Phil Murphy offered a budget compromise to legislators that will hike taxes on the state's millionaires and corporations and spread a hike in the state sales tax over two years.
It's unclear if Democratic legislative leaders, who so far have expressed no interest in hiking the millionaires tax or boosting the sales tax, will accept the deal. But they were quick to let it be known they weren't rejecting the govenor's overture out of hand.
"We are reviewing the proposal presented by Governor Murphy at today's meeting with legislative leaders, and we will give his offer full consideration, along with other options we are evaluating," Senate President Steve Sweeney and Assembly Speaker Craig Coughlin said in a statement, according to POLITICO.
While the measure might make peace among Democrats, Republicans took the plan to task for its impact on residents.
"When the Democrats talk about compromise, they're still raising taxes on New Jerseyans," said Assembly Minority Leader Jon Bramnick. "All of their compromises are tax and spend."
Murphy had originally proposed a budget containing $1.5 billion in new taxes, and the governor has not seemed to back away from that number in his proposal. His plan called for a hike in the state sales tax and a tax on millionaires.
The legislature, led by Sweeney and Coughlin, passed its own budget, which institutes a temporary two-year tax on corporations and projects collecting revenue through a tax amnesty program. Sweeney says a millionaires tax would only drive high wage earners out of New Jersey, while the sales tax increase would add to the state's already notoriously high tax burden. But Murphy has said he wouldn't back the corporate tax, since it didn't provide an ongoing source of revenue and would give New Jersey the highest corporate tax rate in the nation.
In a letter to Sweeney and Coughlin, Murphy proposed:
A permanent increase in the corporate tax rate, but one that "does not make New Jersey an outlier nationally;"
A "modest" increase in taxes on millionaires;
And a two-year phased-in increase of the sales tax back to seven percent.
The sales tax had been cut in 2016, as part of a deal with then-Gov. Chris Christie to hike the state gas tax by 23 cents per gallon. Murphy has indicated it's likely the gas tax will go up another 3 cents per gallon this fall.
Murphy's letter also indicates that the governor is already planning on imposing taxes on internet purchases, saying while such a move will provide "some additional flexibility," it didn't alter the need for the other additional taxes. Murphy's letter did not address revenue from a 5-cent tax on paper and plastic shopping bags that the legislature has approved but he has not yet signed.
Murphy said if Democrats accept his compromise, he'd be willing to restore Homestead Rebate funding to prior levels and a change in the state's school funding plan pushed by Sweeney.
Murphy, whose budget includes increases in aid for schools and NJ Transit as well as additional pension payments and programs to provide free community college to low-income residents and expand pre-k programs, has said New Jersey residents—who already bear one of the highest tax burdens in the nation—won't mind paying more if they feel they are getting their money's worth from state services.
Quote of the Day: "All of their compromises are tax and spend."— Assembly Minority Leader Jon Bramnick, on Gov. Phil Murphy's budget compromise plan to raise the state sales tax and millionaires tax like he wants and the corporate tax, as sought by Democratic legislative leaders.
Donald Trump's Trip to New Jersey Could Cost Taxpayers $87,000
Donald Trump is expected to arrive at his Bedminster, New Jersey golf course for vacation this weekend. Taxpayers will pay $60,000 for golf carts for the president and $27,000 for a portable bathroom for his secret service.
Cybele Mayes-Osterman, Observer Read More
Murphy Offers Budget Compromise in Meeting With Top Lawmakers
Gov. Phil Murphy offered a potential budget compromise to top state lawmakers during an hourlong meeting on Tuesday, but the legislative leaders did not immediately accept the proposal.
Politico Read more
Is a NJ Transit Fare Hike Coming? Murphy Won't Rule It Out Because of Budget Battle
A NJ Transit fare hike could make commuters the next casualties in the state budget battle between the New Jersey Legislature and Gov. Phil Murphy, who said a fare increase could be on the table if the two sides can't agree.
NJ.com Read more
As Phil Murphy Warns of Huge Budget Cuts, NJ Senate President Shows What They'd Look Like, Up Close
At 11:45 a.m. a bell rings, and an employee at Abilities Solutions in Westville jumps up from his station and darts to the door, eager for lunch.
NJ.com Read more
Worried About a Potential New Jersey Government Shutdown? Here Are 8 Ways You Would Be Affected
With Gov. Murphy and the Legislature deeply at odds over the state budget, New Jersey may be on course for a second consecutive government shutdown.
Inquirer Read more
NJ Transit Wants 2 More Years to Install Emergency Brakes
NJ Transit officials said Tuesday they hope to earn a two-year extension of a federally mandated deadline for installing an emergency braking system on their rail lines.
NJ101.5 Read more
274 School Districts Could Disappear Under NJ Savings Plan
A plan being considered to lower cost of government and taxes could result in wiping out nearly half of the state's school districts.
NJ101.5 Read more
Chris Christie Stripped of His State Police Security Ahead of Schedule
When a New Jersey governor leaves office, they are given six months of State Police security detail.
NJ.com Read more
Parkland Parent Slams NJ Senate President Sweeney on Twitter Over Gun Fees
The parent of a child killed in the Parkland shooting massacre ripped New Jersey state Senate President Stephen Sweeney on social media for not publicly supporting Gov. Phil Murphy's push to increase fees for buying and selling firearms in the state.
NJ.com Read more
NJ Legal Marijuana Legislation Stalls, and Lawmakers Punt It to the Summer
Don't hold your breath for movement on legislation to legalize marijuana in New Jersey before Saturday's state budget deadline.
NJ.com Read more
The Jersey Shore Has a New Summer Resident: Chris Christie
The Jersey Shore just got a new summer resident: New Jersey's 55th governor.
NJ.com Read more
NJ Senate Sends Phil Murphy Bill Requiring Shoulder Restraints on School Buses
The state Senate unanimously approved a bill Monday to require lap-and-shoulder restraints on school buses, sending the measure to Gov. Phil Murphy.
The Record Read more
These 10 School Districts Are the Biggest Winners in NJ's New Funding Plan
A new school funding plan approved by state lawmakers last week has some big winners—so big, in fact, that some districts would see their state aid double in a single year.
NJ.com Read more
Staving Off Diversions of Lead Abatement Funds Constitutionally
The Legislature is aiming to cure itself of a troubling habit: routinely diverting millions of dollars intended to fight lead poisoning into the general fund instead.
NJSpotlight Read more
NJ Joins Multi-State Lawsuit Calling for Migrant Children to Be Reunited With Parents
New Jersey was among 17 states that filed a lawsuit on Tuesday challenging the Trump administration's policy separating immigrant families at the border and making it more difficult for immigrants to gain asylum.
The Record Read more
Tearful NJ Children of Parents Facing Deportation After Decades Here Take Their Pleas to DC
Michelle Edralin, whose father faces deportation after living legally in the U.S. for three decades, couldn't hold back the tears.
NJ.com Read more
New MacArthur TV Ad Focuses on Immigration
A new commercial for Rep. Tom MacArthur's re-election campaign highlights an effort to help a Brick man from helping to keep his wife from being deported after her immigration paper work "was lost in a seat of bureaucratic red tape."
New Jersey Globe Read more
New Jersey Families Decry Supreme Court Decision Upholding Travel Ban
Spouses kept apart, people unable to travel for work, missed weddings and funerals. New Jersey families with ties to the five majority-Muslim countries named in President Donald Trump's travel ban say it has already caused havoc and disruption in their lives.
Asbury Park Press Read more
Suspended NJ High School Principal Issues Notice of $5 Million Lawsuit
The high school principal suspended in April over his handling of a student who was allegedly caught with marijuana and a knife has suffered emotional distress, embarrassment, and damage to his chiropractic office as a result, according to a notice sent to the school district.
NJ.com Read more