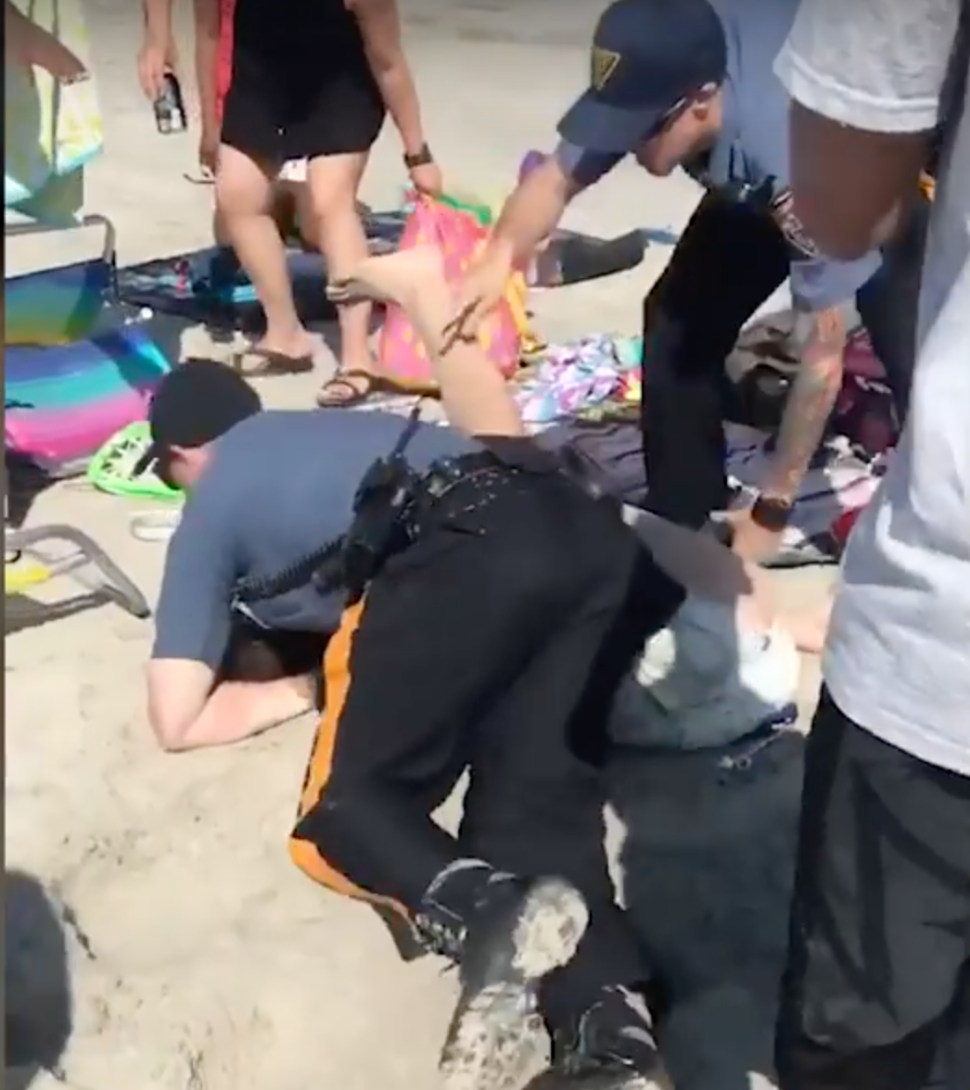 Cape May County Prosecutor Jeffrey Sutherland knows that video of a woman being punched in the head by police on a beach in Wildwood over Memorial Day weekend looks bad.
But, he says, it wasn't against the law.
"As county prosecutor, I recognize that the video footage has raised a lot of questions regarding the officers' actions," Sutherland said in a news release, according to the Philadelphia Inquirer. "A decision such as this is not based on emotion; it is based upon applying the proper laws, policies and directives that govern law enforcement."
"Members of the public should understand that no matter what your opinion is regarding the subject event, it is not based on a full review of the evidence," the prosecutor cautioned.
Sutherland said his office reviewed police body-camera footage, video taken by beach-goers, police vehicle video, arrest and internal affairs reports and other police documents when deciding whether or not to charge the police officers involved in the fracas, according to the Inquirer.
Instead, Sutherland said, the incident will now be handled internally by the police department's own internal affairs department, "with monitoring by the Cape May County Prosecutor's Office Professional Standards Unit," according to the Inquirer report.
Wildwood Mayor Ernie Troiano has vigorously defended the three Class II Patrolmen—Thomas Cannon, John Hillman and Robert Jordan—while attacking 20-year-old Emily Weinman, of Philadelphia, who faces multiple charges after the arrest, including aggravated assault on a police officer and spitting at a police officer.
Weinman's attorney told the Inquirer he wasn't surprised the prosecutor would not charge the police officers.
Quote of the Day: "It's ironic, the officer who said 'You're about to get dropped' isn't charged. The one who beat her on the head wasn't charged. The only person charged is the one who was dropped and beaten on the head." — Attorney Stephen Dicht, on Cape May County Prosecutor Jeffrey Sutherland's decision not to charge a Wildwood police officer shown on video punching a woman in the head during a Memorial Day incident on the beach.
Live Blog: New Jersey Votes in the 2018 Midterm Primaries
The polls opened early Tuesday in New Jersey, where voters cast ballots in the state's 2018 midterm primaries. Here are all the winners.
Emily Cegielski, Observer Read more
John McCann Wins GOP Primary in New Jersey's 5th District
John McCann won the Republican nomination for Congress in New Jersey's 5th district, defeating Steve Lonegan in a nasty and expensive primary election.
Christian Hetrick, Observer Read more
Seth Grossman Wins GOP Primary in New Jersey's 2nd District
In a stunning upset, Seth Grossman won the Republican nomination for Congress in New Jersey's 2nd district on Tuesday night, emerging from a crowded primary race to replace retiring Rep. Frank LoBiondo.
Christian Hetrick, Observer Read more
Jay Webber Wins GOP Primary in New Jersey's 11th District
Jay Webber won the Republican nomination for Congress in New Jersey's 11th district on Tuesday night, prevailing in a competitive primary race to replace retiring Rep. Rodney Frelinghuysen.
Christian Hetrick, Observer Read more
Mikie Sherrill Wins Democratic Primary in New Jersey's 11th District
Mikie Sherrill, a Navy veteran and former federal prosecutor, easily won the Democratic nomination for Congress on Tuesday in New Jersey's 11th district.
Christian Hetrick, Observer Read more
Tom Malinowski Wins Democratic Primary in New Jersey's 7th District
Tom Malinowski, a former assistant secretary of state under President Barack Obama, has won the Democratic nomination for Congress in New Jersey's 7th district.
Christian Hetrick, Observer Read more
Jeff Van Drew Wins Democratic Nomination in New Jersey's 2nd District
Jeff Van Drew won the Democratic nomination for Congress in New Jersey's 2nd district Tuesday night, cruising to victory in a primary against more progressive candidates.
Christian Hetrick, Observer Read more
Live Primary Election Results: 2018 NJ Races for US Senate and House of Representatives
Here are the unofficial results of New Jersey primary elections held on Tuesday, June 5, including the Democratic and Republican contests for U.S. Senate bids and battles for nominations in several congressional districts that are being closely watched during this key mid-term election year.
NJ.com Read more
No Matter Who Wins 2nd District Race, South Jersey's Priorities Will Hold
South Jersey residents will have a new representative in Congress in 2019 for the first time since 1995.
Press of Atlantic City Read more
Menendez Expected to Win Primary, but He Isn't Getting One Man's Vote
Raised as a Democrat in Hudson County, Patrick Murphy was always told who to vote for by his grandfather, a politician. Now, however, he's doing it in his own way.
NJ.com Read more
NJ Dems Continue to Outpace GOP Voter Registration
New Jersey has added 74,472 more Democrats and 39,720 more Republicans since the 2016 general election, according to voter registration numbers from the state Division of Elections.
New Jersey Globe Read more
Cape May Prosecutor: No Charges for Wildwood Police Who Punched Woman on Beach
The Cape May County Prosecutor's Office said Tuesday that no criminal charges would be filed against the Wildwood police officers who were filmed arresting a 20-year-old Philadelphia woman, including the officer captured twice punching the woman in a video seen by millions.
Inquirer Read more
Lawmakers Try Again to Beef up Port Authority, NJ Transit Oversight
Lawmakers in Trenton are having another go at ramping up scrutiny of the Port Authority, the bi-state agency that controls most of the New York Metro Area's critical infrastructure points.
NJBiz Read more
Christie Denies He's Been Asked to Prep Trump for Possible Mueller Interview in Russia Probe
Former Gov. Chris Christie called any suggestion that he's been asked to prep President Donald Trump for a possible interview related to a special-counsel investigation "dead wrong."
NJ.com Read more
Governor, Democratic Leaders Tiptoe Toward Accord
Despite the implementation of spending and hiring freezes and plans for a government shutdown, Gov. Phil Murphy and legislative leaders appear to be nearing agreement on an update of New Jersey's school-aid law, which is a key sticking point in this year's budget negotiations.
NJSpotlight Read more
State Unveils Research With NJ Database—to Help STEM Industries, NJ Universities Collaborate Better
New Jersey unveiled Research with NJ, a database aimed at boosting collaborations and relationships in STEM fields at five universities, Tuesday at the annual Biotechnology Innovation Organization conference.
ROI-NJ Read more
Phil Murphy About to Leave NJ for Paris
Gov. Phil Murphy is set to leave New Jersey on Tuesday night for a quick trip to Paris.
NJ.com Read more
Menendez Letter Blasts DHS Over Denied Entry to Immigration Port
U.S. Sen. Bob Menendez blasted the Department of Homeland Security in a letter on Tuesday for denying members of his staff access over the weekend to an immigration port in California where he says families were being separated.
The Record Read more
Calling Sports Leagues Hypocrites, NJ to OK Sports Betting Thursday
Taking a few swipes at the professional sports leagues along the way, three legislative committees Monday endorsed a bill that could legalize sports betting in New Jersey casinos and racetracks by the end of the week.
NJ101.5 Read more
For New Jersey Commuters, a Sequel to the 'Summer of Hell'
The elevated highway that connects the New Jersey Turnpike to the Lincoln Tunnel already is the most traffic-choked stretch of pavement east of Chicago. Now, after decades of patching it up at night and on weekends, the state says the time has come to strip it down and rebuild it.
New York Times Read more
Can NJ Find Way Through Expungement Maze
For thousands of New Jerseyans convicted of minor marijuana possession, legalization could be the beginning of a new life. But to clear their records, they must first navigate a maze of legal and bureaucratic red tape that legislators are attempting to simplify.
NJSpotlight Read more
NJ Sports Betting: Delaware Opens Single-Game Betting, Beating New Jersey and Others
Michael Popkins is a sports enthusiast, Eagles and Phillies fan, mostly. And he pays attention to the betting lines.
Asbury Park Press Read more
Oil Trains on the Rebound to Northeast Refineries, Federal Data Shows
After a steady decline throughout 2017, the volume of crude oil moving on trains to Northeast refineries is on the rise, federal data show.
The Record Read more
Earl Morgan, Jersey Journal Columnist, Dies at 75
Earl Morgan, the reporter and columnist at The Jersey Journal who for decades chronicled Hudson County politics and Jersey City's often marginalized communities, died at his Astor Place home on Tuesday. He was 75.
NJ.com Read more
Atlantic County Executive Proposes Free College for Children of Fallen Soldiers
Atlantic County Executive Dennis Levinson is calling for the state legislature to consider free college for children and spouses of fallen military members.
Press of Atlantic City Read more
Rutgers Investigates Prof's Rants Against White Children
A Rutgers history professor who wrote on his personal Facebook page that he hates white people could face action from the university.
NJ101.5 Read more
10 Jersey Shore Beaches Test High for Fecal Bacteria
Ten Jersey Shore beaches tested high for bacteria that is linked to human and animal feces, according to results released Tuesday afternoon.
Asbury Park Press Read more
Ocean County's Top Cop to Lakewood: Fix police internal affairs
A months-long investigation of Lakewood police's internal affairs unit revealed issues with the handling of complaints and discipline for officers, practices that the county prosecutor says were inconsistent with state policy.
Asbury Park Press Read more