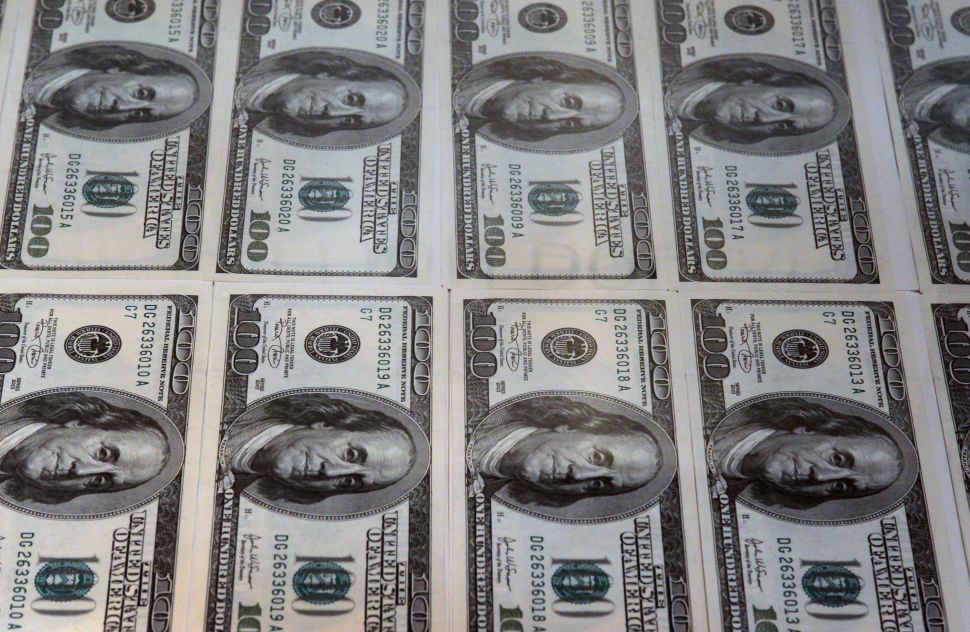 Politics is usually about feelings, and the words that can mobilize or alienate the electorate.
But, in budget fights, numbers are important. And media around New Jersey rose to the challenge as the state's Democratic leadership squabbled among themselves over a spending plan for the coming year and pushed us ever closer to a July 1 shutdown.
ROI-Nj has published a piece that examines just how much millionaires in New Jersey will be paying if tax hikes on them are approved—and how they can also find a more hospitable tax climate in neighboring states. NJ101.5, meanwhile, took a look at how much New Jersey pays for its public employees' pensions and how little employees themselves contribute. Pensions are one of the looming "structural deficits" in the budget that the state's Democratic lawmakers, so far, have been loathe to address.
State leaders have about a week to reach a budget deal, but neither side seems ready to give in just yet. The fight boils down to this: Gov. Phil Murphy wants to impose more than $1.5 billion in new taxes, including a millionaires tax and hikes in the state sales tax to fund a budget that supports his progressive agenda and also includes money for NJ Transit, additional school funding and payments into New Jersey's oft-neglected pension fund. Democratic legislative leaders, meanwhile, oppose hiking the sales tax and millionaires tax—saying such moves will only drive high-earners out of the state. They have passed their own budget, which Murphy says he'll veto, that calls for short-term hikes on taxes paid by state corporations.
On Friday, the legislature announced an amendment to their plan, which could actually reduce the amount corporations pay. Murphy says he won't sign a budget unless it contains long-term funding solutions. Murphy, who campaigned on raising the millionaires tax, says he was elected with a mandate to fix New Jersey's finances. However, the Murphy campaign had also pledged not to raise the sales tax, and political observers have noted that the Democrat's election was likely more a vote against unpopular incumbent Republican Gov. Chris Christie, whose Lt. Gov. Kim Guadagno was representing the GOP, than an endorsement of Murphy policies.
Critics say Murphy's calls for universal pre-k and free community college are too expensive for a state already in deep financial distress and that the governor hasn't explained how he'll pay to expand these programs.
A piece in The Star-Ledger quotes Senate President Steve Sweeney as saying the budget fight is about the large tax hikes that will be needed in coming years to fund Murphy's plans and about the governor's unwillingness to discuss how to fix the pension problem and other-long term financial difficulties before promising even more expensive programs.
Quote of the Day: "We're serious about fixing things here and he won't even talk about it. He won't even talk about trying to fix things and we're out of money. We're out of money." — Senate President Steve Sweeney, on the difficulty of trying to negotiate a budget with Gov. Phil Murphy.
NJ Public Retirees Can Recoup a Career of Pension Contributions in 4 Years
Traditional pensions for public workers could be up for debate this summer, as a legislative working group commissioned by Senate President Steve Sweeney may recommend switching to 401(k)-style benefits.
NJ101.5 Read more
NJ shutdown: That Chris Christie beach chair photo and other lessons for Phil Murphy
Last year as a Democratic candidate for governor, Phil Murphy sharply criticized Gov. Chris Christie during a three-day state government shutdown.
The Record Read more
Legislature announces new bill, backtracking on some (but not all) increases in corporate business tax
The Legislature backed down on two sections of the corporate business tax bill it passed Thursday—potentially changing how many companies would be subject to the tax and potentially lowering the amount of revenue the state would gain.
ROI-NJ Read more
How much would millionaires save if they left N.J. for Pa., N.Y. or Mass. following the proposed tax? We've got the numbers
The biggest debate over Gov. Phil Murphy's proposed millionaire's tax has been whether millionaires would be deterred from moving into New Jersey and whether those who are here would actually leave the state if the new proposal passes.
ROI-NJ Read more
Lawmakers consider STEM loan forgiveness program
Lawmakers are eyeing a loan forgiveness program mirroring one unveiled by Gov. Phil Murphy in late May, aimed at keeping science, technology, engineering and mathematics college graduates in the state.
NJBiz Read more
This N.J. Republican seeks to force Trump to reunite immigrant families his policies separated
A New Jersey Republican is leading efforts to get GOP support for legislation that would force President Donald Trump's administration to reunify the families split apart under his immigration policy.
NJ.com Read more
Feed that parking meter, Jersey. You may soon be on camera.
Watch your parking meters, Jersey.
State lawmakers are fast-tracking a bill that would allow Garden State towns to install "smart" meters equipped with cameras that can detect parking violations in real time.
NJ.com Read more
Seaside Heights beach-swap deal under federal investigation
A controversial beach-swap deal between the borough and Casino Pier's owners is now the subject of a federal investigation.
Asbury Park Press Read more
Road construction: NJ-NY commute time will grow as repairs begin on Route 495 viaduct
It is the bane of tourists and truckers, theatergoers and weekday 9-to-5ers: the congested, pothole-strewn roadway that bisects the teeming towns overlooking the Hudson River before descending into the Lincoln Tunnel to New York City.
The Record Read more
Shake-up at Newark schools: Top officials told to resign or be fired
In an early and sudden move by incoming Newark Schools Superintendent Roger Leon, 31 employees — including several high-ranking administrators — were told Friday they would be fired if they didn't resign by next week, two sources with knowledge of the matter told NJ Advance Media.
NJ.com Read more
Trenton, a city of contradictions, is laid bare by arts festival shooting
There are two cities here, twisted together like DNA.
There's Trenton the state capital, where lawmakers, lobbyists, state employees, and businesspeople drive in each weekday. The Statehouse is its epicenter, surrounded by historic buildings and power brokers.
Inquirer Read more
N.J. restaurant harassed after Va. eatery with same name boots Sarah Huckabee Sanders
At The Red Hen restaurant in Swedesboro Saturday morning, staff was preparing for a private event when Operating Manager Elizabeth Pope noticed something strange on the restaurant's Facebook page: tons of angry comments and reviews.
NJ.com Read more
'Vacation cutting': ICE agents at Newark Airport seek to deter female genital mutilation
Wearing a red hijab and a long skirt, a woman pushed her year-old daughter in a stroller to a gate at Newark Liberty International Airport last week. After her boarding pass was scanned, a federal agent approached her and asked where she was traveling.
The Record Read more
After 23 years, grim finances shutter doors of New Visions day shelter in Camden
A Camden day shelter that served about 130 people daily closed Friday, leaving nearby social service agencies that assist the city's homeless population scrambling to fill the gap.
Inquirer Read more
John Curley, spurned by GOP, runs for Monmouth freeholder as independent
Freeholder John Curley will run for re-election as an independent despite a challenge from his former political party.
Asbury Park Press Read more
Toms River man who had his anus searched during traffic stop wants $900,000
A motorist's lawsuit claims he was twice abused by the New Jersey State Police – first when a trooper searched inside his pants on a Burlington County roadside, and again when a video of the incident was released to the public.
Asbury Park Press Read more
New Jersey one step closer to retiring 'freeholder' title
A hotly-debated bill directing county governments to eliminate the New Jersey-unique term of "freeholder" was passed by the state Senate Thursday.
Daily Record Read more
N.J.'s busiest weed dispensary wants to build largest greenhouse on East Coast
New Jersey's busiest medical marijuana dispensary appears to be ready to get even busier.
NJ.com Read more
Candidate for Congress Stands by His Words: Diversity Is 'Evil'
The only word bigger than "Support Trump" on the fliers and lawn signs dotting this town are the last name of the congressional candidate who paid for them.
New York Times Read more
Kim won't back Pelosi
Andy Kim joined a slew of other New Jersey House hopefuls on Saturday when he announced that he would support new leadership in Washington and, by extension, that he would not support House Minority Leader Nancy Pelosi for a leadership role.
New Jersey Globe Read more
Teachers say district didn't promote them because they are Hispanic, Muslim
Two math teachers at Passaic Valley Regional High School are suing over promotions worth $4,000 that they say they didn't get because the school is discriminating against them.
NJ.com Read more
That time Brick's mayor was threatened by the mob
Fifty-one years ago this week, the Vietnam War was raging, President Lyndon B. Johnson was meeting with Soviet Premier Alexei Kosygin at Glassboro State College and Brick Township's municipal government was in a state of paralysis over an alleged threat from the mob.
Asbury Park Press Read more
Mulshine: Gov. Phil Murphy's rosy scenario for economic growth is full of thorns
Uh-oh. The governor's got a new cliche.
It's "rosy scenario," and Phil Murphy repeated it several times  last week as he fought with his fellow Democrats over the state budget that has to be enacted a week from now.
NJ.com Read more
Golden: Front Row Seats for Trenton Power Struggle
It isn't really about increasing the income tax on millionaires or restoring the state sales tax to seven percent. It isn't even about increasing aid to public education, or a larger contribution to the public-pension fund, or rescuing New Jersey Transit, or establishing a network of tuition-free county colleges.
NJSpotlight Read more
Murphy: The right budget for NJ must choose the future over the past
Next Sunday, July 1, New Jersey will begin a new fiscal year with a new state budget. The Legislature has sent me a budget that differs in some key ways from the one I proposed in March. While we agree on a lot, their budget has too many of the old ways. And, it puts too many priorities at risk.
The Record Read more
Bergman: On State Budget Pick your poison
Let me make it clear from the outset: I don't like either of the dueling state budget plans — Gov. Phil Murphy's or the alternative version passed Thursday by both chambers of the Democratic-controlled Legislature, which Murphy has promised to veto.
Asbury Park Press Read more
Siekerka: Taxing job creators not the way to fix NJ's fiscal woes
New Jersey is entering a budget showdown for yet another year. And while the Legislature and Gov. Phil Murphy debate whether it will be a steep increase on the corporate business tax or a big hike on the income tax for millionaires that buoys the final fiscal year 2019 budget, we do know that New Jersey's job creators will once again be the most adversely affected. We cannot tax our way out of our fiscal challenges.
Asbury Park Press Read more
Editorial:A plastic bag fee? No, a legislative money-grab
With buccaneering vigor, our state Legislature has decided that money dedicated to improving the health of lead-poisoned children isn't as important as spackling a few cracks in its new state budget.
NJ.com Read more
Editorial: End the acrimony, get a budget done
Less than a week to go before a budget to fund state government functions for the coming fiscal year must be approved, the State of New Jersey finds itself in a familiar place.
The Record Read more
Editorial: Rep. MacArthur, consistent as always – to New Jersey's detriment
In his bimonthly contribution to our national shame, Rep. Tom MacArthur, R-3rd Dist., has decided that the nutrition of New Jersey children doesn't rank as highly as crop subsidies on his list of priorities.
Star-Ledger Read more
Editorial: Can one teacher score knockout on mighty NJEA?
Ann Smith and Marie Blistan have similar special education teaching jobs in South Jersey public schools just a few miles away from each other, but the two Gloucester County women may turn out to be each other's worst nightmare.
South Jersey Times Read more