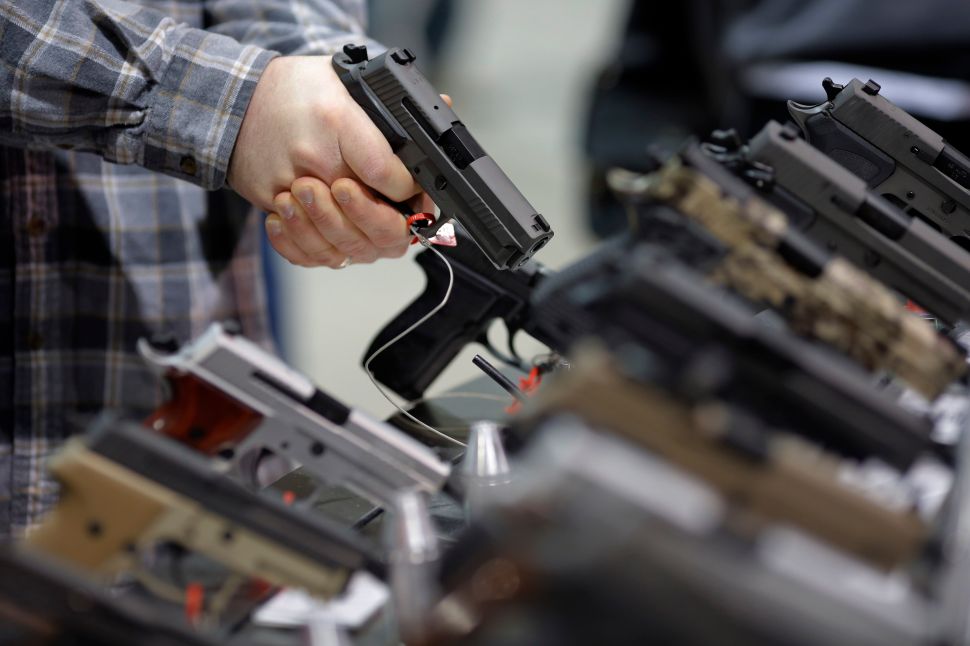 A package of gun laws that would tighten New Jersey's already strict regulations has been approved by the legislature and is now heading to Gov. Phil Murphy, who appears likely to sign them.
The state Senate on Thursday approved six new gun measures that would reduce the permitted magazine size, tighten rules for concealed carry permits, ban armor-piercing bullets, expand background checks and make it easier for authorities to seize guns by people considered a threat, according to NJ.com.
Murphy has already voiced his support for the measures.
Assembly Majority Leader Lou Greenwald was among the state Democrats who praised the passage of the measures, which he said would give New Jersey "the strongest gun laws in the nation," according to the report.
Gun rights advocates, however, contend the bills do nothing to actually make people safer and will just make things more difficult for law-abiding gun owners.
The vote comes two days after conservative Democratic Sen. Jeff Van Drew won the primary race for the 2nd Congressional District. Van Drew's high legislative rating by the National Rifle Association was an issue in the race.
But on Thursday, Van Drew supported a majority of the measures. He did vote against reducing the size of magazine capacity from 15 to 10 rounds, a plan he said won't increase safety but will make it more difficult for residents who want to participate in competive shooting, where some contests require using 15-round magazines, according to the NJ.com report. He also voted against the measure to tighten concealed carry regulations, the report said.
Quote of the Day: "We need them to plan and adopt long-term, sustainable solutions rather than attempt to tax our way out of fiscal challenges." — Michele Siekerka, president and CEO of the New Jersey Business and Industry Association, opposing proposals to increase taxes in the state.
New Jersey Legislature Passes Bill to Legalize Sports Betting
New Jersey lawmakers gave final approval on Thursday to a bill allowing sports betting at its casinos and racetracks, sending the measure to Gov. Phil Murphy's desk.
Christian Hetrick, Observer Read more
New Jersey Assembly Passes Bill Banning Child Marriages
The state Assembly gave final approval on Thursday to a bill that would make New Jersey the second state in the nation to ban marriages for those under the age of 18.
Christian Hetrick, Observer Read more
The NJ legal weed bill we've all been waiting on is finally here—but can it pass?
The state senator leading the charge on legal weed in New Jersey introduced a new bill Thursday that would bring recreational marijuana to the state while expanding the medical marijuana program.
NJ.com Read more
Send in the power players! Another N.J. marijuana dispensary hires a prominent lobbyist
New Jersey is shaping up to have a powerful cannabis base in the southern part of the state as a second medical marijuana dispensary has hired a prominent lobbying firm.
NJ.com Read more
Fewer people taking, passing GED test after statewide changes, report says
Carlos Montanez never finished high school because of family obligations, but the 58-year-old Atlantic City resident is now preparing to get his diploma.
Press of Atlantic City Read more
Murphy's $1.5B Tax Hikes – So Long to Jobs, Rich Taxpayers, Group Says
With Gov. Phil Murphy continuing to push for $1.5 billion in new taxes, a new analysis finds raising those taxes would make Jersey's budget woes worse.
NJ101.5 Read more
Senate confirms six of Gov. Phil Murphy's Cabinet picks
Six of Gov. Phil Murphy's Cabinet nominees, including two who had been held up by the top Democrat in the Legislature, were confirmed Thursday.
The Record Read more
Trying to Strike Balance on Size of State Budget Reserve
Wall Street credit-rating agencies and other fiscal watchdogs routinely knock New Jersey for maintaining razor-thin budget reserves, and one thing that's been largely overlooked in Gov. Phil Murphy's proposed budget for the upcoming fiscal year is a plan to give the surplus account a major boost.
NJSpotlight Read more
NJ Supreme Court upholds $225M Exxon settlement even though state had sought $8.9 billion
The New Jersey Supreme Court has upheld a controversial $225 million settlement between the state and ExxonMobil that was challenged by environmental groups that said it was far too low for the damage caused by the oil giant.
The Record Read more
NJ gun control: Lawmakers vote to expand background checks, limit magazines
New Jersey's already strict gun laws could get even stricter when Gov. Phil Murphy signs off on a package of bills lawmakers approved Thursday, measures advanced after the shooting in February that left 17 people dead at Marjory Stoneman Douglas High School in Parkland, Florida.
The Record Read more
Van Drew votes for 5 of 7 gun bills
State Senator Jeff Van Drew, the Democratic nominee in the second congressional district, voted in favor of five of seven gun-control measures put before the upper chamber on Thursday.
New Jersey Globe Read more
A smoke-free Jersey Shore? Lawmakers say yes to smoking ban on the beaches
Beach-goers who enjoy lighting up a cigarette or vaping on the sand may see this as the last summer they could legally do that at the Jersey Shore.
The Record Read more
Jersey politics is weird. This guy got creamed, but then won a race he wasn't even in
Mark Washburne found out Tuesday night that he had lost his bid for Congress.
NJ.com Read more
NJ to Overhaul Medical Examiner System
New Jersey is soon likely to launch a reform of its long-criticized process for investigating suspicious deaths — modernizing and standardizing protocols, increasing independence from law enforcement, and providing more funding for staff, equipment, and facilities.
NJSpotlight Read more
Kelly: It's time for Bob Menendez to apologize for his unethical gift-taking
This was supposed to be a week of victory laps for Bob Menendez. It's not. Instead of cruising the state and bragging to his Democratic pals about his political resurrection, New Jersey's senior U.S. senator finds himself stuck in a muddy past filled with charges of corruption and ethics violations.
The Record Read more
Nasty Brawl Anticipated as Battle of the Bobs Begins in Senate Race
Now that the primary is over, the battle of the Bobs for New Jersey's U.S. Senate seat begins in earnest and though he may be bruised, Sen. Robert Menendez is still the favorite to win after what is expected to be by all accounts a nasty, negative campaign.
NJSpotlight Read more
Mulshine: Is Bob Menendez set up for a fall this fall?
On Tuesday, I asked a friend how he'd voted in the Democratic primary election for the U.S. Senate seat now held by Bob Menendez.
NJ.com Read more
Steinberg: If Only Tom Kean, Jr. had Run Against Menendez this Year…
This past Tuesday's unexpectedly close result in the Democratic U.S. Senate primary between Menendez and his virtually anonymous opponent reveals how vulnerable Menendez would have been this November against a stellar candidate like Tom Kean, Jr.  Against the Republican nominee, Bob Hugin, a candidate with politically malignant vulnerabilities, Menendez remains a distinct favorite.
InsiderNJ Read more
Weinberg calls for Codey, Lance to disclose Bucco settlement terms
State Senate Majority Leader Loretta Weinberg (D-Teaneck) said Thursday that she supports former Gov. Richard Codey and Rep. Leonard Lance disclosing the terms of a 2004 sexual harassment settlement between State Senator Anthony Bucco (R-Boonton) and a former staffer.
New Jersey Globe Read more
Trump Plan to Prop Up Nuclear, Coal to Cost Billions?
With the Trump administration mulling a plan to prop up nuclear and coal plants, critics say it will cost consumers billions of dollars on their energy bills and undermine the transition to renewable energy.
NJSpotlight Read more
Palisades Park mayor's mother goes on racist tirade after primary election
The Palisades Park mayor's mother went on a racist tirade on social media about the recent primary election where her son was trailing his challenger, a Korean councilman, in a race that is too close to call.
The Record Read more
School bus overturns on New Jersey Turnpike in Elizabeth
A school bus crashed and overturned on the New Jersey Turnpike near exit 13 in Elizabeth Thursday.
The Record Read more
More Edison cops to be arrested as no-show job scandal widens
More Edison cops are expected to join the tarnished ranks of the force — and soon — as the latest corruption investigation over alleged no-show side jobs expands to ensnare more officers, county officials told NJ Advance Media.
NJ.com Read more
Ocean Township mayor: Should we buy controversial yeshiva building?
Mayor Christopher Siciliano has asked residents if the town should buy 1515 Logan Road, the site where a yeshiva won approval to construct an Talmudic boarding-school academy in 2016.
Asbury Park Press Read more
This special ed teacher promised to one day donate $1M to her students. She wasn't kidding
About 10 years ago, Superintendent Emanuele Triggiano remembers laughing when a retired teacher told him that she was going to donate a million dollars.
The Record Read more
'Put your pencils down': NJ scolds Lakewood schools, but gives $28M loan
Reprimands are ubiquitous in schools, but typically the targets are students. Except in Lakewood, where last month state education leaders delivered a digital scolding to school district leaders.
Asbury Park Press Read more
Here's how one N.J. county plans to spend $7 million on park renovations, projects
Hudson County is expected to award nearly $7 million to help fund renovation and construction projects at parks and recreational facilities in 11 of its 12 municipalities.
Jersey Journal Read more
N.J. councilman blasted for 'homophobic' Facebook post
It may be Pride Month, but members of the city's LGBT community aren't feeling the love from a councilman they accuse of posting a homophobic message on Facebook.
NJ.com Read more
Mayor was booted after sharing online conspiracy theory. Now he wants to be a freeholder.
Soon-to-be former Newton Mayor Wayne Levante is going his own way, again.
NJ.com Read more
Brick Democrats fight: Should mayor also lead the party?
A Brick councilman seeking to chair the township's Democratic Committee said the mayor, who is running against him for the post, should not seek the position.
Asbury Park Press Read more
Editorial: Sick and tired of unused sick-leave abuses
The long and winding road to eliminating one of the more egregious abuses of taxpayer money in New Jersey — public-worker banking of unused sick leave for retirement payouts — may finally be approaching an end.
The Record Read more