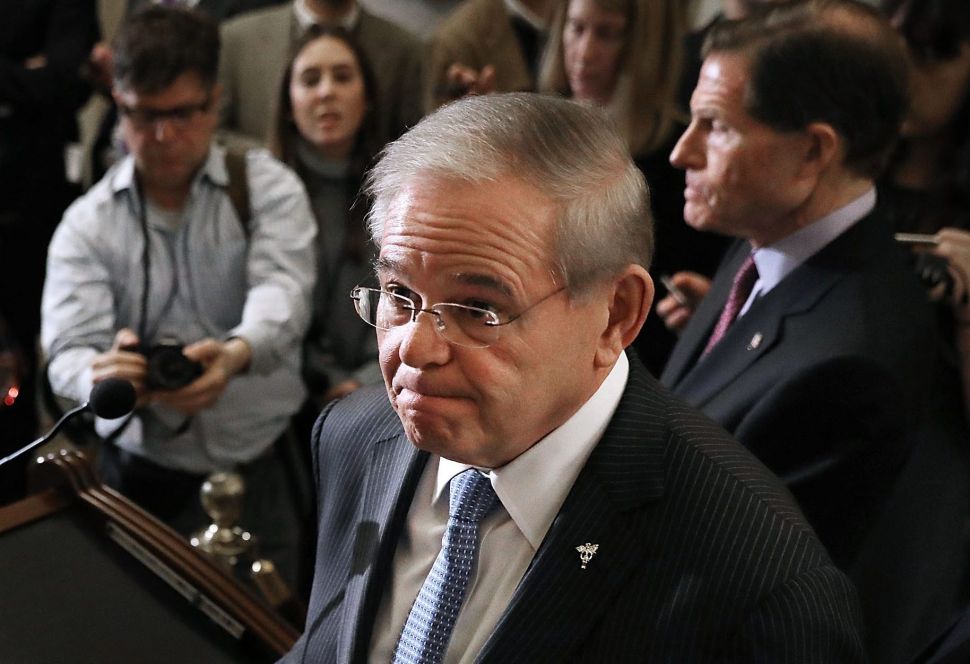 If incumbent Democratic Sen. Bob Menendez thought winning Tuesday's Democratic primary would mean smooth sailing to a victory in November's general election, the results prove that's wrong.
That's because Menendez's 62 percent to 38 percent victory over little-known challenger Lisa McCormick didn't solidify Menendez's standing as a strong standard-bearer for state Democrats. Instead, the veteran legislator emerged from the victory scarred and faced with questions about how he will perform against a well-financed campaign by Republican Bob Hugin, who is already running ads reminding voters of Menendez's federal criminal corruption trial and subsequent admonishment by the Senate ethics committee.
In most years, Menendez should have easily rolled over McCormick, a Union County activist who ran a shoe-string campaign.
But the fact that the challenger did so well showed that while the state's Democratic leadership has voiced its support for Menendez, rank-and-file voters aren't willing to forgive and forget his ethics issues.
Of course, those voters—and other New Jersey residents unhappy with President Donald Trump—might rally around the Democrat when the other alternative is voting for Hugin. But after Tuesday's vote, it appears Menendez can't count on a wave of anti-Trump, pro-Democratic enthusiasm to carry him to victory over Hugin.
Quote of the Day: "It was obviously a protest vote against having a nominee who they aren't thrilled with." — Monmouth University pollster Patrick Murray, on Lisa McCormick's showing against Sen. Bob Menendez in the Democratic primary.
NJ Elections 2018: Democrats Downplay Uneasy Bob Menendez Win After Corruption Charge
U.S. Sen. Cory Booker's recorded testimonial for "my partner," fellow New Jersey Sen. Bob Menendez pulsed with conviction and enthusiasm.
The Record Read more
Could the GOP take out New Jersey Sen. Bob Menendez?
It turns out that an 11-week bribery trial and a steady stream of news about free trips to Paris and the Dominican Republic aren't great for a U.S. senator up for reelection.
Inquirer Read more
Moran: Menendez v. Hugin: Is This Really the Best Jersey Can Do?
Democratic voters on Tuesday staged a revolt against the party establishment by giving nearly 40 percent of their vote to Lisa McCormick, an unknown challenger against Sen. Robert Menendez.
NJ.com Read more
Election 2018: Why Sherrill Would Have Struggled With Frelinghuysen, Menendez May Not… and Christie Is Still Hurting GOP
It's not quite her Super Bowl (those events only come in November), but for political scientists and political junkies like Brigid Callahan Harrison, Tuesday's night primary elections not only brought some interesting results but foreshadowed an exciting next six months to the general election.
ROI-NJ Read more
NJ Primary Results: Garden State May Be Battleground in November
For the first time in a long time, New Jersey could be a political battleground in a November election.
Inquirer Read more
The Primaries in Perspective
Democrats took to the polls yesterday, ushering in a new slate of candidates that are expected to mount serious challenges to Republican congressional incumbents in November.
NJSpotlight Read more
NJ Elections 2018 Results: Democrats Call Mikie Sherrill a 'Star,' But Challenge Lies Ahead
With the primary race now behind her, Democratic congressional candidate Mikie Sherrill faces her toughest political challenge yet: flipping a district that hasn't voted for a Democratic candidate since 1982.
The Record Read more
Chamber to Lawmakers: Slow Down the Spending
With lawmakers jockeying for policy positions weeks ahead of a potential government shutdown, the statewide chamber of commerce has suggested keeping spending under tight rein.
NJBiz Read more
On 'Good Morning America,' Emily Weinman Speaks Out Post-Wildwood Arrest: 'I'm Not a Bad Person'
Emily Weinman, the Philadelphia woman seen by millions being punched by Wildwood police on the beach, said Wednesday that she has been "anxious" and "upset" since the Memorial Day weekend incident, and asserted that "one situation doesn't define someone."
Inquirer Read more
Mom in Violent Wildwood Beach Arrest Likely Won't Talk to Police's Internal Affairs
Hours after 20-year-old Emily Weinman made an appearance on Good Morning America to discuss her arrest on a Wildwood beach Memorial Day weekend, her lawyer said it's unlikely she'll meet with internal affairs investigators.
NJ.com Read more
Sinkhole Closes Lane on Garden State Parkway in Middletown
The New Jersey Turnpike Authority is setting up to fix a sinkhole that opened up on the Garden State Parkway near exit 109 just before noontime Wednesday, according to State Police.
Asbury Park Press Read more
Biz Groups Criticize Jersey City Payroll Tax Plan
A plan to implement a payroll tax in Jersey City has alarmed business owners and industry groups who say it would limit Jersey City's competitiveness and aggravate an already inhospitable tax environment.
Jersey Journal Read more
'Green' Urge Murphy to Clamp Down on Power Plant Emissions
The Murphy administration is being urged to ratchet down on greenhouse-gas emissions from power plants when it rejoins a regional initiative to limit climate-harming pollution.
NJSpotlight Read more
Report: US High-Tide Flooding Twice What It Was 30 Years Ago
A new report finds that high-tide flooding is happening across the United States at twice the rate it was just 30 years ago and predicts records for such flooding will continue to be broken for decades as sea levels rise.
Inquirer Read more
NJ Senate to Vote on Expanding Workers Comp for First Responders
A bill a dozen years in the making that would change the way first responders' illnesses are covered under workers' compensation is expected to be approved Thursday by the state Senate.
NJ101.5 Read more
Wayne Poll Worker Charged With Heroin Possession After Police Said He Nodded Off During Voting
A poll worker was arrested Tuesday after a police officer caught him nodding off under the suspected influence of heroin, police said.
The Record Read more
Golden Nugget May Not Be Able to Offer Sports Betting Under Proposed Bill
A sports betting bill that's expected to clear the state Legislature on Thursday could make it difficult for Golden Nugget to offer sports betting.
Associated Press Read more
State Seeks to Apply Population Health Goals to Opiod Addiction
New Jersey must focus more on population health and prevention—not just treatment and recovery—by collaborating across government and with community partners to invest in wellness and build safer neighborhoods to make a real dent in the deadly opioid epidemic.
NJSpotlight Read more
Defeated Prosecutors Drop Case Against Weedman, But He's Not Happy
Prosecutors in Mercer County have dropped or dismissed the remaining criminal charges against a notorious marijuana activist who spent months in jail before being found not guilty by a jury.
NJ101.5 Read more
Get to Know Seth Grossman, the South Jersey GOP Nominee for Congress
The morning after his surprise victory in South Jersey's Republican congressional primary, Seth Grossman took a walk on the beach in Atlantic City to clear his head.
Press of Atlantic City Read more
Battle for Englewood Mayor Set After Michael Wildes Wins Primary by Landslide
Michael Wildes knocked on more than 5,600 doors in the lead-up to his victory Tuesday in the city's Democratic primary for mayor.
The Record Read more
Lakewood to Add Metal Detectors After 2 Elementary Students Bring Gun to School
Public school leaders say metal detectors will be installed in all schools after an elementary student brought a loaded handgun to his school Tuesday.
Asbury Park Press Read more
Bogota School Board Members File Ethics Charges Against the Rest of the Trustees
A group of school trustees have filed state ethics charges against their colleagues on the Board of Education because they voted to hire a superintendent who wasn't certified for the position when he was hired.
The Record Read more
Conservative Challengers Sweep Stafford GOP Primary
Conservative challengers won all seven seats—including the mayor's office—in the township's GOP primary election Tuesday.
Asbury Park Press Read more
NJ Election Results: Morris County Poised to Get Four New Mayors
Some long-serving Morris County mayors and local elected officials will see their terms conclude at the end of the year after primary election losses on Tuesday.
Daily Record Read more
Editorial: A Layer of Protection Against Surprise Medical Bills
The measure Gov. Phil Murphy signed into law last week to help rein in out-of-network medical bills is a bold step for the state—and one that will help protect patients against surprise health care charges.
The Record Read more