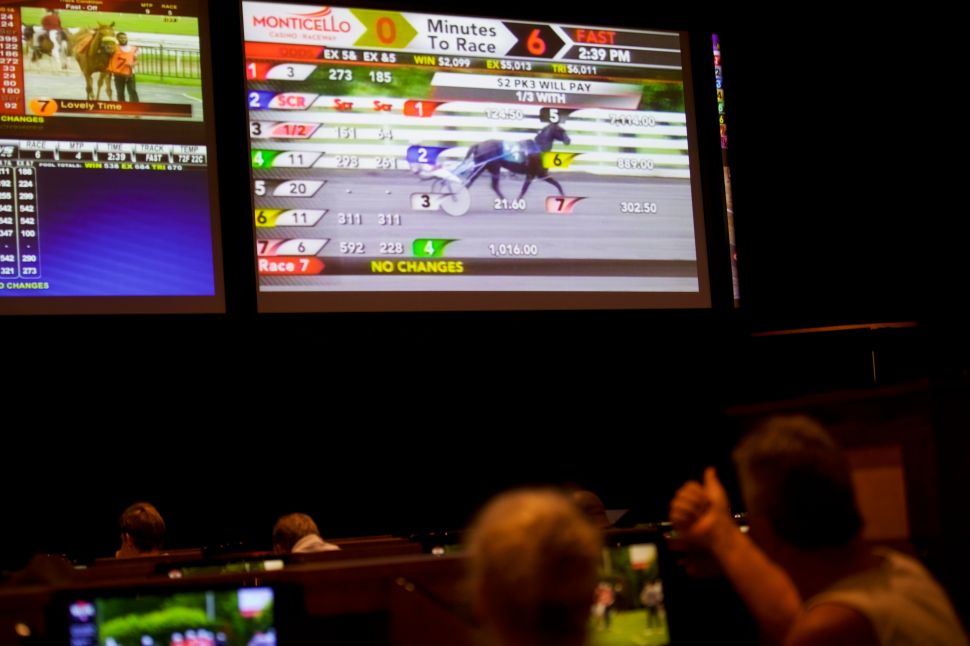 New Jersey kicks off its entry into the sports betting market Thurday, but the question of just how much money it will bring into the Garden State—and into state coffers—is still a subject up for debate.
As a story in the Asbury Park Press notes, estimates of the state's legal sports betting market range from $400 billion to less than $150 billion.
And that $150 billion might be wildly optimistic, according to a Boston College professor quoted in the report, who warns New Jersey to expect a lot less.
Professor Richard McGowan estimates the state's sports betting market to be around $1.3 billion annually. Monmouth Park, which is likely to be the first venue in the state offering sports betting, can expect revenues of around $17 million, which it will have to split with its partner, the Asbury Park Press reports.
McGowan, however, also notes that the real money to be made is when the state offers online sports betting, McGowan said, noting that about 70 percent of all money bet online goes toward sports betting, the report said.
Quote of the Day: "If you're a private business, you would never—you would fire people if they did business that way. 'Here it is, our grand opening, and we're not open.'" — Radio host Mike Francesa, criticizing a state press release that says while betting will start at some sites Thursday, not all sites will be ready and online betting won't start for 30 days.
NJ House Candidate Seth Grossman Calls Diversity 'a Bunch of Crap and Un-American'
Seth Grossman, the Republican nominee for Congress in New Jersey's 2nd District, called the idea of diversity "a bunch of crap and un-American" during a campaign event earlier this year.
Christian Hetrick, Observer Read more
NJ Sports Betting: Exactly how big is the market?
The numbers regarding the size of the legal sports betting industry in this country vary so wildly it's comical, from a pie-in-the-sky $400 billlion to a low-ball of less than $150 billion, and everything in between.
Asbury Park Press Read more
WFAN's Mike Francesa blasts Phil Murphy, N.J. for online sports betting delay; Twitter fights back
New Jersey's No. 1 elected official is getting the benefit of the doubt over New York's Numbah One on Twitter.
NJ.com Read more
Sports Betting 101: Here's a quick tutorial on placing bets in N.J.
You have the bankroll to play with, the itch to gamble and a general knowledge about sports.
NJ.com Read more
NJ marijuana legalization: How legal weed states get around federal ban on marijuana
It's the problem faced by every single marijuana dispensary in the nine states that already sell marijuana for recreational purposes.
Asbury Park Press Read more
What Menendez just did that adds fuel to debate over his Senate foe's move against generic drugs
For U.S. Sen. Robert Menendez, Republican challenger Bob Hugin's record as Celgene Corp.'s top executive is fertile ground for attacks on the campaign trail.
NJ.com Read more
This 'summer of hell' project could torture commuters for years
Even when all lanes of Route 495 are open, it can be a hellish commute to the Lincoln Tunnel on most weekday mornings.
NJ.com Read more
Wildwood mayor responds to angry calls, messages following beach arrest
The city's mayor has been receiving angry emails, calls and messages from around the country following an incident on the beach that led to the violent arrest of a 20-year-old girl.
Press of Atlantic City Read more
Kenilworth superintendent accused of Holmdel HS pooping offers no explanation
The North Jersey schools superintendent accused of turning the Holmdel High School track into a personal potty appeared in court Tuesday, but offered no explanation for what landed him in the unsavory predicament.
Asbury Park Press Read more
The perfect suburban school is living a financial nightmare. Here's who is to blame
Take a walk down Thorn Lane, past the new houses with swimming pools and three-car garages, and you would think you had arrived at the picture-perfect neighborhood elementary school.
NJ.com Read more
New Jersey settles decade-long lawsuit with former state trooper
New Jersey officials have agreed to a $1.4 million settlement in the decade-long case of a former state trooper who says he was punished for reporting discrimination.
Asbury Park Press Read more
NJ beaches: Fecal bacteria means 1 in 3 beaches temporarily unsafe
Fecal bacteria counts spiked to unsafe levels on Monday at 61 Jersey Shore ocean, bay and river beaches, according to testing data just released by the state.
Asbury Park Press Read more
Amazon to open massive distribution center in Burlington, N.J.
Workers are busy erecting a hulking steel structure that will support a one-million square-foot Amazon Distribution Center at the 50-acre site of the long-shuttered U.S. Pipe & Foundry site that straddles Burlington Township and Burlington City.
Inquirer Read more
Phil Murphy's attorney general fires warning shot at 'ghost gun' makers
New Jersey's attorney general on Tuesday sent warning letters to manufacturers of unregistered "ghost guns" as state lawmakers pursue a formal ban on the sale of firearm parts used to make untraceable homemade guns.
NJ.com Read more
Murphy administration to delay charity care payments to hospitals because of budget battle
New Jersey hospital CEOs just received a worrisome statement from state Health Commissioner Shereef Elnahal alerting them that money they count on to pay the tab for uninsured patients and educating new doctors will be late, NJ Advance Media has learned.
NJ.com Read more
ICE makes 91 arrests during five-day span in New Jersey
U.S. Immigration and Customs Enforcement arrested 91 people during a five-day span last week throughout New Jersey, the agency announced.
The Record Read more
What is N.J.'s largest ethnicity? Award aims to remind us of ties to this beloved country
Victoria Gatopoulos is half Italian. Her great grandparents immigrated from Italy. Her mother grew up in an Italian-American family in Brooklyn.
NJ.com Read more
NJ Suicide Calls Spike Following Deaths of Bourdain, Spade
Following the high-profile deaths of designer Kate Spade and TV personality Anthony Bourdain, the state's suicide prevention hotline has experienced a significant uptick in calls from individuals needing support.
NJ101.5 Read more
More Scrutiny of Deals Municipalities Make With Developers
As lawmakers consider increasing the amount of aid the state gives to K-12 school districts this year, they're also advancing legislation that would bring more scrutiny to special tax agreements between local officials and developers that can also influence the bottom line for school districts.
NJSpotlight Read more
Lawmakers Look to Create Standard Penalties for Polluters
The state is seeking ways to shore up how it assesses damages to natural resources when polluters contaminate New Jersey's waters, wildlife, and land.
NJSpotlight Read more
Tillie of Asbury Park: Who owns the iconic face of the resurgent city?
Ron Maletich purchased the Road Ad Sign Co. in Neptune in 1985 and promptly began to clean house, discarding the renderings of projects from long ago, ready to start anew.
Asbury Park Press Read more
William Paterson University reviewing anti-Semitism claims against sociology professor
William Paterson University is reviewing reports alleging that a sociology professor made biased comments and shared conspiracy theories in class, including telling students that the moon landing was faked.
The Record Read more
NJ: Lakewood school board lawyer's $600,000 contract breaks rules
A $600,000 annual contract given to the lawyer for Lakewood's public schools — an arrangement recently extended for another year — violates state education regulations, records obtained by the Asbury Park Press show.
Asbury Park Press Read more
Teachers union prez rages following vote to change health plan
The nine-member school board voted Monday to move its employees to a new health care plan that district officials say will save $15 million, angering teachers who say they worry about abrupt changes to their medical coverage.
NJ.com Read more
Murphy-bashing Dem loses Toms River chair race
The best municipal chairman race in the state was in Toms River on Monday night, where a popular councilman faced a challenge in an election held in his own home.
New Jersey Globe Read more
N.J. patients, leaders feel 'betrayal' at government's target on pre-existing conditions
Coverage and protections for pre-existing medical conditions are one of the most popular aspects of the federal Affordable Care Act, national polls find, but a curveball thrown by the Trump administration last week threatens the provision.
Press of Atlantic City Read more
Atlantic City officials announce 2018 budget with no tax increase
City officials announced Tuesday that the city's 2018 budget won't include a tax increase for city property owners, but will include a stipend for some city employees.
Press of Atlantic City Read more
Fulop under fire for removal of newspaper boxes
Critics are attacking Mayor Steve Fulop for his decision to yank newspaper boxes from the sidewalks of Jersey City.
NJ.com Read more
This N.J. shore town is better than ones in Virginia, Florida and even California
People in the Garden State do not have to travel across the country to enjoy one of the best, happiest beaches out there.
NJ.com Read more
$183M housing authority was 'living beyond our means.' Now, it's on fed gov't watchlist
The Newark Housing Authority plans to cut about $2 million in salaries and benefits by the end of the month in order to plug its $5 million budget shortfall and avoid a federal takeover.
NJ.com Read more
Edgewater focuses on police radios working indoors
It's a firefighter's worst nightmare: being trapped inside of a building and unable to communicate with fellow first responders who could provide aid.
The Record Read more
Edgewater council counters John Stossel's criticism on eminent-domain takeover plan
Mayor Michael McPartland on Monday countered accusations brought by a former TV personality in an online video, which McPartland claims contains slander.
The Record Read more
Mahwah school bus catches fire on way to school
A school bus caught fire in Mahwah on Tuesday morning while driving on Chapel Road, forcing the bus driver and a fifth-grader to evacuate the vehicle.
The Record Read more
Bermann: Murphy Cabinet diverse, but not representative
One of Phil Murphy's many gubernatorial campaign promises was to create a diverse Cabinet and one that was representative of the state's demographics.
Asbury Park Press Read more