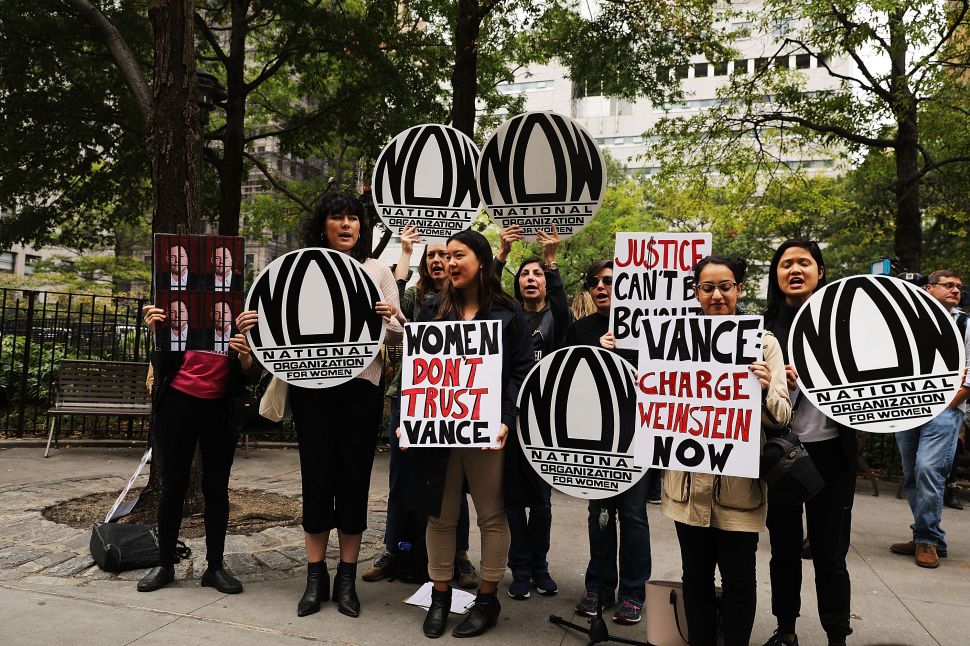 The number of rapes reported to the NYPD nearly doubled between May 2017 and May of this year, coinciding with the rise of the #MeToo movement over the last eight months. Is the #MeToo movement responsible for this uptick or are other factors also at play?
At Mayor Bill de Blasio and Police Commissioner James O'Neill's monthly media briefing on crime statistics on Tuesday, Lori Pollock, the NYPD's chief of crime control strategies, said 181 rapes were reported in May, compared to 121 in May 2017—an increase of 60 crimes, or nearly 50 percent—the highest number of rapes reported for the month of May in 16 years.
Out of the 181 rapes reported, 146 happened this year and 35—or 19.3 percent—occurred in previous years, Pollock said, with 18 of the 35 occurring in 2017 and 12 taking place more than five years ago.
Six percent of the rapes were "stranger" rapes, but in an overwhelming majority of the cases, 94 percent, the victim knew the offender, Pollock noted. She also referenced the NYPD Special Victims Division's (SVD) 24-hour hotline for anyone who wants to report an incident.
"The trend continues in terms of reporting," she said. "More people are coming forward to report rapes that are happening this year and previous years, and we really are encouraging more people."
Police Commissioner James O'Neill said the increase has to do with the "The Call is Yours" campaign that NYPD launched in April to encourage sexual assault victims to come forward regardless of whether their allegations are new or old. He also announced that the NYPD would conduct a "top to bottom" scrub of the SVD and that 20 extra detectives would be added to the unit.
O'Neill said that Dermot Shea, NYPD's Chief of Detectives, is in the process of finishing up his review of the Special Victims Unit (SVU) to see if there are other personnel needed in the unit.
"We've done a lot of work with the advocacy groups to make sure that we do, that people, that survivors of sexual assault feel comfortable coming to the police and report these crimes," he said. "So that increase is a result of more reporting, obviously, and we put additional resources into the Special Victims Unit."
A report by the city's Department of Investigation (DOI) found that the NYPD has understaffed and under-resourced SVD for at least the last nine years.
In March, the police department's homicide squads had 101 detectives with 282 homicides in 2017, the report found. During that same time period, SVD's adult sex crime units had 67 detectives supervising 5,661 cases.
DOI also said that internal documents show that "stranger rape" and high-profile cases are prioritized to receive SVD's limited resources over "acquaintance rape" and other adult sex crimes, which were overseen by precinct-level detectives who are not trained in sex crime probes.
In 2006, African-American activist and community organizer Tarana Burke, who is from the Bronx, started the #MeToo movement. In October 2017, actress and activist Alyssa Milano encouraged people to use the hashtag, which went viral.
The hashtag movement came soon after reports in The New York Times and The New Yorker surfaced regarding sexual misconduct allegations against Hollywood executive Harvey Weinstein. Weinstein recently pled not guilty to two charges of rape and a criminal sex act at his arraignment in front of the New York Supreme Court after surrendering to the NYPD.
And former New York Attorney General Eric Schneiderman resigned amid a report in which four women accused him of physically abusing them.
A nationwide 2016 Department of Justice study found that more than 70 percent of sexual assaults are not reported to the police. And a Centers for Disease Control (CDC) national survey on intimate partners and sexual violence found that more than 18 percent of women reported having been raped in their lifetimes.
Sonia Ossorio, president of the New York City and New York State chapters of the National Organization for Women (NOW), told Observer that a lot of the increase is most likely attributable to the fact that "we are in a new era," where the shame and stigma of rape "has been erased to a great degree."
Women, she said, are feeling empowered to tell their stories and feel entitled to justice.
"There certainly are more people coming forward to tell about their experiences with sexual assault," Ossorio said. "And according to the NYPD, the last time I talked to them, there's a real increase in reports that are older. They're seeing an uptick in people reporting sex crimes that happened more than five years ago."
Still, she warned that people should be careful about how they interpret the nearly 50 percent increase over the last year.
"It represents a healthy increase in the number of reports," Ossorio continued. " [But] I really don't think we can read too much into it. One would expect that in this #MeToo movement, in which we are in the midst of a cultural revolution around sexual assault, we would expect that the number would be higher for reporting right now."
She said there will continue to be an increase in reporting and that law enforcement needs to be prepared and take the opportunity to "examine the systems they have in place" to see if they have enough resources.
When asked if there are other factors, she said that perhaps the NYPD's public announcement campaign played a role. But the biggest factor, she argued, is hearing "thousands upon thousands of women's stories."
And while she believes the cases of Weinstein and Schneiderman are all "part of the same cultural reckoning and raised public consciousness," she maintained that it has been "happening for a while."
She referred to the case of Brock Turner, a former swimmer at Stanford University who was sentenced to six months in jail for sexually assaulting a young woman outside of a fraternity house. Voters recently recalled Santa Clara County Judge Aaron Persky, who sentenced Turner.
"From Brock Turner to Harvey Weinstein, that is a big part of the social reckoning that we're now seeing, which is fueling more victims to come forward and putting a spotlight on law enforcement's response to sexual assaults," she argued.
Mary Haviland, executive director of the New York City Alliance Against Sexual Assault, told Observer that the increase is due to the NYPD's new campaign and rape victims "feeling more likely to be believed," noting that they have been supported by "what's been going on with #MeToo."
"I think it made them probably more receptive to the campaign but I think the campaign is one of the biggest intervening factors that increase the reporting," Haviland said.
She noted that over the last eight months, women have been coming forward in many sectors and that all sexual assault survivors—men and women—have found that telling their stories is having an effect—and that this increased the effect of the NYPD campaign.
"I think it's probably those two things that are coming together," Haviland continued. "And there was an increase in monthly rapes reported. There have been monthly increases after October 2017, but they weren't as dramatic as this month's was."
Manhattan Councilwoman Helen Rosenthal, chairwoman of the City Council's Women's Committee, told Observer that whether the #MeToo movement played a role in the increase can be determined by looking at the number of rapes reported to SVD's 24-hour hotline, which have increased.
Still, she pointed to several "confounding" factors: NYPD's Compstat crime tracking program separating rape and misdemeanor sex crimes into independent categories, the overall underreporting of rapes (the DOI report found that the rate is five percent or lower compared to more than 70 percent for most other crimes) and the lower number of reported rapes altogether.
When asked whether the #MeToo movement factored into the increase, she said it is hard to say given that the number of reported rapes is still too low, but that she "would hope so."
"It has played a role, but too few people come forward to really be able to have a meaningful analysis," Rosenthal said. "If the number of women coming forward were accurate, if we knew the number of rapes that occurred every year, then we could see whether or not there's been an uptick."
When asked whether the NYPD is doing enough, she said the DOI report answered that question "with a resounding no." The NYPD, she explained, added 20 more of the grade-three (entry-level) detectives, who she said are not trained in the survivor-centric methodology SVD uses.
She noted the Prummel model, a nationally-accepted staffing analysis model, suggests that SVD would have needed an extra 73 detectives, about double the number they had, to devote an adequate amount of time to each case in 2017.
And she added that the five SVD facilities in each borough are "terrible" and that she was "delighted" to hear that O'Neill is upgrading the Manhattan facility.
Queens Councilman Donovan Richards, chairman of the Council's Public Safety Committee, told Observer there is a correlation between more victims speaking up and the toppling of "powerful individuals" like Weinstein amid the #MeToo movement.
"It's helping to drive up the numbers, certainly, because I think the more people see justice being served, I think the more likely it is that they will report themselves," Richards said. "This is why the work the Council has done on the SVD unit, all of this, a combination of it is something I believe is certainly pushing people to come forward."
He pointed to the NYPD's campaign, the Council's Domestic Violence and Empowerment (DoVE) Initiative and Safe Horizon, the largest victim assistance organization in the United States. And he insisted he has seen "more focus" being put on SVD.
"In New York City obviously, the numbers are going up," he continued. "While some people might say it's a bad thing, we believe it's a step in the right direction. It means more people are coming forward. It means the NYPD needs more resources."
And he said more cases are playing out "openly in the press" and praised the women who are speaking out. But he stressed that non-high-profile cases also deserve a spotlight.
"We should give just as much focus to victims who are not accosted by people in the limelight on a daily basis," he said.