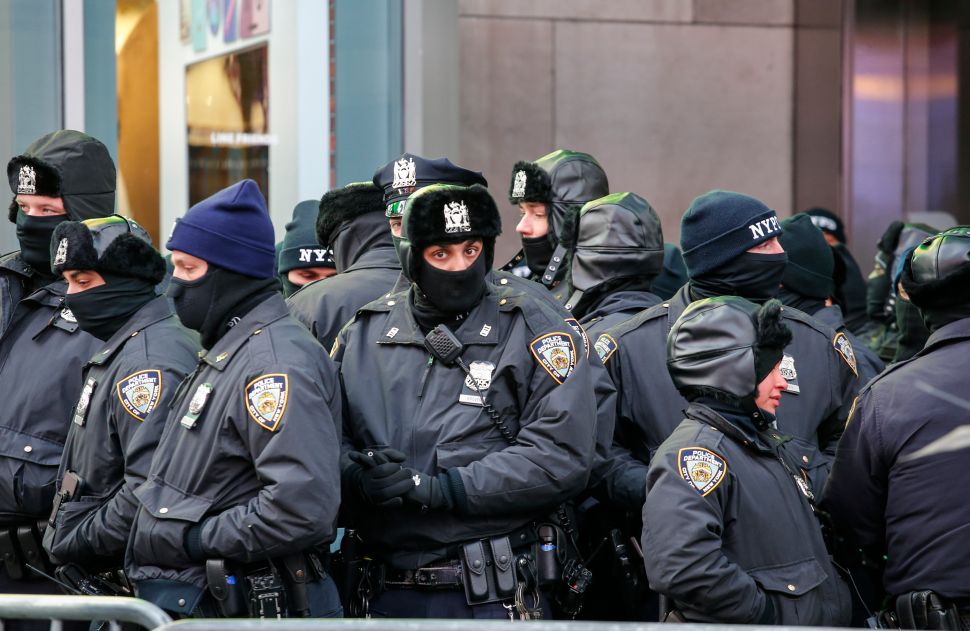 The NYPD is facing increasing backlash over a lack of transparency about the process by which it determines who is included in its gang database, as well as its gang policing tactics amid concerns over inaccurate labeling of youth—especially youth of color—as gang members based on vague criteria.
Groups such as the Coalition to End Broken Windows and the Legal Aid Society, which has filed a lawsuit against the NYPD over its gang database standards, have pointed to the NYPD's reliance on "large-scale military style gang raids" to crack down on violent crime in New York City Housing Authority (NYCHA) developments.
The Intercept recently reported that the NYPD's gang database expanded by 70 percent under Mayor Bill de Blasio, with New Yorkers being added to the database at a rate of 342 people a month—close to three times the rate of the previous decade.
At a City Council hearing on Wednesday morning, Queens Councilman Donovan Richards, chairman of the Council's Committee on Public Safety, praised the NYPD's work to combat gang-related crime and gang violence, referring to the NYPD's "precision policing" method—which focuses on criminals—and neighborhood policing, which pairs community officers with neighborhood residents.
But he argued that it's unfair to incriminate people simply because they were wearing the wrong color, living in a "bad area" or were hanging out with their friends "on the wrong corner." He also pointed to the dangers of increased police surveillance of young people.
"Simply being labeled a gang member can have serious consequences," Richards said. "Immigration authorities use the label to justify deportation. Prosecutors use it to ask for higher bail and to keep people on Rikers Island before they have been convicted. Judges consider it when imposing sentences, even for nonviolent offenses."
He argued that the risk of such consequences being thrust upon innocent individuals is "too great" when information about how and why people are labeled gang members is withheld from the public.
"The public has a right to know which communities are being scrutinized and why," Richards continued. "Citizens have a right to know how their lawful conduct can result in unwanted attention from the authorities."
Dermot Shea, the NYPD's Chief of Detectives, said that of the 798 shootings last year, 393—or 50 percent—involved a gang member as either the victim or the perpetrator, which the NYPD refers to as "gang-related." Since 2016, Shea said, the NYPD has conducted roughly 100 long-term gang investigations, resulting in 1,259 arrests.
The NYPD, he explained, works closely with federal and state law enforcement partners and prosecutors and uses investigative techniques such as surveillance, undercover officers, reviewing financial transactions and wiretapping phones.
There are two paths by which individuals can be added to the Criminal Group Database. The first path requires that one of the following take place: a self-admission of gang membership to a member of the NYPD, being identified as a gang member by two "independent and reliable sources" or social media posts admitting to membership in a gang.
The second path, Shea explained, requires two of the following to be true: frequent presence at a known gang location; possession of "gang-related documents"; association with known gang members; social media posts with known gang members while possessing known gang paraphernalia; scars and tattoos associated with a particular gang; frequent wearing of the colors and frequent use of hand signs linked to specific gangs.
"It is not enough for a person to be in a gang location, or to flash hand signs, or to wear gang colors on a certain day," he maintained.
He noted that each of the more than 34,000 people who were in the NYPD's database were individually reviewed under the criteria as the police department constructed a new database to replace the existing one. As a result of that process, the database now has roughly 17,600 people—nearly half of where it once stood in 2014—and just over 500 different criminal groups entered.
"Our goal is to make sure that everyone who is in the database is actually a gang member," Shea added. "We are in the era of precision policing. Saturating the database with non-gang members limits its usefulness."
Only a precinct field intelligent officer, a gang detective or an investigator in the Social Media Analysis and Research Team can recommend that an individual be entered into the database, with the recommendation being reviewed by a supervisor in the Gang Squad.
The NYPD also created three avenues to exit the database, reviewing each person every three years and on their 23rd and 28th birthdays to determine if their actions and records still merit inclusion in the database.
The database has 17 people who are 13 years old—the youngest people in the database. The average age is 26 and less than 2.5 percent of the people in the database are under the age of 18. And 95 percent of the NYPD's gang database are people of color.
In the last four years, Shea said, the NYPD has taken out more than 3,700 entries from the database. Once a person is taken out of the database, he said, the fact that they were once affiliated with a gang is "permanently hidden from the database."
Shea insisted that only NYPD personnel can access the information and that it is not shared with NYCHA, employers conducting background checks or U.S. Immigration and Customs Enforcement (ICE)—and  that it does not show up on individuals' criminal history or rap sheet when they are fingerprinted.
He noted that 90 percent of gang members have been arrested for at least one felony, 75 percent for at least one index crime and 50 percent for at least one robbery. The average person in the database has been arrested 11 times—five of which are for felonies. And gang members, he added, are responsible for the murders of more than 500 people and have been arrested for nearly 18,000 robberies.
"Stricter inclusion protocols and routine auditing and expungement have dramatically reduced this database over the last five years," Olivia Lapeyrolerie, a mayoral spokeswoman, said in a statement. "This increased precision has played an important role in the NYPD's successful efforts to combat the gangs at the center of our city's violence."
Marne Lenox, assistant counsel at the NAACP Legal Defense and Educational Fund (LDF), said the NYPD's "aggressive, military-style gang takedowns" primarily target public housing residents, the overwhelming majority of whom are people of color.
"While a small number of people arrested in gang takedowns are believed to have committed violent or otherwise serious offenses, most are accused of only low-level misconduct," Lenox said. "Yet prosecutors rely on conspiracy statutes to demonize those who commit petty offenses by implicating them in violent crimes, making it all but impossible to fight their charges at trial."
She gave the example of Patrick Littlejohn, who was arrested along with over 100 other individuals as part of an April 2016 raid of the Eastchester Gardens NYCHA development in the Bronx where he had lived his entire life.
He was unlawfully arrested for trespassing in his development while visiting a neighbor who was with him at the time of the arrest, she explained. The U.S. Attorney's office agreed not to prosecute him after six months of good behavior, but he lost his job as an after-school basketball coach and tutor.
LDF and the Center for Constitutional Rights (CCR) served the NYPD with two Freedom of Information Law (FOIL) requests seeking records on its gang policing tactics, but the NYPD refused to disclose the vast majority of the records.
Brooklyn Councilwoman Laurie Cumbo, the Council's Majority Leader, said the database should be utilized to connect young people to resources such as summer youth employment.
"Obviously, these are entrepreneurial individuals who have some talents and some skill sets to do something," she said, calling for putting more resources into their hands. "This city just increased the amount of summer youth employment… from 28,000 to 75,000."