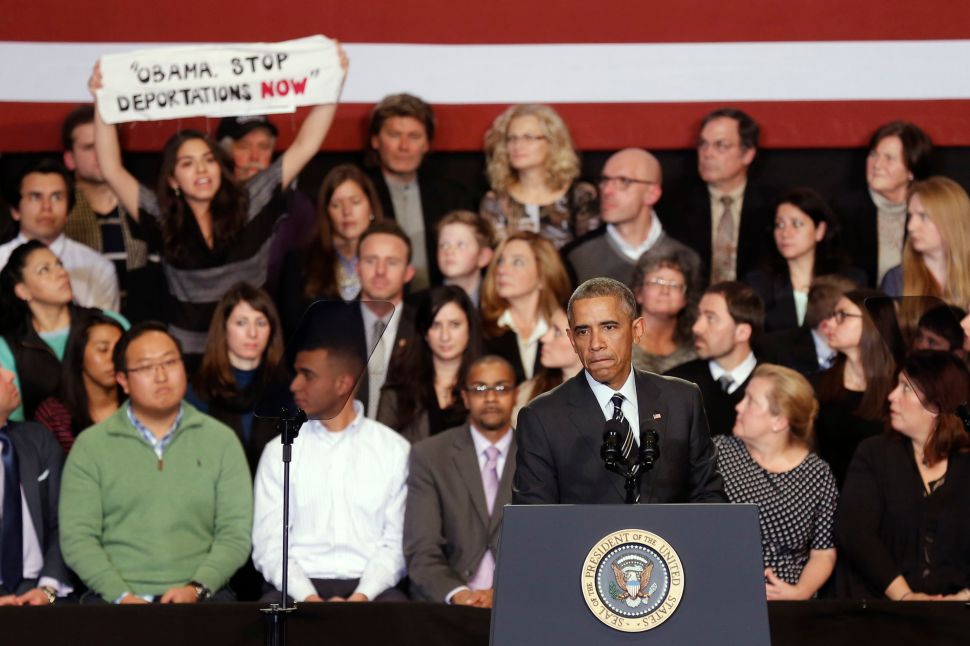 As the Trump administration prepares for an influx of immigration crackdowns ahead of this year's midterms—with reports describing scenes of immigrant children being torn from their mothers—Republicans are donning hindsight goggles.
Senator Marco Rubio (R-Fla.) blamed policies approved by former President Barack Obama as the reason why the United States needed to raise a heavier hand to immigration. Conservative news aggregator Drudge Report, meanwhile, tweeted out a link to a Law & Crime article analyzing the Obama administration's embrace of a policy called the Alien Transfer Exit Program (ATEP), which focuses on detaining male migrants.
"This administration did not create a policy of separating children at the border," Secretary of Homeland Security Kirstjen Nielsen told reporters on Monday. "We have a long-existing policy multiple administrations have followed… The last [two] administration[s], the Obama administration, the Bush administration all separated families."
So what exactly was the Obama administration's role in detention centers and family separations?
When Obama came to power, roughly 400,000 immigrant detainees passed through detention centers each year, according to The New York Times. Appearing to break from the Bush-era's immigration hardline—which oversaw the installation of Immigration and Customs Enforcement (ICE) as an agency within the Department of Homeland Security following 9/11, and the pursuit of a "zero tolerance" policy through the 2005 initiative "Operation Streamline"—the Obama White House early on favored a softer solution to the issue. Obama moved to close the T. Don Hutto Residential Center, a detention center sued by the American Civil Liberties Union over human rights violations, and in 2012, he launched the Deferred Action for Childhood Arrivals (DACA) program to grant undocumented immigrants protection from deportation.
However, confronted with over 486,000 illegal border crossings in 2014, per the Pew Research Center, the Obama administration reversed course. Helmed by Obama's immigration policy advisor Cecilia Muñoz and members of the National Security Council, the White House began to approach immigration as a crisis to be contained.
"In 2013 and 2014 the Obama administration decided to respond to a refugee crisis from Central America as an immigration crisis, to treat it not as forced migration from people fleeing from persecution, but to treat as a border security crisis. And the way they responded was by putting families in detention," immigration attorney R. Andrew Free told Observer. "They decided that by putting people together in jail, mothers and children, that they could deter future migration. And that was the message. That was the same message, the same logic that's being applied now."
Under the 2015 DHS Appropriations Act, the Department of Homeland Security enforced a bed detention mandate wherein the agency was legally required to "maintain a level of not less than 34,000 detention beds" daily in both state and for-profit detention centers, asserting legal authority to hold women and children indefinitely.
"Tens-of-thousands of people were in those jails and suffered. Several attempted suicide," explained Free. "Kids got very, very sick. It was state-sanctioned, for-profit cruelty. And that system unfortunately survived the Obama administration and carried into this one."
Although detaining undocumented immigrants and family separations occurred during the Obama years, despite denials from Muñoz in an interview with CBS published on Monday, both practices have soared under Trump.
"The Obama administration had a policy that acknowledged limited resources and focused resources on hardened criminals as opposed to low-level violators," Jacob Monty, an immigration attorney who briefly served on the National Hispanic Advisory Council for Trump, told Observer. "The big difference is the policy of separating parents from their kids."
Nielsen claimed during yesterday's press conference that 10,000 of the 12,000 children currently in the care of Health and Human Services were sent alone by their parents and that the Trump administration's "zero tolerance policy" was not pursued to deter immigration. In 2017, however, then-DHS Secretary John Kelly told CNN that the principle would be an effective deterrent. Later that fall, Trump announced the end of DACA, spurring a partisan showdown over finding a solution to the roughly 800,000 undocumented immigrants who were previously protected under the Obama initiative. In April, the Trump administration began prosecuting more border-crossing offensives.
"The president created this problem by aggravating DACA," said Monty. "The zero tolerance policy is definitely making things worse because our crowded courts along the U.S.-Mexico border are only going to get more crowded."
With videos surfacing of detained children screaming, immigration has became one of the most pressing issues in the Trump era. Ahead of the midterm elections, Republican and Democratic lawmakers are scrambling to strike a bipartisan solution to a problem that plagued past administrations but has recently boiled into crisis. Despite variations of a zero tolerance policy existing under past administrations, the principle has been weaponized by immigration hawks like White House aide Steve Miller and Attorney General Jeff Sessions.
"As a result of a number of factors, the agency [ICE] has proliferated in unaccountability," said Free. "The big difference is that Donald Trump has actually made this problem worse."
"Here we have rhetoric coupled with bad policy that is making this problem worse," added Monty.