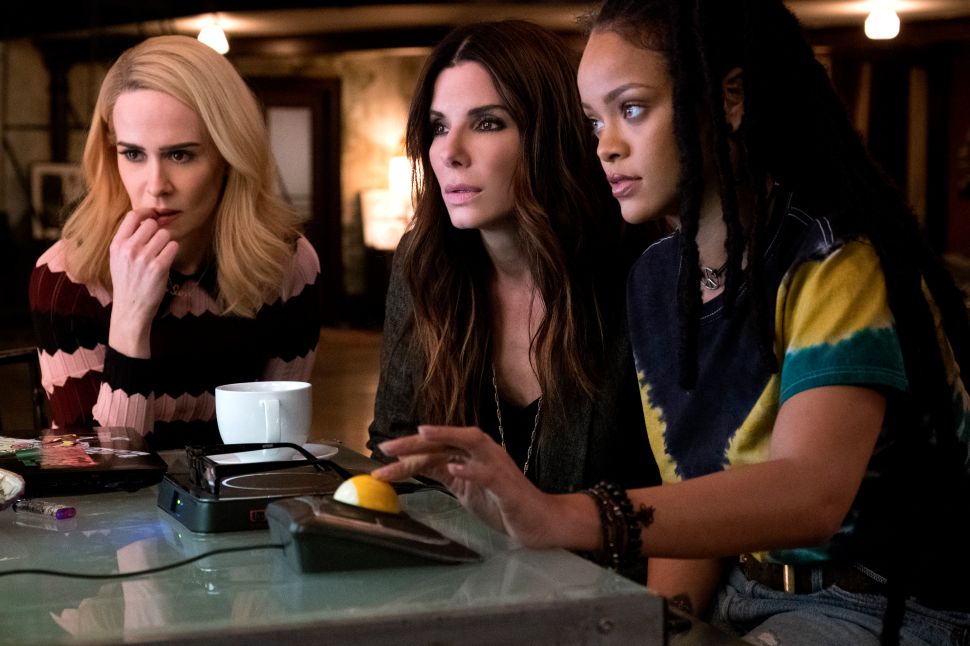 The Kristen Stewart-led Twilight franchise earned more than $3 billion worldwide over five films, while Jennifer Lawrence's Hunger Games series managed the same feat in just four. In 2012, both made their way into the top-10 highest-grossing films of the year.
This year, biggies such as Marvel's Black Panther and Avengers: Infinity War, Universal's Jurassic World: Fallen Kingdom, Warner Bros.' Harry Potter prequel sequel Fantastic Beasts: The Crimes of Grindelwald and the next entry in the studio's embattled DC Extended Universe, Aquaman, have monopolized most of the attention. All are headlined by men.
But a title that may be lost in the sea of those leviathans is Ocean's 8, which rolls out an all-star female cast: Sandra Bullock, Cate Blanchett, Anne Hathaway, Rihanna, Mindy Kaling, Helena Bonham Carter and more. Despite WB sinking a not insignificant $70 million into the female-led feature—a spinoff of the Ocean's trilogy with Bullock playing the sister of George Clooney's character—major studios are still largely afraid to put women in splashy lead roles or invest in female-centric projects.
That's their loss—which can add up to billions—because the numbers over the years prove that producing female-first movies is a savvy business move. And yet, a lingering fear of funding and producing such films remains.
One issue with mainstream female-led movies is that, even though people go to these movies, they also generate a monumental amount of negative rhetoric, especially—and very visibly—online.
2016's Ghostbusters reboot seems like the easy analogy for Ocean's 8: a female-led continuation of a popular franchise that was once headlined by male actors. But the differences go much deeper, and warrant a further inspection.
The first Ghostbusters was a deeply beloved classic and box office hit that dominated pop culture, inspiring action figures, comic books, video games, television series, novelizations, theme park attractions and, of course, those wildly cool ghost traps that opened up when you planted your foot on the button. Neither the original 1960 Ocean's 11 nor the Clooney trilogy demanded popular reverence in nearly the same way.
"Ghostbusters was a perfect example; anytime you're rebooting any beloved movie, it's going to raise eyebrows," Paul Dergarabedian, senior media analyst at comScore, said. "If you're going to repaint the Mona Lisa, you better do it in a way that lives up to the legacy, or at least the perception people have of the original."
The original sits among the 100 greatest films of all time in the rankings for Empire and The Hollywood Reporter. Not even the 1989 sequel, Ghostbusters II, which featured the same Bill Murray, Harold Ramis, etc. cast, could live up to expectations. It sits at a lowly 53 percent on Rotten Tomatoes and left a bad taste in the mouths of moviegoers.
Comparatively, the Ocean's franchise, while undeniably fun, is fairly disposable; it's entertainment that has succeeded partially because of some of the stars and partially because of how professionally it's put together. But it isn't some cult movie that audiences think is one of the greatest anythings of any generation.
The blowback likely would've been severe for a new Ghostbusters movie no matter who was in it, but the female-fronted reboot was forced to do battle with provincial outside forces.
"The root cause is sexism," Jerin Arifa, founder and president of Young Feminists & Allies, told Observer when asked why some big movies featuring women are met with pre-release negativity. "One example is the gendered insults toward the cast of the recent remake of Ghostbusters. If fans were merely upset about changing beloved source material, the insults wouldn't be so gendered. The female actors were called everything from the 'b-word' to the 'c-word.'"
Ghostbuster's first trailer, released in March 2016, became the most disliked movie trailer in YouTube history. Let's take a quick stroll through the comments sections and Twitter:



Recent male-led film reboots, remakes and sequels are not impervious to criticism or harsh online fan reactions, but these responses normally focus on quality, rather than gender or social issues.
It was hard to find the same level of hostility that greeted Ghostbusters YouTube trailer for 2016's Terminator Genisys, which notched an even lower Rotten Tomatoes score. Not a single rape references in sight.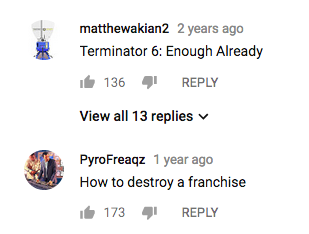 The same goes for 2015's Fantastic Four reboot, one of the biggest critical and financial misfires in recent memory.

Tom Cruise's disastrous The Mummy reboot killed Universal's planned Dark Universe before it really even began, yet was spared the same level of vitriol from fans.


2013's A Good Day to Die Hard was critically reviled (14 percent on Rotten Tomatoes), and yet Fox is still toying with the idea of a prequel. Fans largely dismissed sub-par video game adaptations like Warcraft and Michael Fassbender's Assassin's Creed, yet Alicia Vikander's Tomb Raider reboot seems to be the only one to generate physical appearance-based comments like this.
Directed by Paul Feig (Bridesmaids) and starring Melissa McCarthy, Kristen Wiig, Kate McKinnon, Leslie Jones and Chris Hemsworth, Ghostbusters had all the makings of a hit. Feig was a hot name in comedy; McCarthy was in the midst of an impressive box office streak; Wiig, McKinnon and Jones are all Saturday Night Live breakouts; and Hemsworth is friggin' Thor, the brute who can toot.
What's not to like? Apparently a lot.
The overly expensive $144 million remake was something of a flop critically (59 percent from Top Critics on Rotten Tomatoes) and commercially, earning just $229 million worldwide. Sony needed the film to gross at least $300 million to break even; instead, they took a $70 million loss.
In the end, Ghostbusters failed because it's tough to measure up to a true classic. And it's completely conceivable it would've netted the fan feelings if it starred Michael B. Jordan, John C. Reilly, and a bunch of other well-liked dudes with prominent middle initials—albeit with much less pre-release negativity.
There's long been an outmoded belief that female leads couldn't open a movie to the same box office success as a male lead, but the numbers tell a far different story that speaks to the missed opportunities Hollywood's gender disparity leads to.
According to The Celluloid Ceiling, an annual study sponsored by the Center for the Study of Women in Television and Film at San Diego State, in 2017 just 24 percent of protagonists in the 100 highest grossing films were women, a noticeable drop from 29 percent in 2016.
As those footing the bill become increasingly risk-averse, the number of yearly releases has dropped considerably since 2000, from roughly 200 pictures annually to around 150. So while studios occasionally manage to build comedies and dramas around women, the shrinking market for non-franchise titles has left less overall opportunity for female-fronted projects.
Which is just downright bad business.
Three of the top-10 highest-grossing films of last year—Star Wars: The Last Jedi ($1.33 billion worldwide), Beauty and the Beast ($1.26 billion) and Wonder Woman ($821 million)—all revolved around female main characters (Daisy Ridley's Rey, Emma Watson's Belle and Gal Gadot's Diana, respectively).
The Last Jedi pushed the Star Wars franchise into much-needed new territory by deconstructing the long-held reverence of the Jedi mythology and laying the groundwork for a less linear perception of the "right" path within the series moving forward. Beauty and the Beast cemented Disney (DIS)'s live-action fairy tale strategy as a worldwide hit-maker, and Wonder Woman broke ground as the first modern superhero blockbuster with a woman in the lead.
Girls Trip ($140 million against a small $19 million budget), which boasted four female leads and a breakout performance from Tiffany Haddish, out-performed all expectations last summer, and this year's Fifty Shades Freed ($370 million), fronted by Dakota Johnson, pushed the franchise across the $1 billion mark worldwide.
Twelve of Julia Roberts' movies have crossed the magical benchmark of $100 million domestically. Mark Wahlberg (11), Liam Neeson (6) and Denzel Washington (5) are all playing catch-up. Cate Blanchett, Emma Watson and Emma Stone are three of the most bankable stars in Hollywood in terms of how much studios earn back for every dollar they spend on them.
Analysts from PartyCasino—a unit of the GVC gaming group that examined box-office data from 1980 to 2017—found that the top female stars are more profitable than their male counterparts in terms of return on investment.
Critically speaking, the Best Actress race at the Oscars this year was one of the most crowded and compelling in recent memory. The Post, I, Tonya, Lady Bird, Three Billboards Outside, Ebbing Missouri and The Shape of Water all provided platforms for women to turn in universally praised performances that dominated Academy Awards talk all year. Conversely, the Best Actor race was always considered a one-man show thanks to Gary Oldman's dominating turn as Winston Churchill in Darkest Hour, despite a star-making turn for 22-year-old Timothee Chalamet in Call Me by Your Name. Ultimately, no one else was ever really considered a contender.
And none of this is a recent trend either.
Marilyn Monroe's Some Like It Hot was the fourth highest-grossing film of 1959. Audrey Hepburn's Breakfast at Tiffany's won two Oscars and was nominated for three more back in 1961. Adjusted for inflation, Gone With the Wind, starring Vivien Leigh, is still the biggest-earner of all time.
One-third of the top 15-highest grossing films of all time worldwide have female lead characters (Titanic, Star Wars: The Force Awakens, Star Wars: The Last Jedi, Frozen, Beauty and the Beast).
Of course there have been some high-profile misfires with women at the center; Jennifer Garner's Elektra, Halle Berry's Catwoman and 1984's Supergirl, starring Helen Slater, immediately come to mind. But more often than not, these big bets produce big results, especially domestically where six of the top-12 highest-grossing films ever are, you guessed it, female-first.
There's a precedent here: films with women at the forefront tend to do pretty damn well. And since Hollywood survives on a profit model, the major studios are leaving a ludicrous amount of money on the table by opting not to embrace that trend.
Ocean's 8 doesn't need to be a perfect movie to justify its existence. It just needs to deliver what it's selling: a cheeky, mischievous heist film with some heart, humor and style. Give audiences that and the movie will deliver on its promise of attractive counter-programming to this summer's stacked schedule of superheroes, CGI dinosaurs and Tom Cruise leaping out of yet another airplane.
It's no secret that Hollywood has been failing women both in front of and behind the camera for years, while vocal fan segments make their displeasure with female casts all too known online. But the quality of the final product and the pop culture reverence of the originals play an important role in shaping opinions about reboots and spinoffs. The success or failure of female-fronted projects is not binary; it is a combination of factors that sketches a more intricate—and sometimes darker, due to sexist hostility—portrait.
But if you can turn a profit while also doing the right thing, why not go for it?