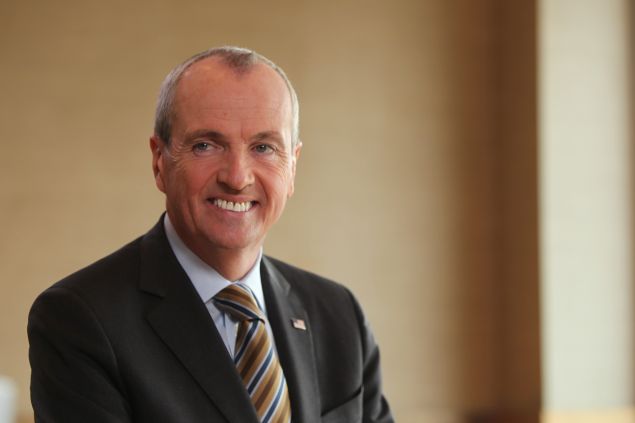 The first day of sports betting in New Jersey kicked off Thursday with Gov. Phil Murphy, and the state he guides, in line to win big if things work out.
For his part, Murphy cast the state's first sports betting wagers, showing up at Monmouth Park racetrack in Monmouth County to lay down $20 on the New Jersey Devils to win the Stanley Cup and another $20 for Germany to win soccer's World Cup, according to reports.
It's understandable why Murphy would bet on the Devils—the only professional sports team to include "New Jersey" in its name. His bet for Germany is a nod to his former post as the United States' ambassador to Germany.
Murphy, a millionaire who made his fortune at Goldman Sachs, stands to bring home $930 if his bets pay off, according to the Asbury Park Press. But Murphy shouldn't base his family's financial plans on his prowess as a gambler. The APP notes that the odds against the Devils are 40-1 while Germany faces odds of 9-2.
Murphy later made his way to The Borgata casino in Atlantic City, where he placed additional bets on the Mets to beat the Arizona Diamondbacks on Thursday and on Ocean County native Martin Truex to win the Daytona 500, NJ.com reported.
New Jersey stands to make about $13 million in tax revenue this year from sports betting—which isn't a lot but which officials in the cash-strapped state are happy to have. While Monmouth Park and The Borgata were the only two locations to offer sports betting Thursday, more venues are expected to become available in coming weeks, and online betting is expected to start within 30 days.
Quote of the Day: "I'm betting $20 on Germany to win the World Cup, and $20 on the New Jersey Devils to win Lord Stanley's cup," – Gov. Phil Murphy, placing New Jersey's first legal sports wager
NJ sports betting: Gov. Murphy bets on a Devils' Stanley Cup, Germany World Cup
The first legal sports bets in New Jersey were made by Gov. Phil Murphy—and he's going with the Devils to win the Stanley Cup next year and Germany to win soccer's World Cup.
Asbury Park Press Read more
Dr. J places historic 1st sports bet in Atlantic City on hometown favorite
The Borgata officially became the first Atlantic City casino to cast sports bets Thursday morning, as NBA legend Julius Erving, aka Dr. J wagered $5 on a repeat Superbowl victory for the Philadelphia Eagles.
NJ.com Read more
A Busy Start for Sports Wagering at Monmouth Park
If the Cleveland Browns win Super Bowl LIII, Tinton Falls resident Ryan Daly gets $7,500.
NJ101.5 Read more
Borgata is taking sports bets today—but here's why others are not
Many of the casinos in Atlantic City have been working with sports books in preparation for legalization, but only Borgata opened its book Thursday.
ROI-NJ Read more
Christie-Giuliani ties still strong despite recent dust-ups, allies say
Chris Christie and Rudy Giuliani, fellow defenders of President Donald Trump and longtime friends across the Hudson, don't seem to be seeing eye to eye these days.
Politico Read more
N.J. acted to ban offshore drilling. Republicans want to punish the state for that.
House Republicans have proposed penalizing New Jersey and other states that won't allow oil companies to drill off their shores.
NJ.com Read more
Murphy group begins airing TV ads tomorrow
New Directions New Jersey, the non-profit 501(c)(4) allied with Gov. Phil Murphy, will be airing a new television ad tomorrow that highlights the governor's agenda.
New Jersey Globe Read more
Banner touting pre-K breaks from plane, crashes into car outside NJEA office
A banner touting pre-K education being flown by a plane broke loose and crashed into a parked car in front of New Jersey Education Association headquarters in Trenton on Thursday morning.
NJ.com Read more
NAACP calls for state probe of deadly Deptford strip mall shooting
The Gloucester County NAACP on Wednesday called on the New Jersey attorney general to take over the investigation into the fatal police shooting of a shoplifting suspect in a Deptford strip mall parking lot over the weekend.
Inquirer Read more
NJ Senate candidate Bob Hugin doesn't just support abortion, gay rights—he advertises it
The New Jersey Republican running for U.S. Senate, Bob Hugin, is advertising his support for abortion rights and same-sex marriage in a new television commercial airing on cable and broadcast stations in New York and Philadelphia, which reach the whole state.
NJ.com Read more
Hugin risks alienating Trump voters by courting Dems
Bob Hugin is airing a new TV ad aiming to win over Democratic and independent voters by staking positions on abortion, marriage equality and equal pay that are to the left of the national Republican platform, but such a move could do more to harm the Senate hopeful than help him.
New Jersey Globe Read more
So why did this Jersey Republican get the backing of a big labor union that favors Democrats?
U.S. Rep. Chris Smith stands alone among Republicans when it comes to this.
NJ.com Read more
11 Bills Against Child Sex Abuse Advance After Undercover NJEA Videos
First came the Project Veritas hidden-camera videos in which local teachers' union leaders seemed to brush aside allegations of sexual abuse of children. Then came a legislative hearing. And now comes action – 11 bills advanced Thursday by a Senate committee.
NJ101.5 Read more
South Jersey towns in no rush to implement New Jersey tax law
Municipalities in South Jersey are in no rush to conform to a new state law that will allow residents to pay their property taxes as a form of charity.
Press of Atlantic City Read more
Mayor accused of shoving cop won't face criminal charges, officials say
Jersey City Mayor Steve Fulop is accused of shoving a cop at Kearny High School Tuesday night during the Hudson County Democratic Organization election, but police say he won't be charged.
Jersey Journal Read more
Woman violently arrested on Wildwood Beach waives first court appearance
The 20-year-old Philadelphia woman charged with aggravated assault on a police officer after her violent arrest on a Wildwood beach has waived her first appearance in court.
Press of Atlantic City Read more
Cops arrest newspaper editor who is clashing with Jersey City mayor
The feud between Jersey City and the staff of a Brooklyn-based newspaper escalated on Wednesday when police officers arrested one of its editors for disrupting the City Council meeting.
Jersey Journal Read more
Lawmakers Look for More Dollars for Direct Caregivers
Senate President Steve Sweeney is determined to find at least $20 million more to pay healthcare workers who provide critical daily assistance to disabled individuals in New Jersey as part of the ongoing budget negotiations between the state Legislature and the Murphy administration.
NJSpotlight Read more
Is Natural Gas Power Plant in the Works for Musconetcong River?
A proposal to build a natural-gas power plant on the site of a former paper mill in Holland Township on the Musconetcong River is being discussed by the project developer and local and state officials.
NJSpotlight Read more
Joe Kyrillos Gets a Bridge in Monmouth County
If you want to walk from Jay & Silent Bob's Secret Stash in Red Bank to the Swimming River Park tonight, you've got to cross the Navesink River via the Front Street Bridge.
New Jersey Globe Read more
West Milford Mayor Bettina Bieri plans to move out of NJ, may step down before term ends
Bettina Bieri, the township's mayor for the past decade, said she may end her 18 months remaining in office early after announcing plans to move out of New Jersey.
The Record Read more
Hearing on Polish statue pushes council meeting into wee hours
So things start to get loopy at City Council meetings once they go beyond midnight.
Jersey Journal Read more
Englewood Cliffs council meeting turns raucous over a partisan dispute about a memorial
In a heated meeting that saw at least two members of the public thrown out, the council voted to return a plaque honoring a deceased Democratic councilman to Witte Field after it was removed on orders from the Republican mayor.
The Record Read more
Two Dover aldermen who lost Democratic primary want recount
Two of three Democrats who lost seats on the board of aldermen in last week's primary election have requested a recount of machine, mail-in and provisional votes.
Daily Record Read more