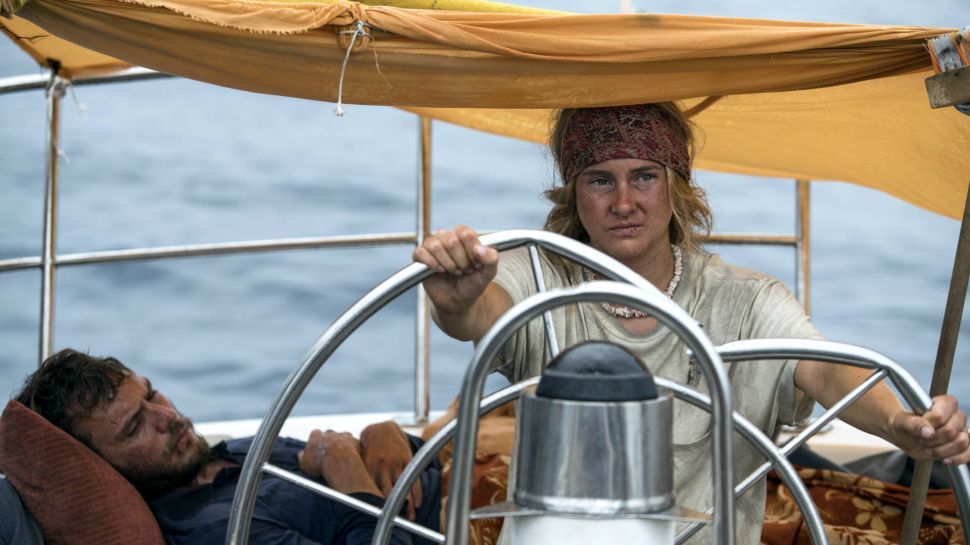 I'm a sucker for believable, beautifully made, and paralyzingly suspenseful epics about brave people in the middle of the ocean battling overwhelming odds against nature to stay alive, but rarely have I seen one that can hold an audience hostage like Adrift. It's a true story, basically a two-hander about a pair of courageous lovers lost at sea, as crushingly hard to imagine as it is to watch, but every element is so perfect that it left me shaking and devastated.
---

ADRIFT ★★★★
(4/4 stars)
Directed by: Baltasar Kormákur
Written by: Aaron Kandell, Jordan Kandell, David Branson Smith
Starring: Shailene Woodley, Sam Claflin
Running time: 98 mins.

---
Directed by Iceland's Baltasar Kormákur (The Deep) and based on a harrowing memoir by Tami Oldham, Adrift is a combination action epic and heartfelt love story about 41 days afloat in the Pacific Ocean in 1983. Sailing a rich couple's luxury yacht from Tahiti to Hawaii, Tami, a spirited 24-old drifter from San Diego searching for adventure and played with larky enthusiasm by the marvelous Shailene Woodley, and her new boyfriend Richard Sharp, a rugged, seasoned but sensitive shipbuilder from South Africa 20 years her senior, played by British heartthrob Sam Claflin, take to the open water like a pair of porpoises in love.
"Just you, the wind, and the sound of a boat on the ocean searching for the infinite horizon" is how he describes the thrill of being a sailor, and she eagerly agrees, ignoring the fact that you are also always wet, sunburned and seasick, usually at the same time. But love guides them on and all seems idyllic—until a hair-raising hurricane blows them 1,500 square miles off course, wrecks the boat, knocks Richard overboard and strands Tami without an engine or a radio, so far from their destination that if she drifts any farther, the next stop is Japan.
Tami lacks experience, but she's such an amazingly resourceful girl. Spotting Richard clinging to a dinghy with a concussion, internal injuries and a shattered leg, she drags him through the waves to the shipwreck, hauls his full weight over the railings, and keeps him alive on tins of sardines and beans. Exhausted, dehydrated and hallucinating, they somehow survive until the water runs out. The storm that lashed her unconscious and left him half-dead almost finishes off what's left of her energy, but miraculously, she sets Richard's bone fractures, learns how to repair rips in the sails, seal off the boards on the deck floor to keep from sinking, ration the dwindling supplies and discover additional navigational skills she never knew she had in order to keep them both alive.
The frustration is palpable when she uses up the last of her flares to signal for help in vain, Richard's condition renders him comatose, and despair sets in. I won't spoil the surprise by revealing what happens next, but the heart-stopping finale is worth waiting for.
Filmed in Fiji and New Zealand with elements of Titanic, Open Water 2, and Robert Redford's gripping All is Lost, Kormákur does an astoundingly economical job of chronicling each nautical triumph and calamitous setback without the usual Hollywood cliches. The film is gratifyingly devoid of unnecessary character analysis or numbing dialogue, but you know everything there is to know about these two lost souls from the things they do say, the way they love, and what they see and feel.
Nor do we need the intrusion of heavy metaphors about how she grows into mature womanhood through her ordeal.
As a bonus, the film shows why sailing the high seas can become a religion for people who love the water, and how surviving the ocean's most life-threatening tragedies is their way of finding God. Goodness knows what Adrift would be like without the brute force of the intelligence, focus and self-confidence of the two stars. Claflin has made an impact playing fops and dandies in costume epics, but he's suitably swarthy and charming as an outdoors man with a caring heart, and clearly, in a May Day crisis, Woodley is the girl you want at your side manning the lifeboat. Bruised and bleeding, she has a physically punishing role and a dangerous assignment. The film is something of an endurance test for the actress and the audience alike, with Woodley doing most of her own stunts and nearly drowning in the process. For hard knocks, originality and craft in an industry dedicated to imitation and fraud, she's a thrill to watch.
For someone so terrified of water that I won't set foot on anything smaller than the QE2, it's an honor to lead the applause on this crossing.