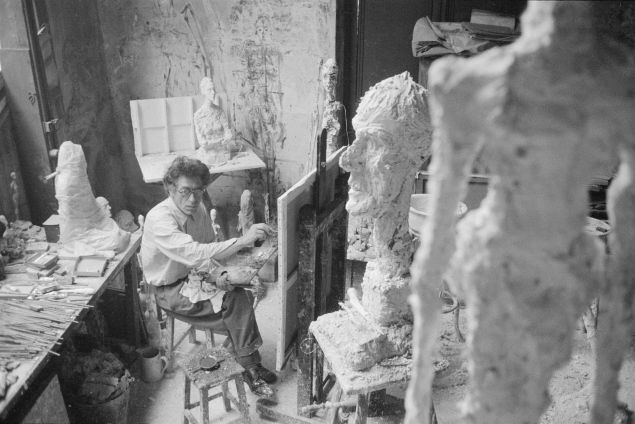 His thin, solitary sculptures are logos for the alienation that haunted the post-war world. Like it or not, Alberto Giacometti is an art brand.
The Guggenheim is likely to be mobbed by visitors eager to see Giacometti's cadaverous men and women standing alone—recognizable even if you never studied art history. And a recent auction price of $141 million for one of those figures won't hurt the gate.
Those visitors are in luck. In the show, simply titled "Giacometti," more than 175 works line the Guggenheim spiral, many of which are iterations of the artist's solitary figures—but there's also a lot more.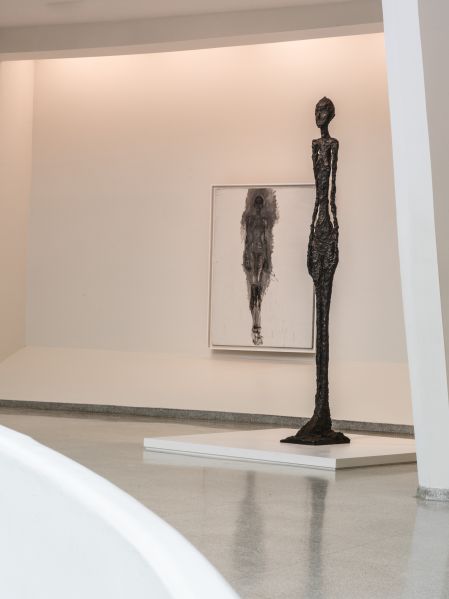 It's not to be missed. The chance to see so much by Giacometti in New York City usually comes in intervals of more than 15 years. The Museum of Modern Art showed the man in full in 2001. The Guggenheim's last retrospective was in back in 1974. A lot of the same work is on view again.
And seeing the work itself takes you to a world beyond the logo: Giacometti's fingerprints on his elongated figures, experiments in abstraction (many sexual) that he made before World War II, and paintings that look like hand-drawn x-rays. There's a paradox here—this instantly familiar work will also surprise anyone who takes a long hard look.
Another surprise in the Guggenheim show is a look back to when New York almost had its own shrine to Giacometti, near Wall Street.
In 1960 the sculptor agreed to create an outdoor ensemble of figures for the city that was, at the time, seemingly brimming with museums and collectors who championed his work. It was planned for a recessed cavity in the huge expanse of Chase Manhattan Plaza, itself a monument to modernism in the city's Financial District.
It never happened. Giacometti wasn't satisfied with the figures that he made on a huge scale. Isamu Noguchi, another great sculptor, took Giacometti's place at the plaza. Giacometti died a few years later in 1966, at age 65, of a heart attack. It's our loss.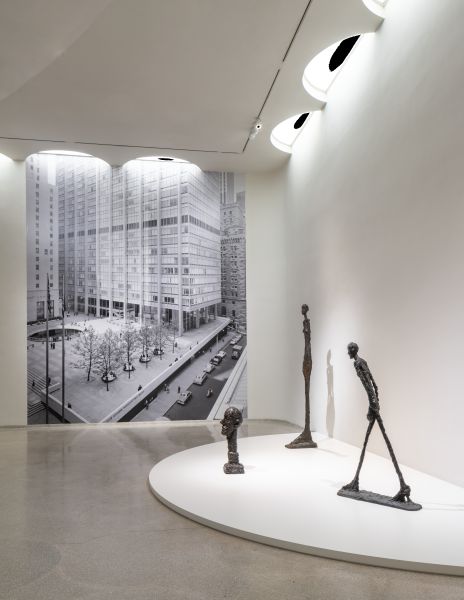 The sculptures that would have been in that space—a standing woman, a walking man, and a large head—are reunited in the first gallery.
Up the ramp, it's not all familiar. Take two plaster works from 1929 that look like white stone. Gazing Head is a section of a face with indentations that represent an eye and a nose—faint or distinct, depending on how light falls on it. It's an understated mix of subtlety and volume.
Woman has a literal and blunt resemblance to a torso, but its power comes from the life that you feel when you look at it.  Plenty of work around these two sculptures puts Giacometti in the company of surrealists in those days. In these two works he's developing a sculptural language of his own that's inspired by ancient Cycladic art from before 1000 BC.
Another paradox—Giacometti was probing the past as much as his figures were standing in the alienated present.
That wasn't all he was doing. The dreamy bronze Woman With Her Throat Cut, 1932 (cast 1949), spread on the floor, is more insect than human. Like so many of Giacometti's early surrealist works, it's striking in its simplicity, simultaneously grotesque and seductive. It's hard not to see his influence on later artists like Louise Bourgeois.
Soon the long march of the spiral takes you to Giacometti's iconic figures. Yet Man Pointing, 1947 (cast by 1949), as iconic as any, is not walking or standing in lockstep, but gesturing. The energy of that gesture takes you aback. It's hardly mournful.
A cast of this tall sculpture was the work that recently sold for $141 million. Giacometti, who lived in his studio and in cafes, couldn't have foreseen that. Nor could he have imagined lines of visitors taking selfies on the Guggenheim ramp in Walking Man position (body at a forward lean, legs in active stretch).
Man Pointing, City Square, 1948, and Three Men Walking (Small Square), 1948, also bend the mold.
For one thing, they're ensembles. City Square is a group of figures whose only relation to each other is that they are on the same pedestal. Humans in the same place seem no less isolated than they are when alone. Three Men Walking, with figures almost touching, feels like a study of movement, rather than the stasis of figures cemented to the ground. You feel him responding to Marcel Duchamp's Nude Descending a Staircase. It's not ballet, but it's not alienation either.
In Head on a Rod, 1947, the sculpture on the catalogue cover, Giacometti takes you far beyond alienation, weathering the plaster for the feel of decaying bone—sculpture as a labor of grim archaeology. We see that effect again in The Nose—a head, mouth agape, with a long nose, suspended from its frame on a wire. It could be a Venetian mask, or an extended cry of pain.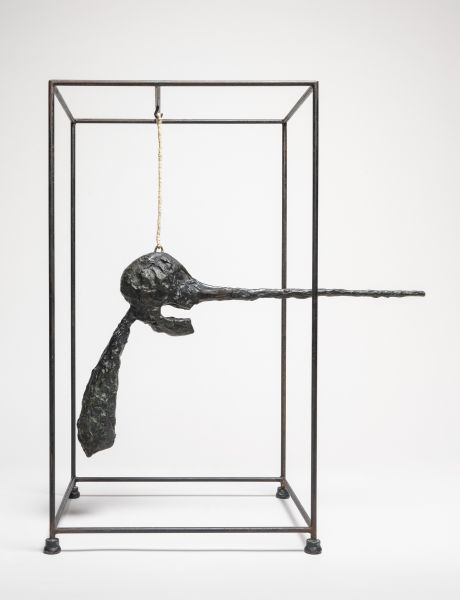 Ambiguity also haunts Giacometti's paintings that tend to stand in the shadows of his sculpture. Tall Nude, 1961, resembles an upright sculpted figure, with a smoky aura around it (studio dust?), but on a closer look it has the feel of the funerary paintings that Egyptians put on coffins when the Romans ruled there. Giacometti layered paint and incised lines on his portraits, giving them a depth that can seem near-infinite.
Once again, this modern artist takes us back in time as much as he shows a way ahead.