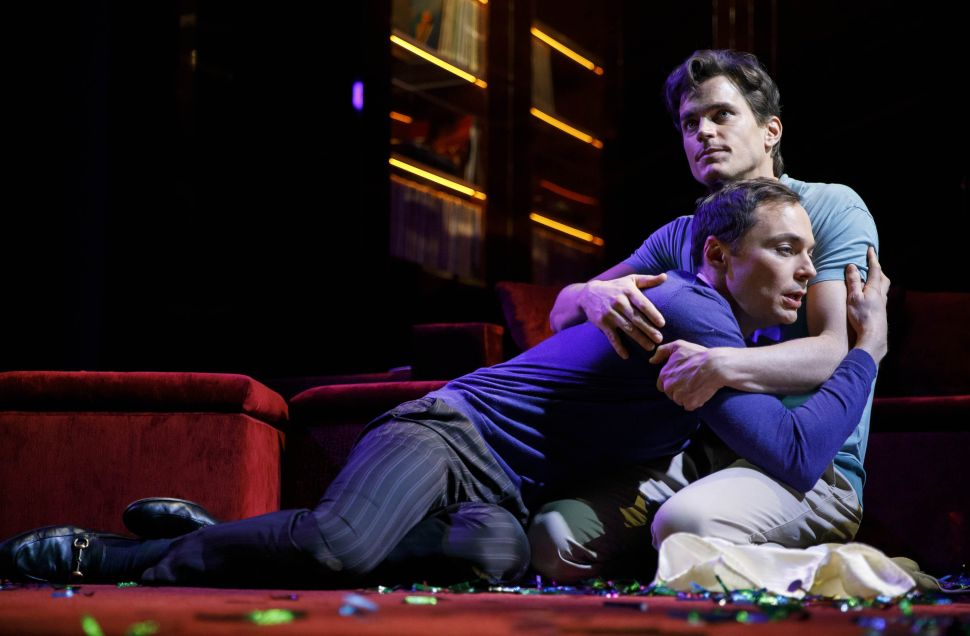 The crisp and biting Broadway revival at the Booth of The Boys in the Band, Mart Crowley's brilliant play about one frantic night in the lives of eight New York homosexuals and one almost-ran who should have been, marks the 50th anniversary of the game-changing theater piece that impacted the future of gay rights forever. There isn't a single moment of political correctness in it, but as a social and cultural dossier on what life was like for gay men in the Dark Ages, it still resonates with wit, poignancy and heart-breaking truth. Gay director Joe Mantello's keen, forceful direction of an all-star cast of openly gay actors lends a piercing credibility to a play that has, in retrospect, gained insight and lost none of its power or potency. It holds up beautifully.
When it opened off-Broadway in 1968, the year both Martin Luther King Jr. and Robert F. Kennedy were assassinated and one year before the Stonewall riots and the death of gay icon Judy Garland, the turbulent aroma of change was already in the air. A play about revolution in the oppressed homosexual community when gay life was claustrophobic, physically dangerous, emotionally lacerating and socially unacceptable had the effect of a cultural tsunami.
The Boys in the Band ran for nearly three years and was made, in 1970, into a successful movie, directed by William Friedkin and starring the original cast. A play about fast-talking, snappy-thinking homos calling each other queer, fairy, queen and faggot (and worse), shocked audiences out of their mink-lined complacency with a mixed reaction of horror and hilarity. Nothing shocks anyone in the theater anymore, but The Boys in the Band still resonates with a sound of fury Faulkner never dreamed of.
Trimmed down to one act without intermission, the play is still a beehive of blatant bitchery set in a lavish apartment of burgundy velvet no struggling gay man on unemployment insurance could have afforded, even in 1968. But Michael, a transplanted Catholic from Mississippi, sometime writer and vicious drunk (played with sardonic nastiness by Emmy-winning TV sitcom star Jim Parsons) does occupy the premises in a constantly changing collection of cashmere ("Just because I wear expensive clothes doesn't necessarily mean they're paid for"). Michael spends his unemployment checks on Hermes sweaters, one-night stands and is always in debt. Tonight he is throwing a party between answering phone calls ("Backstage—Funny Girl!"), setting out cracked crab hors d'oeuvres, and chilling bottles of cabernet.
The occasion is a birthday party for a friend named Harold (Zachary Quinto), self-described as "a 32-year-old, ugly, pock-marked Jew fairy." The other party guests are Michael's ex-lover Donald (Matt Bomer from TV's "White Collar" and the Magic Mike male-stripper movies), who cleans the homes of the rich and famous in the Hamptons; a couple with commitment problems named Larry (Andrew Rannells, The Book of Mormon), a flirtatious illustrator, and Hank (Tuc Watkins), a handsome, solid, and hopelessly square professor of mathematics who has left his wife and two children for Larry; Bernard (Michael Benjamin Washington), the token African-American; Emory (Robin de Jesús), the flamboyantly limp-wristed effeminate who brings the lasagna; and Cowboy (Charlie Carver), a hunky, brain-dead hustler with a drop-dead body who has been hired as a birthday present for Harold.
Into this hive of queen bees, nothing could be more unexpected or out of place than the arrival of Alan (Brian Hutchison), an uptight lawyer in a tuxedo from Washington, D.C. and Michael's old college roommate, married and presumably straight, who drops by for a scotch on his way to a dinner party and ends up in a fist fight.
So the stage is set for a dizzying display of venomous cruelty masquerading as honesty that brings out the worst in everybody. Crowley does not disappoint, delivering the punch lines in spades. Between endless extra-dry Beefeater martinis, there are campy "inside" references to Death of a Salesman ("Attention must NOT be paid"), The Glass Menagerie ("Blow out your candles, Laura"), Judy Garland singing "Get Happy" in her black fedora, Oscar Wilde and Maria Montez ("She was a good woman!"). After Michael gets roaring drunk, the party turns lethal with a particularly destructive truth game that builds to tears and the kind of regrets that will play a big part in the next morning's hangovers.
With the advanced enlightenment of legalized same-sex marriages, single-parent adoptions, miracle cocktails to curtail AIDS, and the growing number of gender re-assignments, society has progressed to such a level of tolerant sophistication that some of the self-hatred and mean-spiritedness expressed in The Boys in the Band now seems exaggerated and dated. Still, in many respects, especially in bigoted sections of America between New York and San Francisco, nothing has changed at all. Meanwhile, a look back at the way things were 50 years ago in The Boys in the Band is well worth a trip to Broadway. The ensemble acting is rich, Mart Crowley's script seems to have been written with rattlesnake venom, and the result is engrossing, sad, hilarious, and gratifying.