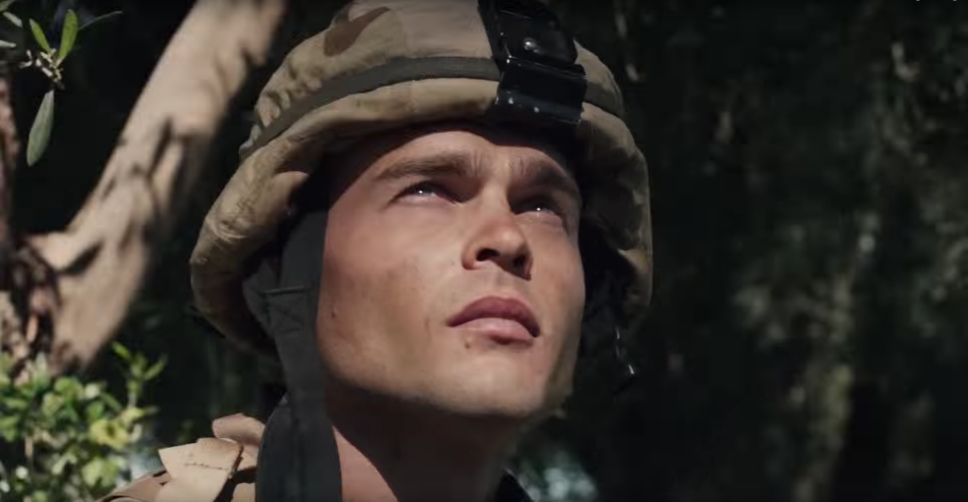 Two quietly observant and genuinely understated performances by Alden Ehrenreich and Tye Sheridan inform The Yellow Birds, a wrenching film about the aftershock of the Iraq War on a pair of sensitive soldiers who experience a paralyzing ordeal above and beyond the call of duty that changes their lives forever. The rest of the film is extraordinarily well directed by Alexandre Moors, realistically written, and uniformly well played by an excellent supporting cast that includes Jennifer Aniston, Toni Collette, Jason Patric, and Jack Huston.  As "war is hell" movies go, this one is better than usual.
---

THE YELLOW BIRDS ★★★
(3/4 stars)
Directed by: Alexandre Moors
Written by: David Lowery, R. F. I. Porto
Starring: Alden Ehrenreich, Tye Sheridan, Jennifer Aniston, Toni Collette, Jason Patric, Jack Huston
Running time: 94 mins.

---
Two boys join up to add depth and purpose to otherwise fallow lives and bond from boot camp to battle. 18-year-old Daniel Murphy (Sheridan) and 20-year-old Brandon share bunks, showers, food, and letters from home, giving meaning to an otherwise sobering view of the degradation of war and how young men with no life experience feel in the thick of it. You can string up all the "Thank You To Our Troops" banners you want, but they don't begin to explain the impact of conflict on the hearts and minds of the boys who endure it.
A harrowing incident in the platoon that leads to Daniel's death sends Brandon home where he not only has a rough time adjusting to civilian indifference but faces questions from the military's criminal investigation division about what happened. The only other eyewitness to what happened to his best friend and blood brother in the back streets of a bombed out town is their commanding sergeant (Huston). Brandon clams up, even to his own mother (Toni Collette again), and the lieutenant , driven mad by guilt and nightmares, commits suicide.
The nature of the violent incident that traumatizes them is withheld until the end of the movie. But while you wait for the big reveal, there is plenty of suspense, tension and regret.
Filmed in Morocco, director of cinematography Daniel Landin paints a grim, desolate canvas of Iraq, which Brandon describes in confidence to Daniel's grieving mother (Aniston) this way: "There's nothing to stop you out there, nothing to get in your way when you look out at it all—no trees, just sky and water and after a while you can't tell one from the other."
When we finally see his last vision of his friend Daniel, the sight he will always remember is unbearable. Tye Sheridan (Mud) and Alden Ehrenreich (Cate Blanchett's son in Woody Allen's Blue Jasmine and the young Hans Solo in Solo: A Star Wars Story) pack a tender wallop in their roles as young boys dynamited into men before their time and the delicately layered script by David Lowery and R. F. I. Porto guarantees they never step one foot away from the required demands the movie makes of their transitions as characters. This is a war that never seems to end, and neither do the movies about it. But The Yellow Birds (named for the helicopters the troops fear will someday leave them behind) tells one story with more emotional impact than the others. Hard to watch, but well worth seeing.