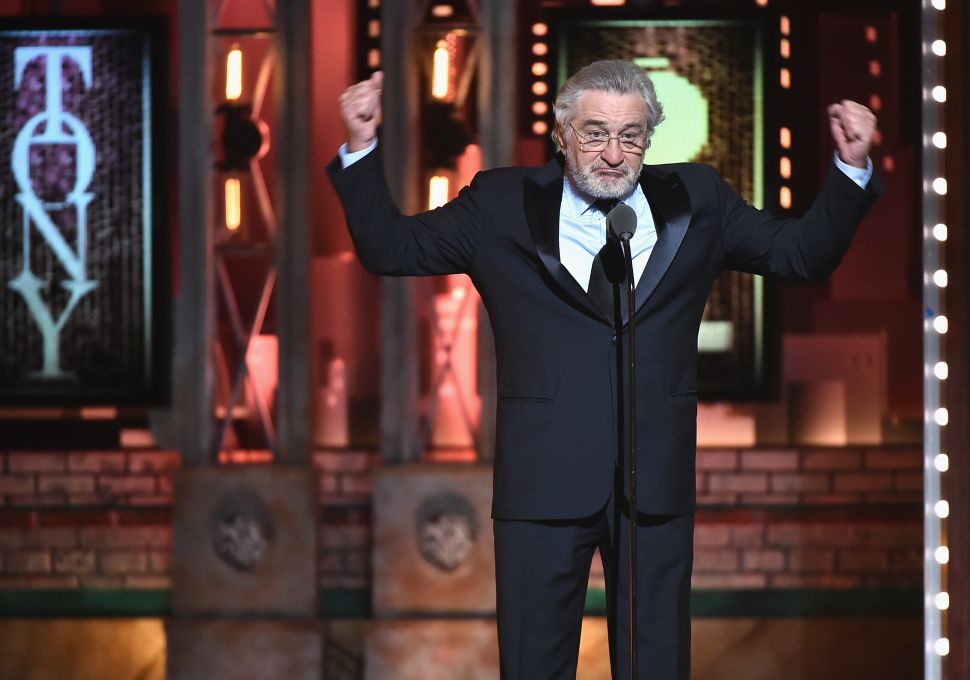 At last week's Tony Awards, Robert De Niro received a standing ovation when he got up on stage and told the crowd, "Fuck Trump."
His comments made waves, drawing both praise and criticism from fans and fellow figures in the entertainment industry. One of those fans who disagreed with De Niro's move made his feelings known during a production of the actor's musical A Bronx Tale on Saturday.
During the curtain call of the De Niro-directed play, the pro-Trump audience member stood up with a "Keep America Great" flag promoting Trump's bid for re-election in 2020.
De Niro has never been shy when it comes to voicing his political opinions, especially those that cast the Trump administration in a negative light. In January, De Niro denounced the president and his White House during a speech at the National Board of Review Annual Awards Gala.
"Our baby-in-chief—the jerk-off-in-chief, I call him—has put the press under siege, ridiculing it and trying to discredit it through outrageous attacks and lies," De Niro said. "This fucking idiot is the president. It's The Emperor's New Clothes—the guy is a fucking fool … our baby-in-chief—the 'Jerk-off-in-chief' I call him."
Following his comments at the Tony Awards, Trump responded with since-deleted tweets that read:
"Robert De Niro, a very Low IQ individual, has received to many shots to the head by real boxers in movies. I watched him last night and truly believe he may be "punch-drunk." I guess he doesn't…"
"…realize the economy is the best it's ever been with employment being at an all time high, and many companies pouring back into our country. Wake up Punchy!"
Brian Strumwasser, a hair department supervisor on A Bronx Tale, reportedly criticized the protester on Instagram following his demonstration during the show, according to Fox News:
"Whoever the low life scum bag who thinks it's ok to post their political views at a Broadway show and disrespect everyone there who paid to watch a show that is ALL ABOUT INCLUSION was thankfully removed from the theater Saturday night," Strumwasser reportedly wrote. "Robert De Niro is one of our directors and has started in the movie and was able to make 6000 people roar and cheer @thetonyawards for saying 'F*CK TRUMP,'" Strumwasser continued. "If @realdonaldtrump wants to visit @bronxtalemusical maybe he himself will learn what racism is and how we deal with it. #f–ktrump…#dontf–kwiththebronx."
It seems the war of words is set to continue.