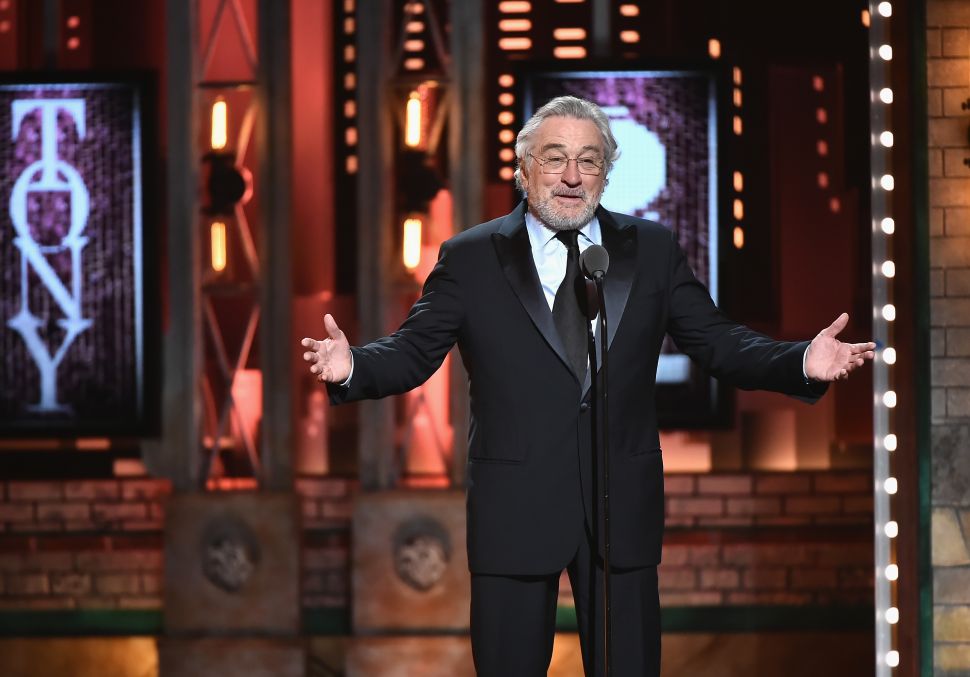 Laurie Metcalf received cosmic justice after missing out on an Oscar this year, Andrew Garfield convinced more entertainment fans that he's more than just a big screen actor, and the Harry Potter brand continues to delight the world. All in all, there were countless juicy storylines and resulting industry implications from Sunday night's 72nd Tony Awards, but one of the most attention-grabbing headlines of the entire night had absolutely nothing to do with Broadway.
Robert De Niro delivered a succinct message to President Donald Trump while live on stage that whipped the entire crowd and likely many watching at home into a frenzy.
"Hey Trump—I'm talkin' to you," De Niro started. "I'm gonna say one thing: Fuck Trump."
The actor's words were met with a standing ovation from those in attendance at Radio City Music Hall. When the noise died down a bit, he added, "It's no longer down with Trump. It's fuck Trump," which generated even more applause from the crowd.
Airing on CBS, the network was easily able to bleep out the profanity, but those in attendance were quick to post the speech on social media where it began to attract even more attention. De Niro's message came as he was introducing a musical performance by Bruce Springsteen, who performed "My Hometown" from his hit one-man show.
Co-hosts Josh Groban and Sara Bareilles attempted to address the moment with levity, swapping wardrobes when the show returned from commercial break.
"I know what's you're thinking… but after De Niro, CBS told us to do something drastic," Groban said while dressed in Bareilles' costume from the nominated Waitress.
Though De Niro may have provided viewers with the most memorable moment of the ceremony, fans are still impressed with the overwhelming success of Harry Potter and the Cursed Child and The Band's Visit.
The two-part Wizarding World sequel that picks up during the epilogue of Harry Potter and the Deathly Hallows in the year 2017 scored six awards of the night. The Band's Visit, based on a 2007 Israeli movie of the same name in which an Egyptian band finds themselves in the wrong Israeli town, took home seven Tonys.