This weekend, U.S.-based space startup Rocket Lab is taking a giant leap: launching its first commercial payload. The mission, appropriately dubbed "It's Business Time," will see the company's Electron rocket ferry five small satellites into space, kicking off what Rocket Lab says will be a busy year for its commercial launch operations.
The company aims to be a dedicated provider for smaller satellites. Typically, small sats rely on ride sharing options with other missions on much larger rockets. Rocket Lab is hoping to cash in on that market by providing the perfect small sat space taxi.
Saturday's flight will mark Electron's third trip to space, following two successful test launches—one in May of last year and one in January. On its first test, the rocket failed to make orbit. Subsequent data analysis showed this was due to an issue with ground-based communications systems. However, the rocket's second test went off without a hitch, and the Electron delivered three satellites and a shiny disco ball shaped object into orbit. The company decided that the data collected during those two tests was sufficient and moved forward with commercial operations, opting to forgo a planned third test launch.
Rocket Lab's flagship rocket, the Electron, is considerably smaller than the vehicles of other U.S. space companies, like SpaceX and United Launch Alliance. Despite it's diminutive size (in terms of rockets,) the 55-foot Electron is able to deliver between 330 and 500 pounds of cargo into low Earth orbit.
How does that compare to SpaceX's Falcon 9? The Falcon stands 230-feet tall and can ferry 50,000 pounds into the same orbit. While Rocket Lab is not able to compete with the heavy-lift capability of the Falcon, it's aiming for some of SpaceX's smaller cargo contracts.
Smaller satellites (like cubesats) are all the rage, because they provide a cost-effective way for many companies, researchers and universities to conduct on-orbit science. Rocket Lab wants to disrupt the game of launching them by providing quicker access to space than other launch providers.
One of the company's major selling points is that it can deliver multiple payloads to multiple places in space and at a fraction of the price of other launch providers. Traditionally, with orbital rocket launches, secondary payloads (such as cubesats and other small objects), are deposited in the general vicinity of the primary mission. Most vehicles do not have enough fuel to deposit multiple satellites in multiple places around Earth.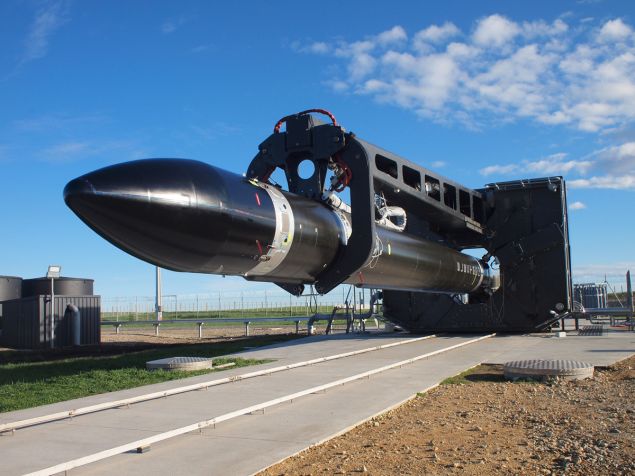 But the Electron is outfitted with an optional special stage known as a "Kick Stage", which the company boasts "can execute multiple burns to place numerous payloads into different, circularized orbits." This is a huge step forward for such a small company, as it allows for significantly more options.
But that's not all. Rocket Lab has a different approach to innovation. Elon Musk's ultimate goal is for SpaceX rockets to be fully reusable, with fuel being the only part replaced between flights. Rocket Lab, on the other hand, aims to cut production time and cost by focusing on 3D-printing engine components. This not only reduces the amount of time it takes to manufacture these engines, but also significantly reduces the cost.
"Small satellites are playing an increasingly important role in providing crucial services that benefit millions of people on Earth," CEO Peter Beck explains on Rocket Lab's website. "Frequent access to orbit is the key to unlocking the potential for these satellites, and Rocket Lab is the only small launch provider currently enabling this access."
Originally this mission was scheduled to send up three small satellites—two Lemur-2 satellites for Spire Global and one for Tyvak Nano-Satellite Systems—but an issue with the vehicle caused an unexpected delay, and Rocket Lab was able to add two more payloads to the manifest.
The first, dubbed Irvine01 is a student-built research satellite outfitted with a low-resolution camera that will capture views of Venus and other celestial bodies. Designed by students from six different high schools, the data from the images collected will allow students to measure distances between celestial objects.
The second is a technology demonstration called NABEO, a satellite that will demonstrate how a flat, reflective sail works in space. Acting as a space parachute of sorts, once the sail deploys, it will drag the satellite back to Earth. Researchers are hoping this will be an effective way to clear small orbital debris.
The four-hour launch window opens on Saturday at 12:30pm New Zealand time, and if by chance they are unable to launch at that time, subsequent windows will be available for a 14-day period, which extends until July 6.
Update: Rocket Lab was forced to delay its first launch attempt due to a ground systems tracking issue, which has been resolved. The next attempt will be June 27th at 12:30 pm local New Zealand time (8:30 pm EST on June 26th.)