Despite all of Keith Richards' best attempts, he just couldn't get off his own cloud in Greenwich Village. The Rolling Stones guitarist and his wife, Patti Hansen, have been trying to locate a buyer for their penthouse at 1 Fifth Avenue for two years, but they simply haven't been able to find one to their satisfaction.
Puns aside, it's hard to imagine wanting to leave this plush three-bedroom, four-bathroom co-op, especially after such a short tenure there—Richards and Hansen paid $10.5 million for the perch just four years ago, in February 2014.
Alas, it just wasn't doing the trick for the pair, and Richards and Hansen tried to make the home more enticing when they first listed it for $12.23 million in March 2016. It languished on the market, before disappearing and then popping back up in October 2017, for a freshly discounted $12 million. It also received a makeover courtesy of celebrity stager Cheryl Eisen.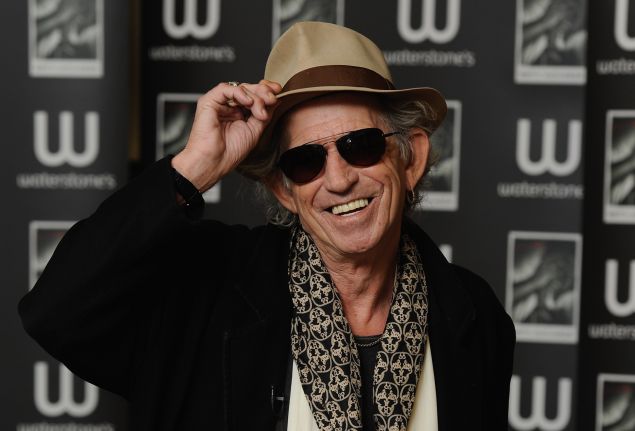 "Our design infused bold color, pop art, and quirky accents into the space," Eisen previously told Observer. "For example, we used a purple mid-century sofa in the den, a bold hand chair in the living room, and even a Fender Telecaster standing in a corner."
Unfortunately, that wasn't quite enough. The unit got another price cut down to just under $11 million in November, before Richards and Hansen went the sad route of offering the home for a mere $9.995 million in March this year—yes, that means they are willing to accept a loss on the stylish residence, but it did the trick. The aerie went into contract at the aforementioned price, though it's not certain precisely what the final sales amount will be.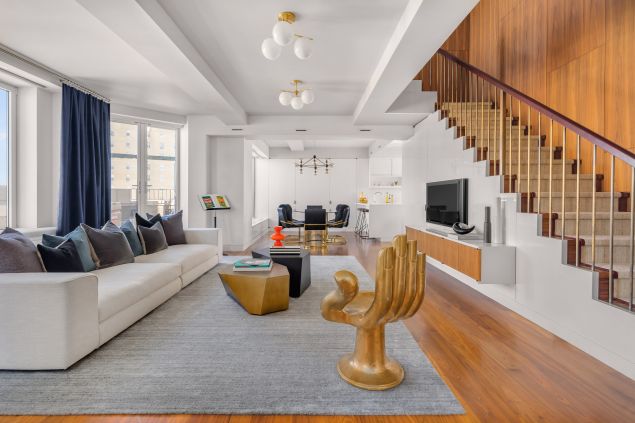 Richards recently told the BBC that in 1989, he was so angry that one of the band's gigs was promoted as "Donald Trump presents the Rolling Stones" that he "got out my trusty blade, stuck it in the table and said: 'You have to get rid of this man!'" Luckily for the likely very expensive décor in this penthouse, Richards refrained from stabbing any furniture here.
There are no less than three private terraces throughout the apartment, according to the listing shared by Douglas Elliman brokers Adam Widener, John Gomes and Fredrik Eklund. An open staircase with a leather-wrapped bronze handrail leads to the second floor, which contains an entertaining area and two of the bedrooms. The master suite is on the entry level, and has two walk-in closets as well as a bathroom with a soaking tub, double vanity and glass-enclosed steam shower.
Richards has not purchased any other property in New York City just yet, at least not that we've spotted. Perhaps he'll just have to find shelter elsewhere—he does, after all, own a home outside London, a Connecticut estate and a getaway on the ocean in Turks and Caicos' Parrot Cay.