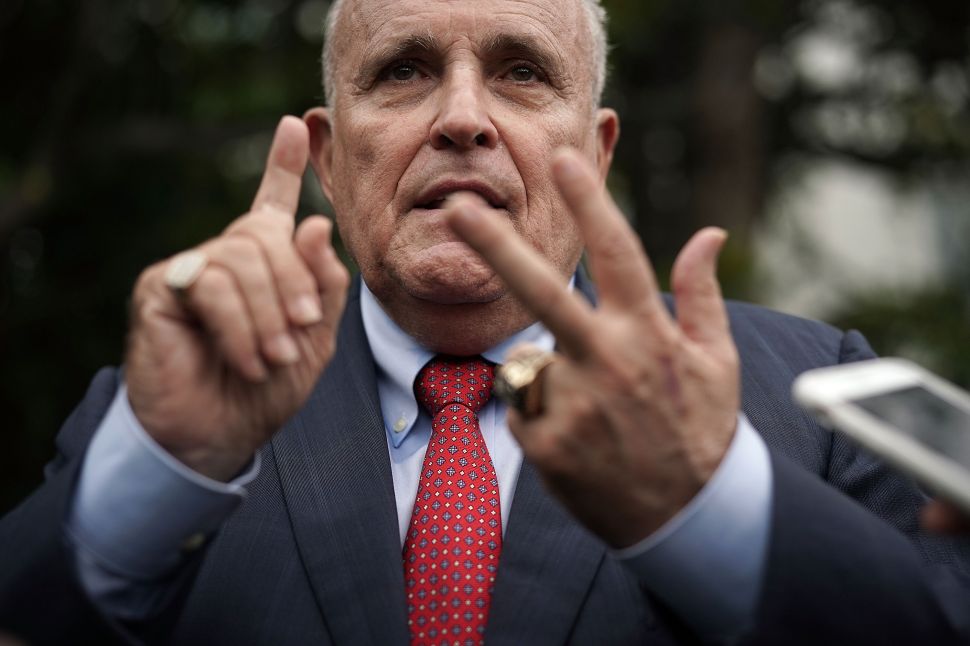 President Trump's lawyer Rudy Giuliani appeared on CNN's Cuomo Prime Time for a freewheeling interview that addressed the limitations of presidential pardons.
After continually calling inconsistencies related to a 2016 Trump Tower meeting "a mistake" made by another member of the president's legal team, Giuliani discussed whether Trump has the ability to pardon himself in the Russia investigation.
"The pardon power is complete, and there is no limitation on it," said the attorney. "Would somebody impose a practical limitation on it? Absolutely."
Giuliani's comments followed a tweet made by the president earlier in the day in which Trump claimed he had "the absolute right" to pardon himself.
But after telling CNN on Sunday that Trump "probably" has the power to pardon himself, the president's attorney clarified that such action does not protect against impeachment.
"You can't pardon yourself from an impeachment," added Giuliani, noting that the Constitution says nothing about whether a sitting president can pardon themselves.
The attorney also called Trump's recent string of pardons given to conservative filmmaker Dinesh D'Souza, former Dick Cheney aide Scooter Libby and Arizona sheriff-turned-nationalist Senate candidate Joe Arpaio "highly justifiable." Mostly notably, he addressed the president's consideration to pardon lifestyle mogul Martha Stewart. Although Stewart once posted a picture of herself giving the middle finger to Trump, she was prosecuted by Trump's greater nemesis: former FBI director James Comey.
"Martha Stewart's prosecution by Jim Comey was a publicity stunt. Never would have happened if it wasn't Martha Stewart," Giuliani told host Andrew Cuomo. "You don't indict on a trapped perjury case with someone who didn't commit the underlining crime. That's a damn game to get yourself in the newspapers, which may have been the beginning of the Jim Comey who eventually illegally leaked a memo."
As a U.S. attorney for the Southern District of New York, Comey brought charges against Stewart in 2003. A jury later found her guilty for obstructing justice and lying to investigators.
"Pardons are perfectly appropriate," concluded Giuliani. "It sure beats the terrorists Clinton pardoned."