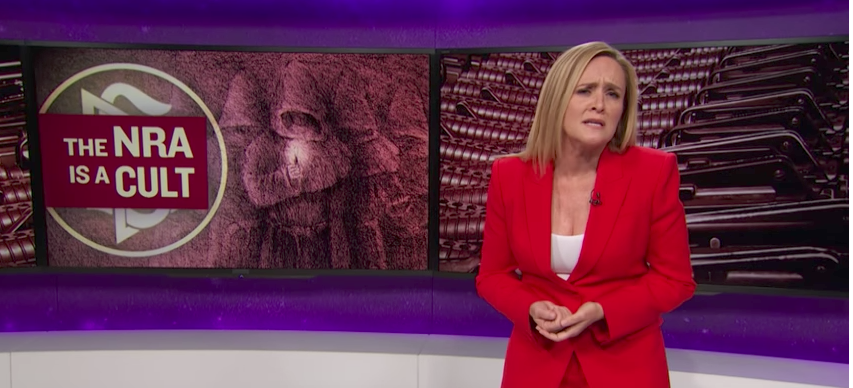 NRA spokesperson Dana Loesch called Full Frontal host Samantha Bee's rhetoric "ratchet" on Thursday.
"If you're really concerned also about the plight of those who are entering the country illegally, as this apparently was all supposed to be about, then maybe don't hijack it by expressing yourself in, I don't know, a total subpar and total ratchet manner," said Loesh in an NRA-TV segment, referencing comments Bee made in defense of migrants.
It is common for celebrities and institutions to snipe at one another over media, transforming complex matters of policy into hyper-partisan gunpowder blasted through the Twittersphere. The Bee-NRA battle, however, has escalated for two years with the same velocity as Drake's ongoing rap saga with Pusha T.
Here is the timeline of the feud, featuring an ensemble cast of eagle mascots, Avengers logos and Scientology comparisons.
Eddie Eagle Sparks The Feud
In spring 2016, Bee starred in a Full Frontal segment in which she attempted to purchase the NRA's trademarked Eddie Eagle costume—a mascot the organization employs to teach children about gun safety. After being denied permission to use the costume following an 18-page application process, Bee quickly amassed a stockpile of firearms.
"It turned out the organization that makes it easier to get a gun than Sudafed makes it nearly impossible to acquire their giant dancing eagle," exclaimed the host, illustrating just how easy it is to buy guns.
'We're Not Laughing Ms. Bee'
Shortly after TBS aired the clip, Loesch mocked Bee from her perch at NRA-TV in a very angry clip titled "We're Not Laughing Ms. Bee," which includes bizarre references to the Avengers and the Eddie Eagle costume.
"I could also argue that it's more difficult for me to demand free use of the Avengers logo for whatever purpose I want," argued NRA's spox while discussing trademark laws. "Eddie Eagle is not a good! It's private property! And it seems like Bee could use a course in Eddie Eagle gun safety after watching the mindless stupidity presented as wit in her exposé."
"She's Canadian, so maybe she's also a naturalized citizen; she certainly doesn't demonstrate a citizen's understanding of our nation's laws though," Loesch continued.
Enter: Scientology
Following February's school shooting in Parkland, Florida, Bee shot back at the NRA in a segment comparing the organization to Scientology.
"Both of these cults are based on fanciful myths that when repeated enough, their otherwise intelligent followers start to believe," claimed Bee. "One says that 75 million years ago, an intergalactic warlord nuked billions of people in volcanoes. And then there's the really crazy myth that guns have nothing to do with gun violence."
"Is Scientology safe?" Bee asked rhetorically. "Of course not. It's bonkers. But it's safer for the rest of us."
Loesch Drinks Bee's Tears Following "Feckless" Controversy Fallout  
After Bee endured a PR hurricane for calling Ivanka Trump a "feckless c***," Loesch tore into her enemy over Twitter, calling her comment representative of "progressive thought."
With Bee rehabilitating her image à la MSNBC's Joy Reid, Loesch continues to press on the offensive, feasting on the carcass of Bee's bad publicity.
For now, the "ratchet" insult will have to go unanswered, as the late night queen builds herself back up to a position of power.