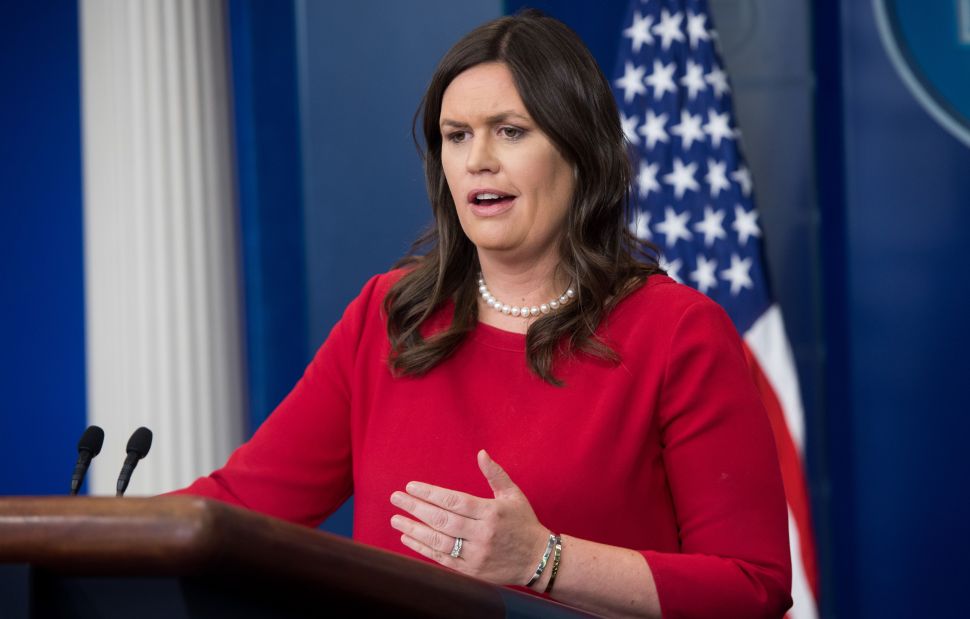 The Red Hen story just keeps clucking.
This weekend's hottest topic of conversation was White House Press Secretary Sarah Huckabee Sanders being asked to leave the Lexington, VA eatery on Friday night.
Stephanie Wilkinson, who co-owns the restaurant in an anti-Trump portion of the state, told The Washington Post that she had made the decision after polling her employees (several of them are gay).
"This feels like the moment in our democracy when people have to make uncomfortable actions and decisions to uphold their morals," Wilkinson told the Post.
Sanders left the restaurant without any confrontation. The Red Hen manger's note at the end of the night showed Sanders had been "86"ed (restaurant code for refusing service).
But the incident didn't truly blow up until a waiter posted about it on Facebook early Saturday morning. Then, Sanders tweeted about it.
And this morning, her boss weighed in.
Since the incident, the Red Hen has been subjected to several rounds of online vitriol.
There was some confusion early on, when Twitter trolls started targeting a Red Hen restaurant in Washington, D.C. That eatery has no connection with the one in Virginia.
But eventually, the internet found the correct Red Hen and started hitting it where it hurts: Yelp reviews. Some comments were positive.
"Love the fact the owner stands up for her morals and takes into account her employees!" one person wrote.
"I very much wish to support the owner taking a stand against the hateful rhetoric and lies spewed daily by the impostors in power right now," another noted.
But a few people feared that Wilkinson's actions continued a dangerous pastime.
"I remember the days when certain people in the South were not allowed to eat in restaurants," one user wrote. "Looks like nothing has changed with the Southern Democrat crowd."
Yelp's support team said it was monitoring The Red Hen's page because of the increased media attention. It will remove any posts that are "motivated more by the news coverage… than the reviewer's personal consumer experience."
Pro tip: Yelp's Talk feature allows consumers to comment on media coverage for businesses, even though they can't do that in the reviews themselves.
Some genuinely positive activism has emerged from the Red Hen saga, as well.
Yesterday Jimmy Cool of Phoenix, Arizona started a GoFundMe called "Rewarding Red Hen's Courage." So far, the trending campaign has raised over $6,000 for the eatery from 201 small donations (the original goal was $5,000).
Cool has no connection to The Red Hen or its owners. But he wrote that he "respects them for taking a stand" and having the courage "to fight peacefully for our democracy."
If the restaurant doesn't accept the money, the donations will be forwarded to The Florence Project, which provides free legal and social services to detained immigrants.