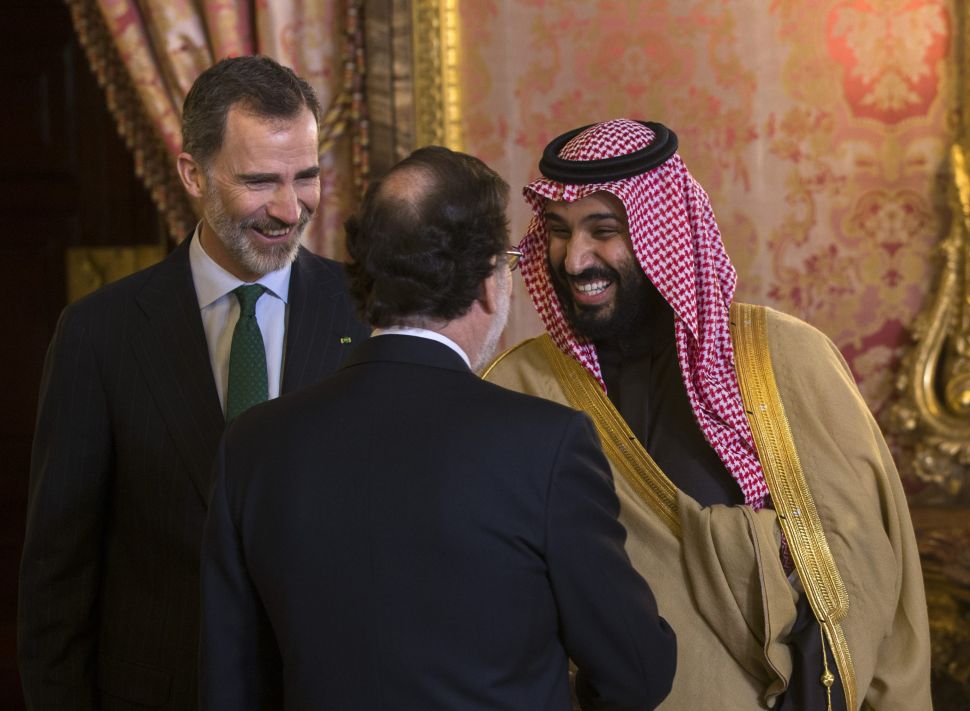 After weeks of withdrawal from the public eye—which had spurred rumors about his death—Saudi Arabia's 32-year-old Crown Prince Mohammed Bin Salman, nicknamed "MBS," has apparently resumed his royal duties and is back in the spotlight.
On Sunday, Prince Bin Salman showed up at a reception for a group of Islamic leaders and scholars hosted by his father, King Salman, in Makkah, a city on the west coast of Saudi Arabia, the kingdom's English newspaper Saudi Gazette reported.
Several photos of him with King Salman and the guests at the event were released.
A few days earlier, the designated successor to the Saudi throne held a meeting with Abu Dhabi's Crown Prince Sheikh Mohammed bin Zayed Al Nahyan to discuss economic and military cooperations between Saudi Arabia and the UAE, according to The Arab Weekly a U.S.-based Arab-American newspaper. The Saudi Royal Palace also released a photo of the two crown princes at the meeting.
Although Prince Bin Salman hasn't been seen in any live videos yet, event photos appeared plausible enough to dismiss rumors about his death that had swirled in the Arab media last month after gunfire was heard in April near his palace in Riyadh, Saudi Arabia's capital.
One newspaper in Iran, Saudi Arabia's primary rival in the region, claimed that the gunfire was part of a military coup and that Prince Bin Salman was hit by two bullets during the attack, citing a "secret service report sent to the senior officials of an unnamed Arab state."
Last month, an exiled member of the Saudi royal family, Prince Khaled bin Farhan, told Middle East Eye that the gunfire was likely "an act of protest" against the Crown Prince's leadership.
"There is so much anger within the royal family," he said. "The Saudi royal family is a very opaque system. There has been a lot of rumors that some members of the royal family are unhappy with the Prince bin Salman," Gerald Feierstein, a senior fellow and director for Gulf affairs and government relations at the Middle East Institute, told Observer.
"For example, the two former Crown Princes, Mohammed bin Nayef and Muqrin bin Abdulaziz, have been pushed aside by bin Salman. And people have been speculating what their attitudes are toward him," he added. "But, again, it's a very opaque system. I don't think anyone really knows the answer here."
Although there has been violence within the royal family in the kingdom's recent history, no ruling member has been killed in a coup.
In the 1964, then-King Saud was overthrown by his brother Faisal bin Abdulaziz and was forced to exile the country as a result. His successor, King Faisal, was assassinated by a nephew in 1975 during a domestic conflict. After his death, the throne was taken by Faisal's designated successor Khalid bin Abdulaziz Al Saud.