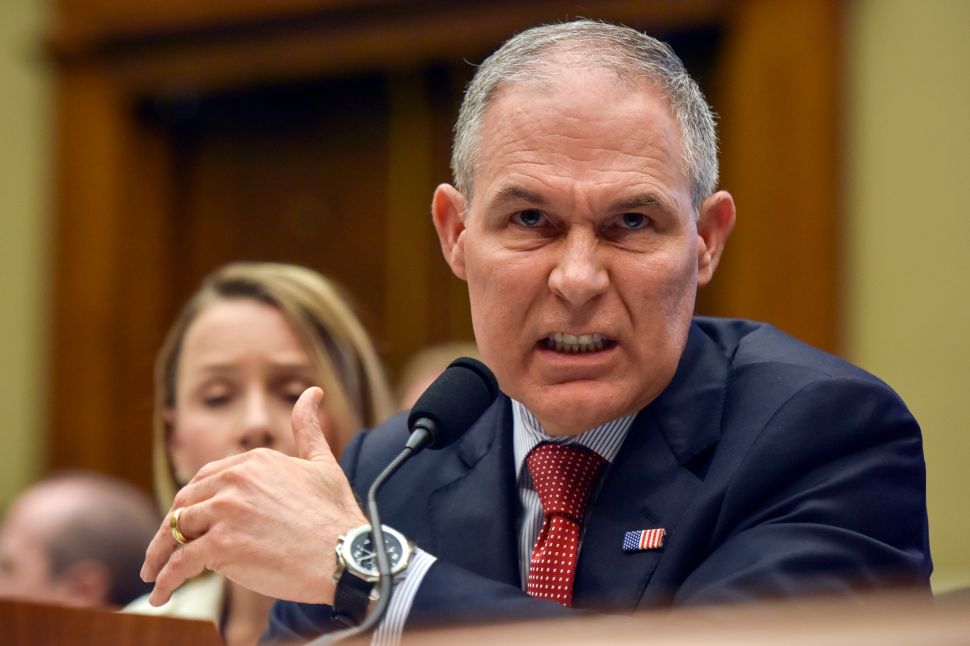 Scott Pruitt attempted to "ratfuck" a former staffer after she testified to House lawmakers over acquiring the Environment Protection Agency's overlord a used mattress from the Trump International Hotel.
The Daily Beast reports that after Pruitt's former director of scheduling, Milan Hupp, resigned post-testimony, Pruitt sought to damage her reputation among professional circles, a move known as "ratfucking." The EPA administrator is said to have contacted colleagues at the Federalist Society—a network of conservative leaning legal experts—to discredit Hupp's credibility and trustworthiness.
Pruitt also reportedly ordered "oppo hits" against staffers who exited his turf on bad terms.
On one such instance, the EPA head moved against his former deputy chief of staff, Kevin Chmielewski, by leaking damaging information about the aide's office conduct—telling media outlets that Chmielewski took "unannounced vacations" and had "shoddy timecard practices."  The Office of Special Counsel is currently investigating whether the firing was motivated by retaliation after Chmielewski leaked information to the press on Pruitt's spending patterns.
Two other sources confirmed to The Daily Beast that these opposition tactics were employed against other departed EPA staffers. When asked for comment, a spokesperson for the agency referred the publication back to previous statements Pruitt made before the House committee in May.
"I am not afraid to admit that there has been a learning process and when Congress or independent bodies of oversight find fault in our decision-making I want to correct that and ensure that it does not happen again," said the agency head.
Pruitt partook in this shady behavior while on the government payroll, meaning taxpayers can now add ratfucking to the Republican's ever-growing expenditure list, including used Trump Hotel mattresses, Ritz-Carlton moisturizing lotion, tactical pants, a $43,000 sound-proof phone booth and fountain pens totaling $1,500.