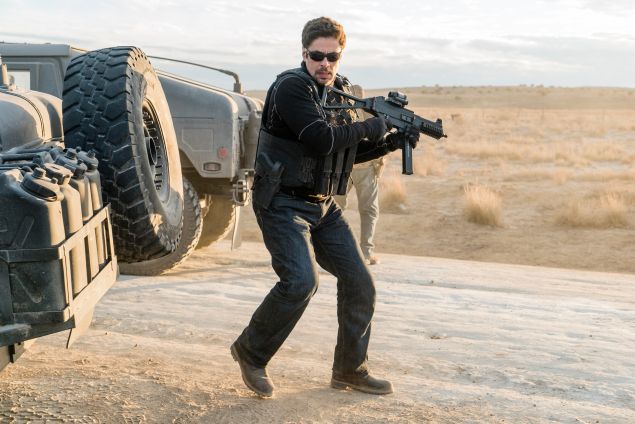 Within the first five minutes of Sicario: Day of the Soldado, four people blow themselves up after appearing to be in Islamic prayer. In the process, they kill many others, including children.
I watched the film in a crowded screening in downtown Washington D.C., a mile or so from the Supreme Court. The day before, its Justices made a 5-4 ruling that gave the President the authority to ban individuals from certain majority-Muslim countries from entering the United States. That policy was a direct result of images like those that had just been presented to us, raw and without context in the darkness. You could feel the weight of the court's decision in the confused and furtive way the crowd responded to what they saw.
In a film that is as relentlessly and pointlessly disturbing as any I had seen in some time, these shocking displays of violence would soon be forgotten, both by the audience and the movie itself. Visually, they would be swept up in the upcoming avalanche of brutality and graphic violence—this movie's body count per minute rivals any film featuring John Rambo. Story-wise, they were simply an inciting point for another tale entirely.
It seems one of the terrorists may have been smuggled through our southern border by a Mexican cartel, whose cash crop was once cocaine and is now people. The Secretary of State is played by Matthew Modine (who is as far removed from the man he was in Vision Quest as this movie is from sensible foreign policy). In response, he green-lights a covert war against the cartels headed up by the dark operative Matt Graver (Josh Brolin) returning from the original film, 2015's Sicario.
Guided by the theory that "to get to the king, you kidnap the prince," Graver enlists his taciturn former partner, Alejandro (Benicio Del Toro) in an operation to kidnap a drug lord's teenage daughter (Isabela Moner) on her way from school in Mexico City. Unsurprisingly, that questionable plan goes sideways, and the U.S. operatives find themselves targets of the Mexican police. Eventually, Matt and Alejandro turn against each other.
---

SICARIO: DAY OF THE SOLDADO ★1/2
(1.5/4 stars)
Directed by: Stefano Colima
Written by: Taylor Sheridan
Starring: Benicio del Toro, Josh Brolin, Jeffrey Donovan, Catherine Keener and Matthew Modine
Running time: 122 mins.

---
The bullets fly nonstop, as do occasional grenades, rockets and bombs from armed drones, in an unending symphony of exploding trucks and brains. Some of it is handled artfully by Stefano Sollima (a producer and director on the TV series Gomorrah); some of it isn't. Almost all of the action is accompanied by the throbbing cello of Icelandic composer Hildur Guðnadóttir. The soundtrack, like the movie, is unrelenting, filled with dread, and never builds towards anything resembling a satisfying conclusion.
Every moment of Sicario: Day of the Soldado is soaked in an unilluminating and easy cynicism. It is a similar but more bitter flavor of the pessimism that screenwriter Taylor Sheridan (Wind River) brought to the original Sicario, a critical favorite that was a modest enough hit to command this sequel.
Based on the ending, which inspired groans from the overwhelmed audience at the screening, there will be yet another Sicario. Whether audiences will choose to escape the darkness of reality in favor of this bombastic and bloody cinematic version remains to be seen.