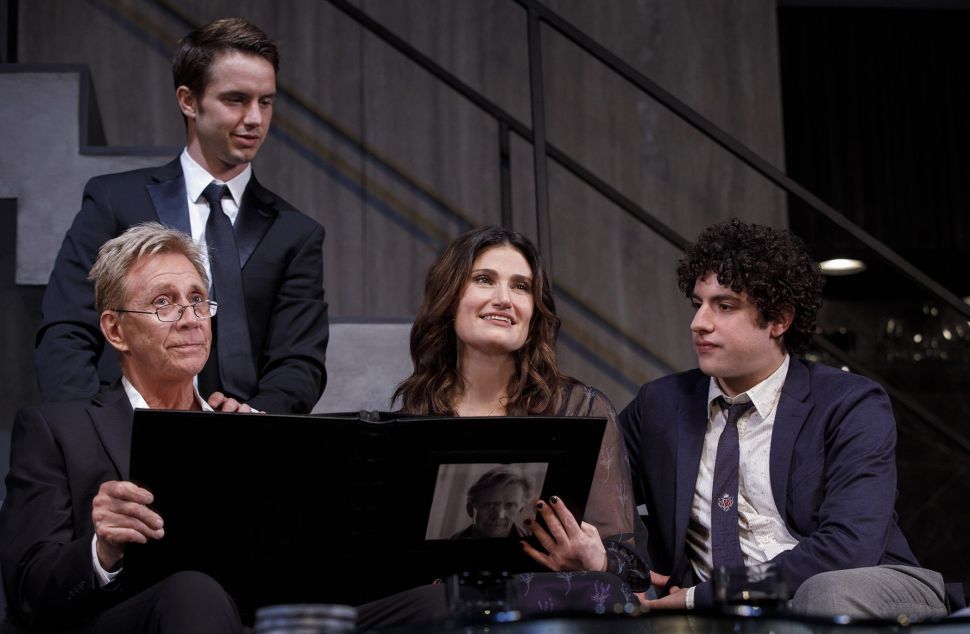 After a few years away from Broadway, Idina Menzel, who won a Tony Award for screeching her way through the original production of the musical Wicked, is back, in her first straight dramatic role. The play is Skintight, a comedy-drama by the talented writer Joshua Harmon, produced by the venerable Roundabout Theatre Company and centering on three generations of a dysfunctional family in Greenwich Village. As a non-singing actress, Menzel is only intermittently successful and so is the play, but both are sometimes sexy and often quite funny. I've seen worse.
Menzel plays Jodi Isaac, a neurotic Los Angeles lawyer in the middle of a humiliating divorce whose marriage collapsed when her husband dumped her for a girl young enough to be her daughter. Distraught and hysterical, she tries to joke about it ("What do they talk about? I want to see the transcript") but obviously she cannot cope, so she flies to New York to escape her misery, desperately in need of some tender loving care from her father Elliot (Jack Wetherall), but pretending she has arrived to celebrate his 70th birthday.
Elliot Isaac is not exactly thrilled to see her. A famous and equally neurotic clothes designer who is very clearly inspired by Calvin Klein, he doesn't want to be reminded of his age, opting for Botox instead of birthday cake. Instead of a party, Elliot shocks Jodi with the biggest surprise off all when he unveils his lover Trey (Will Brittain), a 20-year-old camera-ready blonde stud who has spent more time in the gym than the library. Outraged because she fears Trey is after her father's money, Jodi is further dismayed because this terminally dumb, motorcycle-riding Oklahoma hillbilly who has taken over her famous father's bed, Horatio Street house and bold-face life on Page Six is the same age as her son Benjamin.
Surrounded by so many youth hormones is too much. Then Benjamin himself (Eli Gelb), so affected and effeminate that he has trouble keeping two feet on the ground, arrives from Budapest where he is ensconced in a queer studies class. Hungary is where the family's Yiddish roots were before Elliot fled the Holocaust and settled in Brooklyn with his mother, an ancient crone who is now in a coma. When Trey snuggles next to Benjamin on the sofa wearing only a jock strap, Jack and Jodi can no longer hide their panic. Jodi has an answer for everything. Accused of homophobia by her son, Jodi counters with a hilarious defense: "If it wasn't for homophobia, I might not be alive today, and neither would you," she tells Benjamin, rationalizing why Elliot married Benjamin's grandmother and fled Budapest.
In the course of one uneasy weekend, everyone pours martinis, eats chicken paillard and cracked crab, makes jokes, and learns something. In the play's most touching scene, Trey learns how to decide what matters most and asks Elliot to marry him. Elliot learns there is more to life than Botox, and Jodi learns the value of tolerance and truth. I'm not sure what Benjamin learns, but no matter. He seems content to go back to Budapest, where maybe he will find himself at last.
Joshua Harmon knows how to fill the stage with people on the verge of nervous breakdowns, and his one-liners are priceless. His problem (and my one caveat) is that he doesn't know when to stop writing and give his characters the room to live and breathe for themselves. This is the same issue that plagued his previous play, Significant Other. Everyone tends to prattle on in monologues. You laugh and you nod at the cleverness of the work, but eventually you long for the talkathon to end.
Meanwhile, director Daniel Aukin ignores the fact that almost everyone onstage mumbles incoherently from scene to scene, rendering whole passages of hip dialogue unintelligible. They seem to be following Idina Menzel's lead. When she's excited, her mouth folds into the shape of a trapezoid and her voice comes out of her nose, giving the impression of talking sideways. Skintight is a play about people so self-absorbed that they almost—but never quite—connect. I'm afraid that's true of the actors, too.