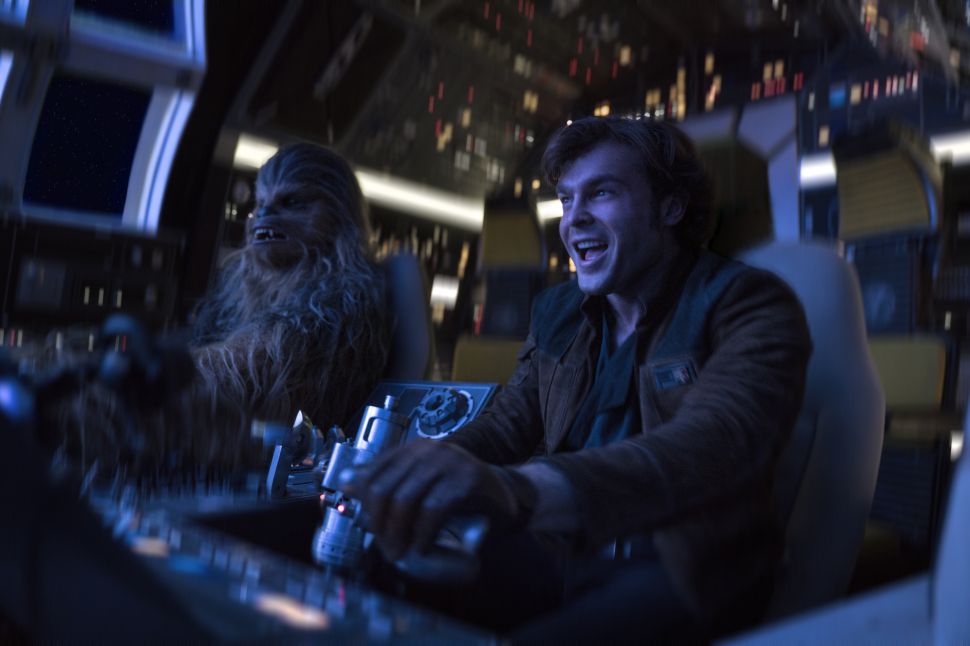 Disney and Lucasfilm's Solo: A Star Wars Story continues to disappoint at the box office.
The latest Star Wars anthology addition dropped a whopping 65 percent in its second weekend for a domestic total of $29.3 million. For comparison, the film community vomited up endless think pieces when Batman v Superman: Dawn of Justice collapsed nearly 69 percent in its second outing and Star Wars: The Last Jedi fell 65 percent.
Even worse, Solo took in just $30.3 million overseas for a worldwide cumulative total of $264 million ($149.5 million stateside). Though Star Wars has always been a domestic-focused box office property, Disney and Lucasfilm can now officially give up any hope they had of an international savior. With a minimum budget of $250 million (likely more thanks to extensive reshoots) and promotional costs estimated around $150 million, Solo: A Star Wars Story is a full-fledged box office disappointment.
The question now becomes just how big of a "flop" the film will be.
I use quotation markets because the monetization of these movies will continue on forever thanks to merchandise, home entertainment sales, streaming licenses, etc., so the movie will eventually turn a profit. But as a major tentpole theatrical release, it dramatically failed to live up to expectations (though that doesn't matter much in the grand scheme of things to Lucasfilm).
Domestically, Solo still has some earning potential over the next two weeks until The Incredibles 2 (June 15) opens. Ocean's 8 (June 8) is tracking well but shouldn't have a ton of audience overlap with Solo. Should the Star Wars anthology play like another mostly well-received but soft performing entry in a long-running series, such as X-Men: First Class, we're looking at a final domestic total anywhere between $180 million (oof) and $215 million (slightly less oof). Best guess: the movie has around $40 million to $50 million left in its run here on the homefront. No matter what, it should cross $300 million worldwide.
Beyond that, it's going to be tough Kessel Running.
Overseas, it's facing a much tougher challenge as Jurassic World: Fallen Kingdom opens in 49 markets on June 6. The first Jurassic World earned a jaw-dropping $1.01 billion in foreign markets in 2015, and while Fallen Kingdom isn't expected to perform nearly as well (it doesn't have the "First Jurassic Park movie in 14 years" narrative going for it), it's still going to make a killing. Solo will be lucky to cross the $200 million mark overseas.
All in all, we're likely looking at a final worldwide gross between $400 million and $450 million, which is clearly a major letdown from the initial over/under $1 billion expectations some harbored in the months leading up to Solo's release. But again, Lucasfilm may be disappointed, but they're not shaking in their space boots. Under Kathleen Kennedy and the Mouse House, Star Wars movies have grossed just south of $5 billion worldwide. They'll learn from the missteps of Solo and improve moving forward.