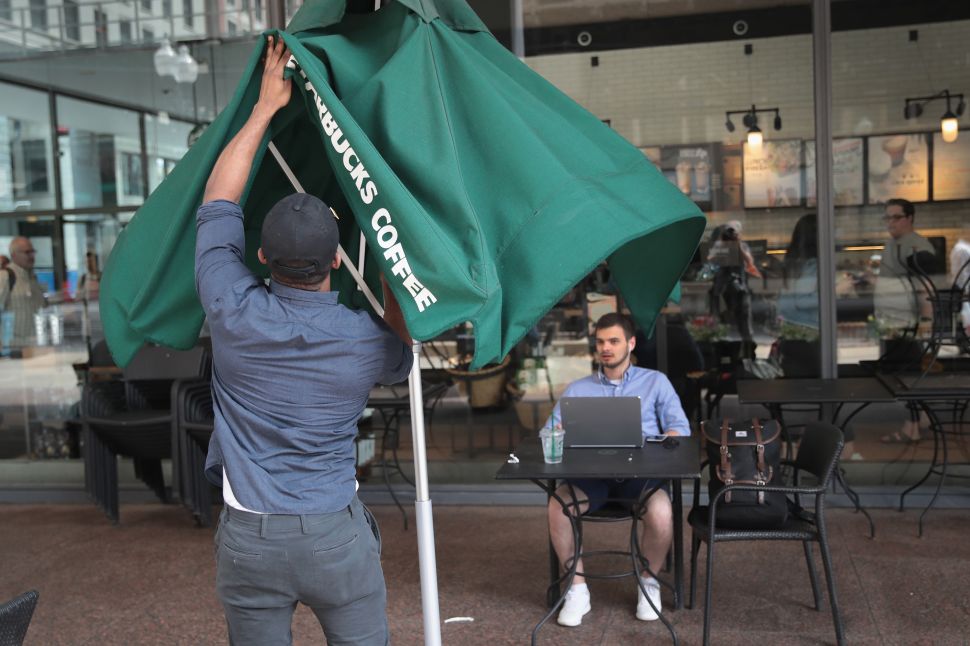 Starbucks has made frequent headlines lately—first for its dramatic bathroom scandal in Philadelphia and then the high-profile departure of founder and CEO Howard Schultz (as part of a rumored plan to run for president in 2020). But how is its coffee business doing?
Not so well, according to the coffee chain's latest self-evaluation. For the upcoming quarter ending September 30, Starbucks expects to see just one percent growth in same-store sales, its lowest rate in  years.
"Our recent performance does not reflect the potential of our exceptional brand and is not acceptable," Starbucks president and CEO Kevin Johnson said in a statement. "We must move faster to address the more rapidly changing preferences and needs of our customers."
To address that challenge, Starbucks plans to close 150 underperforming stores in its "most densely penetrated markets," mostly metropolitan areas like New York, Chicago and the company's home base, Seattle.
Starbucks evaluates poorly performing stores regularly and closes about 50 every year. The accelerated store closing in 2019 is part of the company's bigger shift from cities to suburban areas.
A company spokesperson told Observer that Starbucks will open more stores in less penetrated markets in 2019—more than offsetting the anticipated store closures. Also, no jobs will be lost from this small-scale urban downsizing.
On an investor call last week, CFO Scott Maw admitted that recent racism scandal "had an impact" on the company's sluggish quarterly sales forecast, but it was "not an excuse" for the slowing growth.
In April, Starbucks employees at a Philadelphia store refused two African-American customers' request to use the shop's bathroom. After the two customers refused to leave without purchasing anything in the shop, the store manager called the police to arrest them for trespassing.
The incident provoked immediate public outrage against Starbucks for the racist customer service practice. On May 29, the company closed over 8,000 stores nationwide for the afternoon to conduct employment training on racial equality. Observer calculated that the temporary store closings cost the company $13 million, which is in line with the "tens of millions of dollars" estimate by outgoing CEO Howard Schultz.
Aside from adjusting store distribution, Starbucks is betting heavily on digital membership for future growth. Since April this year, the company has added five million new customer registrations on its mobile app and reward membership program. In 2019, it expects to realize one to two percent of same-store growth in the U.S. from new digital initiatives.