The new Taylor Swift would very much like to shake off the old one's spare Beverly Hills home. Much like she once purged her social media feeds, the pop star also started a house cleanse earlier this year. The Reputation singer sold her starter property in the upscale neighborhood, but she still has one more to go.
Swift, who owns numerous homes including Tribeca lofts, Nashville apartments and Rhode Island retreats, originally offered the single-story pad for $2.95 million back in March, but there was an issue with an offer that fell through. She subsequently relisted, and now she's making it more financially attractive, as she's cut down the price to $2.85 million.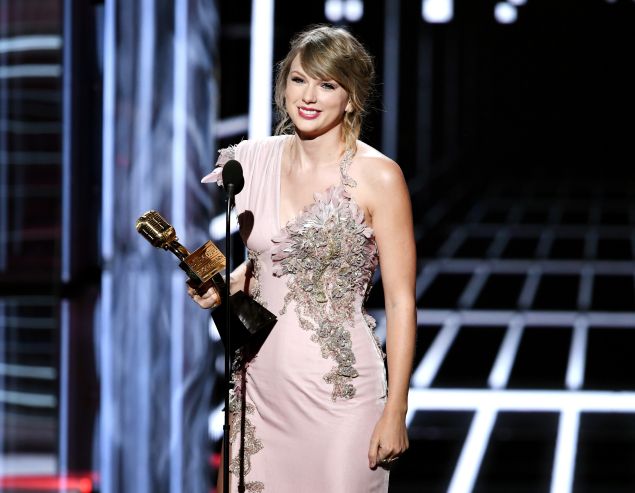 Sure, it's a notable $100,000 cut, but still a marked profit from the $1.78 million she paid for the four-bedroom, 4.5-bathroom abode in 2012. If only she had the same real estate luck as the duo that inspired her current tour's aggressive snake imagery—Kim Kardashian and Kanye West set a record with the sale of their Bel Air house last year.
Maybe the erstwhile country singer chatted about homes with Selena Gomez, who listed her Studio City bungalow shortly after she made a guest appearance at Swift's concert.
Swift's mid-century house has high ceilings, a fireplace, walls of glass and a 1,000-bottle wine cellar. There are plenty of nice features, like skylights, private courtyards and gardens, but the 2,950-square-foot residence doesn't even compare to Swift's main $25 million Beverly Hills mansion, which spans nearly 11,000 square feet.
This estate does have an elaborate security system with 11 cameras—we wonder how it compares to the new, extra-high walls Swift is installing at her main house post-stalking incidents.
But the home we're really focused on now is Swift's Newport getaway, where she usually hosts a July 4 fête—last year, an appropriately massive slide was spotted, but no photos popped up. Is this is the year of the snake float? Will Swift's boyfriend Joe Alwyn will sport a top declaring his love for her à la Tom Hiddleston? Fingers crossed that Adele and J.K. Rowling make the cut for new #squad members in attendance.
Speaking of Alywn—per the always-excited British tabloids, Swift, who just finished up the U.K. leg of her tour, is still perusing homes in London in order to be closer to the actor, with a casual $40 million budget.