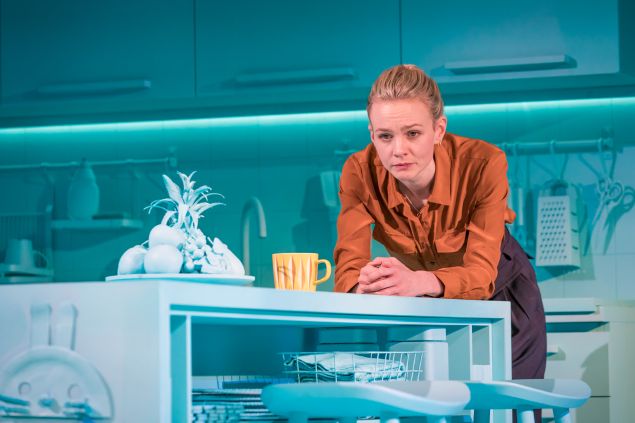 Stage narrators tend to be unreliable. The Glass Menagerie's Tom Wingfield slyly drawls about "tricks in my pocket…things up my sleeve," and you know, we should doubt the boozy narcissist. Shakespeare's Iago and Richard III have unusually close rapport with the audience because those baddies need us on their side. But I admit, the sole character in Dennis Kelly's exhilarating and brutal Girls & Boys is all too credible. As played to aching, bruised perfection by Carey Mulligan, the unnamed Woman takes us on a journey into darkness that we hope will turn out to be an elaborate lie—but know is not.
Kelly's 105-minute monologue debuted last spring at London's Royal Court Theatre, and this Off-Broadway transfer comes courtesy of audiobook giant Audible. (Mulligan's performance has been captured at the company's Newark studio and sold as an audio download.) Audible has taken up residence at the Minetta Lane Theatre and, judging by this piece and the previous one, Harry Clarke, they have excellent taste, choosing suspenseful, layered narratives that reward close listening.
So the fact that Lyndsey Turner's stylish staging packs such visual punch is almost gravy. The Woman occupies two spaces: standing before a solid blue wall, telling the story of her marriage, and miming flashback scenes with her toddlers in swimmy turquoise interiors. Es Devlin's hallucinatory, near-monochrome set is so weirdly compelling one almost misses the chromatic subtext: blue is the gendered hue for boys. With her contrasting ensemble of mustard blouse and burgundy slacks and hair pulled back, Mulligan cuts a vaguely androgynous figure against an azure field. A woman enveloped by male energy.
The optics mesh with Kelly's theme, which boils down to: God save us from toxic masculinity. Girls & Boys is the story of a romance, a marriage and a vertiginous, almost inexplicable slide into domestic horror. Over a series of "chats" with the audience, Mulligan's Woman describes first meeting her (also unnamed) future husband in a line at the airport. He's a droll, slightly thick fellow who nonetheless disarms a pair of models trying to flirt their way in front of him. The keynote of men versus women continues as the Woman bluffs her way into a film production company and rises up the ladder, as her spouse's business—importing European custom furniture—implodes. Love cools, contempt flourishes, children become weaponized and the story reaches a gory catharsis worthy of Greek tragedy.
In Girls & Boys, as in his unnerving pseudo-docudrama on infanticide, Taking Care of Baby (at Manhattan Theatre Club in 2013), Kelly is obsessed with spasms of violence in the home. He also wrote the book to the Broadway hit Matilda, but his sardonic take on parents and kiddies was filtered through Roald Dahl's own cheery misanthropy. Kelly sometimes laces his tales with fake sociological theories to plumb the darker side of the human psyche. In Taking Care of Baby, he invented a syndrome which accounts for mothers driven to kill their offspring. Here, the Woman is producing a documentary about an academic building a system to limit male power in society. But by the end of her grim personal history, she has come to the realization: "We didn't create society for men. We created it to stop men."
Both writing and acting are superb, in perfect sync thanks to Turner's clinical direction and spare but effective choreography. Kelly writes with delectable relish and gusto, not scanting on cascading profanity or visceral imagery (in a job interview the Woman declares that she will "keep banging my head against the wall until the wall breaks or until my neck is a bloody stump"). As for Mulligan, she's magnificent. This may be her toughest role—certainly the most demanding and intense, nearly two hours of delicate comic timing as she ratchets up the emotional tension. A decade ago, Mulligan's limpid Nina was the best thing in an otherwise forgettable Seagull on Broadway. If you missed her soulful-sorrowing performance opposite Bill Nighy in David Hare's Skylight, now's your chance to make it up. Gentle yet steely, girlish yet tough as nails, Mulligan beautifully blends the gender traits that, when they run amok, can lead to so much heartbreak.