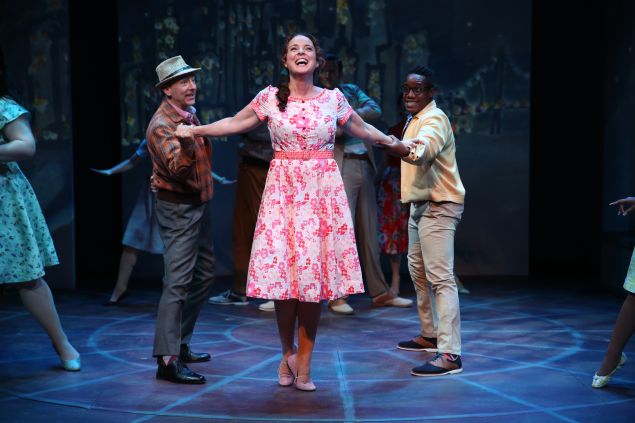 The New York theater used to have a season. Things opened (and closed) in the fall, winter and spring, and after the Tony awards, everyone took the summer off. Things have changed. This year, all kinds of new shows are opening, large and small, on and off-Broadway, including one major musical, the singing and dancing version of the movie Pretty Woman, which is scheduled for the middle of a heat wave in the middle of August. First up at bat: the Irish Rep company's revival of the Alan Jay Lerner-Burton Lane musical On a Clear Day You Can See Forever. Lively and not without a kind of historic charm, this refurbished incarnation, directed by Charlotte Moore, is a nice, albeit mediocre production of a show with a boring book and a spectacular score that might be better off left to grow moss, in a drawer with Alan Jay Lerner's old socks.
Here is a relic that was always unwieldy and problematic, and still is. It's the one about extrasensory perception, psychoanalysis, and reincarnation that centers on a kooky girl named Daisy Gamble who goes to a shrink for hypnosis to give up a smoking addiction and discovers, on the analyst's couch, that she's the reincarnation of a 19th century lass in London named Melinda Welles who married a poverty-stricken portrait painter beneath her station (for love instead of social position) and tragically died young, in a shipwreck at sea. The long-winded twist is that Daisy falls in love with the handsome psychiatrist, but he falls in love with the ghost of Melinda, leading her to belt out the rousing show-stopper "What Did I Have That I Don't Have?"
Everything, in fact, leads up to some kind of song, and Alan Jay Lerner, composing lyrics to his first Broadway score without his history-making writing partner Frederick Loewe after a string of hits that included Paint Your Wagon, Brigadoon, Camelot and My Fair Lady, and Burton Lane (Finian's Rainbow) provided some memorable ones. The musical score is what remains, along with the electrifying memory of Barbara Harris, who catapulted to fame as Daisy. (It was one of the very few opening nights in history in which an unknown leading lady walked onstage, opened her kewpie doll eyes, sang out the enchanting "Hurry It's Lovely Up Here" to a pot of flowers, and got a standing ovation. If you want to know why, just play the original cast album and discover pure magic. No one could top her after that. Even Barbra Streisand, in the flop 1970 movie version, was compared unfavorably to Barbara Harris.)
When the original production opened in 1965, critics were lukewarm about the show but raved about the songs and the way Barbara Harris sang them. By then, audiences had lost interest in ESP and other forms of psychic phenomena held little box-office appeal. Roles were re-written, new songs were added, and almost everyone had dropped out or been fired, including one producer (Richard Rodgers), two directors (Gower Champion and Bob Fosse), and the male star (Louis Jourdan). Barbara Harris kept it alive for a respectable 280 performances, but On a Clear Day You Can See Forever was never considered a big success in the Alan Jay Lerner scrapbook.
The new scaled-down production on view in New York has dropped many of the original songs, re-assigned others to different characters, and deleted subplots. Expect a few surprises. For example, Act Two now opens with a haunting minor-key melody, "Who Is There Among Us Who Knows" that show tune fans may not know. It was written for Jack Nicholson, of all people, who was added to the cast of the movie in the freshly created role of Barbra Streisand's brother. The song was deleted, but a bootleg recording that has passed around among trivia collectors proves that Jack was pretty charming and so was the song. It's nice to hear it resurrected here.
The rest of the score holds up brightly. "He Wasn't You," "Melinda," "Come Back to Me," and the title song showcase the Lerner-Lane wit and sophistication with renewed verve. So if On a Clear Day You Can See Forever remains the disappointment that was never originally predicted and, even with all of the revisions, has not aged well, it is still a musical worth revisiting. As the new Daisy, Melissa Errico is no Barbara Harris, but she sings with appealing gusto. Stephen Bogardus brings dignity to the role of her romantic shrink, Dr. Mark Bruckner, if not much sex appeal. Unfortunately, the supporting cast poses, reacts and overacts all over the place. The result is a perfunctory yet entertaining version of On a Clear Day You Can See Forever that is, at least, a vast improvement over the unspeakable, short-lived 2011 Broadway revival that Harry Connick, Jr. walked through looking like he was suffering from a terminal case of acid reflux. The wags called that one "On a clear day, you can see the closing notice." This one, I predict, will run a little bit longer.