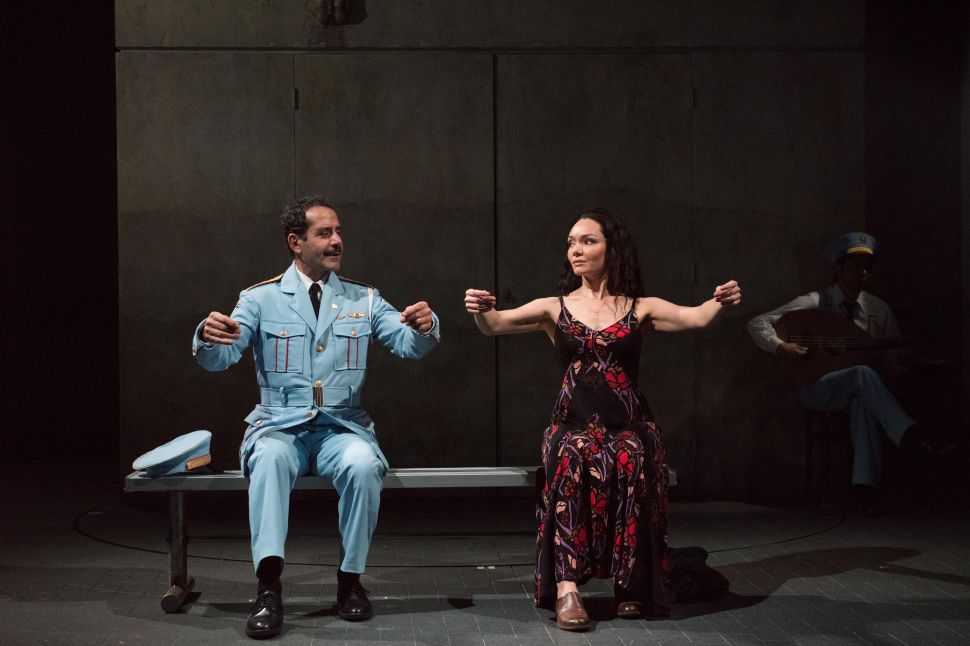 There were times this season when Broadway looked more like a multiplex than a mecca for live theater.
With shows like Frozen, Mean Girls and SpongeBob SquarePants clogging the Great White Way, it seemed like there were barely any original ideas left.
But a few gems still emerged from the pack—and luckily, it looks like those more innovative works will take the top prizes at this Sunday's Tony Awards.
Read on for our predictions and analysis ahead of Broadway's biggest night.
Best Musical
The Band's Visit
Frozen
Mean Girls
SpongeBob SquarePants
All four of this year's nominees are based on movies or TV shows, but only one of those shows broke away from that format and created (to quote one of its songs) "something different." The Band's Visit will ride a wave of rave reviews to claim Tony's top prize.
Best Play
The Children
Farinelli and the King
Harry Potter and the Cursed Child
Junk
Latin History for Morons
Cursed Child won't need a magic wand to conjure up this trophy. It's the biggest hit of the Broadway season, and got as many nominations as all four of its rivals combined. So the producers better be prepared to catch the Snitch.
Best Revival of a Musical
Carousel
My Fair Lady
Once on This Island
Of the top four categories, this is the toughest—all three productions got rave reviews and a boatload of nominations. But we're giving a slight edge to the Lerner & Loewe classic, which was reimagined for the age of #MeToo.
Best Revival of a Play
Angels in America
The Iceman Cometh
Lobby Hero
Three Tall Women
Travesties
This was a stellar year for play revivals—several of these productions richly deserve the statue. But Tony Kushner's epic masterpiece will take the prize, thanks to its scope (seven hours and two plays), rave reviews and continued relevance.
Best Leading Actor in a Musical
Harry Hadden-Paton, My Fair Lady
Joshua Henry, Carousel
Tony Shalhoub, The Band's Visit
Ethan Slater, SpongeBob SquarePants
This category is a true toss-up showcasing many different kinds of acting, from Slater's hilarious mugging to Shalhoub's quietly devastating emotion. But Henry's "Soliloquy" in Carousel was one of the most devastating numbers performed on Broadway this year and should be enough to push him over the top.
Best Leading Actor in a Play
Andrew Garfield, Angels in America
Tom Hollander, Travesties
Jamie Parker, Harry Potter and the Cursed Child
Mark Rylance, Farinelli and the King
Denzel Washington, The Iceman Cometh

After cruelly losing the trophy for Death of a Salesman in 2012, Garfield will finally win for his harrowing work as Prior Walter in Angels.
Best Leading Actress in a Musical
Lauren Ambrose, My Fair Lady
Hailey Kilgore, Once on This Island
LaChanze, Summer: The Donna Summer Musical
Katrina Lenk, The Band's Visit
Taylor Louderman, Mean Girls
Jessie Mueller, Carousel
The year's busiest acting category only has one clear winner. Lenk is hilarious and heartbreaking as cafe owner Dina, especially during her marquee number "Omar Sharif." Ambrose got rave review as Eliza Doolittle, but it won't be enough to prevail this year.
Best Leading Actress in a Play
Glenda Jackson, Three Tall Women
Condola Rashad, Saint Joan
Lauren Ridloff, Children of a Lesser God
Amy Schumer, Meteor Shower
There's really no contest here. Jackson returned to the stage in grand fashion after two decades in Parliament, making Edward Albee's classic soar anew. The other three women represent the sole nominees from their shows, so they'll all go home empty-handed.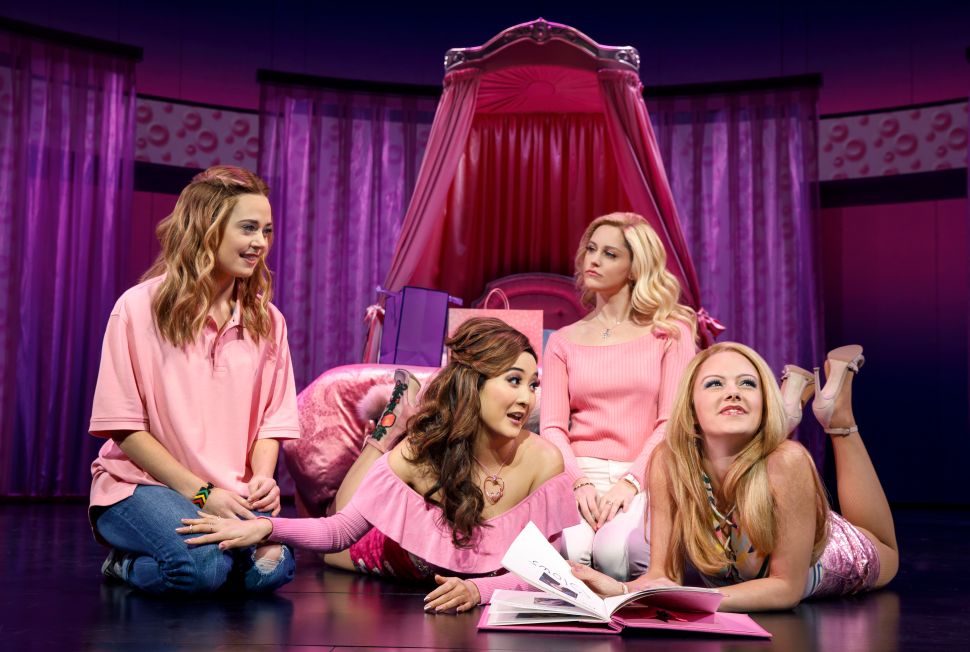 Best Featured Actor in a Musical
Norbert Leo Butz, My Fair Lady
Alexander Gemignani, Carousel
Grey Henson, Mean Girls
Gavin Lee, SpongeBob SquarePants
Ari'el Stachel, The Band's Visit
Here's where things get really difficult. Butz got rave reviews, but he's already got two Tonys so voters may think enough is enough. Lee is an entertaining Squidward, but SpongeBob is more renowned as a technical achievement, than an acting or singing showcase. Henson is hilarious as "too gay to function" Damian, but his show loses points for too much tap (it's a thing).
We're giving the slightest of edges to Stachel, whose Band's Visit character exudes charisma. His trademark pickup line "Do you like Chet Baker?" and soulful "song about love" are show highlights, and he's also been praised for advancing Middle Eastern culture through his work in the show.
Best Featured Actress in a Musical
Ariana DeBose, Summer: The Donna Summer Musical
Renee Fleming, Carousel
Lindsay Mendez, Carousel
Ashley Park, Mean Girls
Diana Rigg, My Fair Lady
This category is a head-scratcher for the opposite reason: None of these women received especially good reviews, so it's hard to figure out how voters will favor one over another. Mendez gets a small advantage for her appealing work as Carousel's ingenue, but her veteran co-star Fleming could also easily triumph.
Best Featured Actor in a Play
Anthony Boyle, Harry Potter and the Cursed ChildA
Michael Cera, Lobby Hero
Brian Tyree Henry, Lobby Hero
Nathan Lane, Angels in America
David Morse, The Iceman Cometh
No suspense here: Broadway favorite Lane will win his third Tony Award (and first for a play) as the blustery Roy Cohn in Angels.
Best Featured Actress in a Play
Susan Brown, Angels in America
Noma Dumezweni, Harry Potter and the Cursed Child
Deborah Findlay, The Children
Denise Gough, Angels in America
Laurie Metcalf, Three Tall Women
This is really a two-woman race: Gough won an Olivier Award (the British Tony) for Angels in London. But she wasn't competing against a co-star as she is here; that's always a distinct disadvantage because they split the vote.
So we're giving the edge to Metcalf, whose moving, hilarious performance was one of Three Tall Women's many pleasures. She was also pretty much the only person to emerge from the recent Roseanne controversy unscathed.
Best Director of a Musical
Michael Arden, Once on This Island
David Cromer, The Band's Visit
Tina Landau, SpongeBob SquarePants
Casey Nicholaw, Mean Girls
Bartlett Sher, My Fair Lady
Landau made SpongeBob a splashy extravaganza, so voters who might not pick the show for Best Musical could reward it here. But in recent years, this award has skewed more toward smaller, inventively staged shows—so we're giving Cromer the advantage.
Best Director of a Play
Marianne Elliott, Angels in America
Patrick Marber, Travesties
Joe Mantello, Three Tall Women
John Tiffany, Harry Potter and the Cursed Child
George C. Wolfe, The Iceman Cometh
Angels and Cursed Child were both herculean efforts, so this category is close to a draw. But Elliott just won three years ago, while it's been a six-year drought for Tiffany—so he gets the edge.
Best Original Score
The Band's Visit
Frozen
Mean Girls
SpongeBob SquarePants
David Yazbek's beautiful music and lyrics are filled with Middle Eastern flair and will easily win him this trophy.
Best Book of a Musical
The Band's Visit
Frozen
Mean Girls
SpongeBob SquarePants
This is the one category where Tony will throw Mean Girls a bone. Tina Fey's hilarious book is easily the best part of the show, and she's been campaigning for the prize like mad. We love Band's Visit, but even we admit this is Fey's to win.
What Else to Expect on Tony Night
Several Tony winners have already been announced, including Lifetime Achievement honorees Chita Rivera and Andrew Lloyd Webber (who's apparently DJing a Tony party).
The Tonys are also presenting special awards to John Leguizamo and Broadway neophyte Bruce Springsteen, whose intimate Broadway concert broke box office records this season.
The 72nd annual Tony Awards air this Sunday, June 10 at 8 p.m. on CBS. Josh Groban and Sara Bareilles will host the show live from Radio City Music Hall.