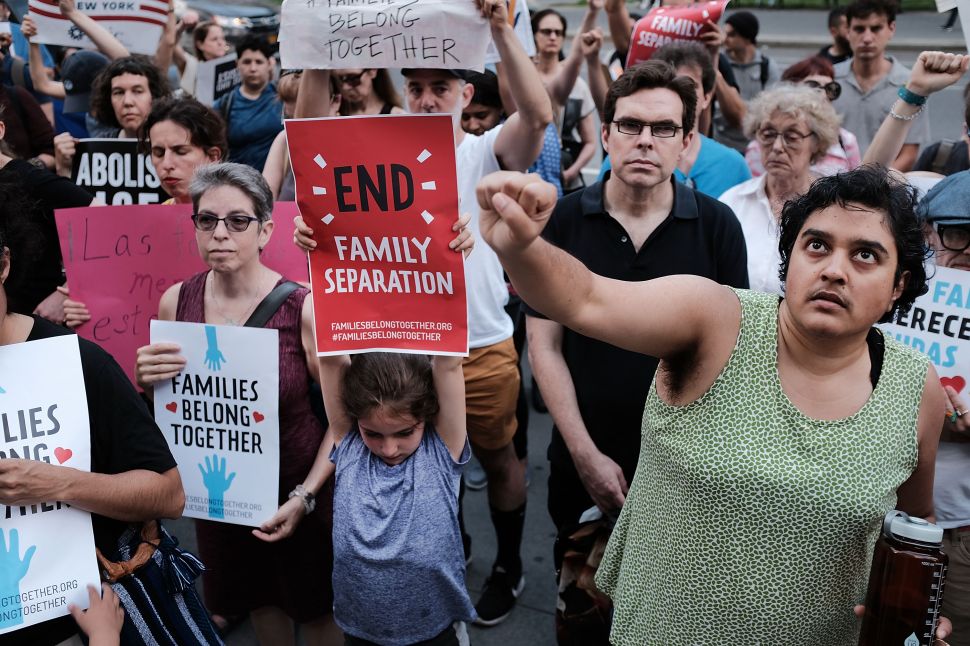 As immigrant communities and advocacy groups ring the alarm over the uptick in immigration enforcement by President Donald Trump's federal immigration authorities, New York is taking steps to force them to be more transparent about who they are stopping and why they are stopping them.
Last week, Sen. Kirsten Gillibrand and Rep. Joseph Crowley (D-Queens/Bronx), the House Democratic Caucus chairman, introduced the Department of Homeland Security Accountability and Transparency Act, which would require U.S. Customs and Border Protection (CBP)—which administers immigration laws at and near the borders—and U.S. Immigration and Customs Enforcement (ICE)—which applies the laws in the remaining areas—to report every time they stop someone and turn in details on those interactions to Congress annually.
Congress, as well as Kirstjen Nielsen, secretary of the U.S. Department of Homeland Security (DHS), would make the information publicly available.
"ICE is out of control, and they're acting like cowboys without really any oversight," Crowley told Observer on Wednesday afternoon.
He noted that last month, a woman and her friend—who are both American citizens—were detained and questioned by a CBP agent when he heard them speaking Spanish at a gas station in Montana.
"Speaking a foreign language is not a reason to detain any American citizen against their will," Crowley continued, adding that ICE cannot be roaming around locations such as schools, hospitals and courthouses unchecked. "So whenever they can stop anyone, they need to report to Congress as to why they stopped that person in the first place, what is the reason behind it. They need to be reined in."
In a statement, Gillibrand said keeping the United States safe "cannot come at a cost to basic human rights."
"When border patrol agents stop and question people in New York and in many places across the country, they aren't keeping data about why they targeted a particular person or what happened during their encounter," she said in a statement provided to Observer on Wednesday afternoon. "Congress has a responsibility to make sure our border patrol agencies are transparent and accountable, just like every law enforcement agency in our country should be."
Sens. Elizabeth Warren (D-Mass.), Tom Udall (D-N.M.) and Jeff Merkley (D-Ore.) are bill co-sponsors.
Groups such as the American Civil Liberties Union (ACLU), the New York Immigration Coalition (NYIC), the National Immigration Forum, the Southern Border Communities Coalition, the Asian American Federation, Make the Road New York and the Niskanen Center support the legislation.
How Do CBP and ICE Work? 
Under current law, there is no mandated record-keeping process for CBP or ICE officers who are making a patrol stop or inspection, except in instances in which there is an arrest or in which the officer uses force.
Border patrol agents can question anyone who is within 100 miles of a U.S. land or coastal border about their immigration status, which covers the bulk of the country's population.
Agents frequently question passengers on Amtrak and passenger buses about their immigration status but do not have to keep an official record of most of those stops, according to Gillibrand.
Under the proposed law, any officer or agent of CBP or ICE—as well as any other state or local law enforcement official administering American immigration laws—would be required to collect data any time they make a patrol stop, secondary inspection or search at a "non-international port of entry checkpoint."
That data will have to include information such as an individual's identifying characteristics; the stop's date, time, location and time span; the reason for the stop; whether a search was carried out or whether force was used; if an arrest was made; and the badge number of any law enforcement officer who was present during the interaction.
CBP would be required to collect data on the number of permanent and temporary checkpoints that CBP officers use, including the location and description of other law enforcement agencies or resources used at every checkpoint.
DHS, for its part, would have to put together and submit all of the data collected by law enforcement officials to Congress in a report that would be publicly available.
"I think the intent here is to cover any base in which they would detain an individual, either at the border or in the interior," Crowley said.
Recently, a solider at the Fort Hamilton military base in the Bay Ridge section of Brooklyn called ICE on an immigrant pizza delivery worker from Ecuador. And the Mayor's Office of Immigrant Affairs (MOIA) found that ICE arrested more undocumented immigrants in the city and nationwide—including people without previous criminal convictions—in the last year.
Andrea Guerrero, executive director of Alliance San Diego and co-chair of the Southern Border Communities Coalition, told Observer that CBP—the mother agency of Border Patrol—is vastly larger than ICE.
"I live in the 100-mile zone where immigration agents—mostly CBP agents—have the authority to stop individuals anywhere within 100 miles of land or sea border and ask them about their citizenship, and so we know that this is especially prevalent in the southwest part of the United States," Guerrero said. "And two-thirds of the entire U.S. population lies within this 100-mile zone, which is the perimeter of the United States. But the impact of the stops on our communities mostly happen near the land borders here in the southwest and also the northern Canadian border."
She said the proposed legislation will make a difference.
"We have long believed that this practice of stopping people is based on racial profiling and other identity profiling, and we don't have any data to understand this problem. And so this bill is an opportunity to collect stop data to understand the scope of the problem, which is racial, and identify profiling so that we can address it," Guerrero continued.
Guerrero argued that both CBP and ICE should be held to the policing standards that are applied throughout the country, noting that they are allowed to engage in these stops "when police are not." She also noted that there is a section of the the U.S. Code—the federal laws of the United States—that only applies to immigrant agents known as "powers without warrant," which allows them to act without a warrant or without probable cause.
This, she said, undermines the 4th Amendment of the U.S. Constitution, which safeguards individuals from illegal searches and seizures.
"They're the only ones that have 'powers without warrant,'" she added. "They should have never been given these powers. These powers were first given to them during the McCarthy era, 75 years or so ago."
She also noted that collaboration between law enforcement and immigration authorities is a "real problem."
Chris Rickerd, policy counsel for the National Political Advocacy Department at the ACLU, told Observer that the legislation is key because it applies "best police practices" to ICE and CBP.
He said Gilibrand was struck by the case of Jessica Cooke, a 21-year-old student who was about to earn her degree in law enforcement and was tased by CBP agents, suffering injuries.
"CBP didn't track any of these stops unless there was an arrest or something unusual like a complaint," Rickerd said.
He noted that for decades now, law enforcement has understood that in order to track what they are doing well, they need a "report card."
"DHS is way behind other law enforcement in being transparent and in collecting and publishing data like that," Rickerd continued.
Spokespeople for DHS and CBP told Observer that as a matter of policy, they do not comment on newly introduced legislation. ICE did not respond to requests for comment on Wednesday.
How to Deal With Immigration Agents in the Mean Time 
Guerrero said the key role "good neighbors" must play is simply to be good neighbors: building relationships with immigrant neighbors, considering their requests and being citizen observers "to what's going on around them." And she encouraged them to record interactions.
"You can just record it on your cell phone or you can use one of the apps developed to record this information if there's an incident," she said, referring to the MigraCam app as an example. "If an immigrant neighbor is hesitant to interact with police or government agencies because of the concern around collaboration, then you can accompany that individual to be a citizen neighbor."
But she cautioned that "good neighbors" should not offer legal advice.
"It is not the role of citizen observers to start giving immigrants advice," Guerrero continued. "It is their role, though, to accompany immigrants who seek accompaniment and to document and observe any incidents that occur."
Crowley, for his part, encouraged people to fill out an affidavit if they witness unlawful behavior by ICE or CBP.
"They can certainly approach our offices or any of our elected officials, and they can fill out a statement and report that," he said.
On Monday, New York State Assemblywoman Michaelle Solages introduced the Protect Our Courts Act, legislation that bans ICE from making civil arrests at state courthouses without a judicial warrant or court order—a protection that would also apply to people who are either going to or leaving court.
And in April, Gov. Andrew Cuomo sent a cease and desist letter to ICE, in which he vowed to take legal action against the agency. He also revised an executive order that prohibits state agencies and officers from asking about an individual's immigration status unless it is mandated by law. The revised order now also bans ICE arrests in state facilities without a warrant.