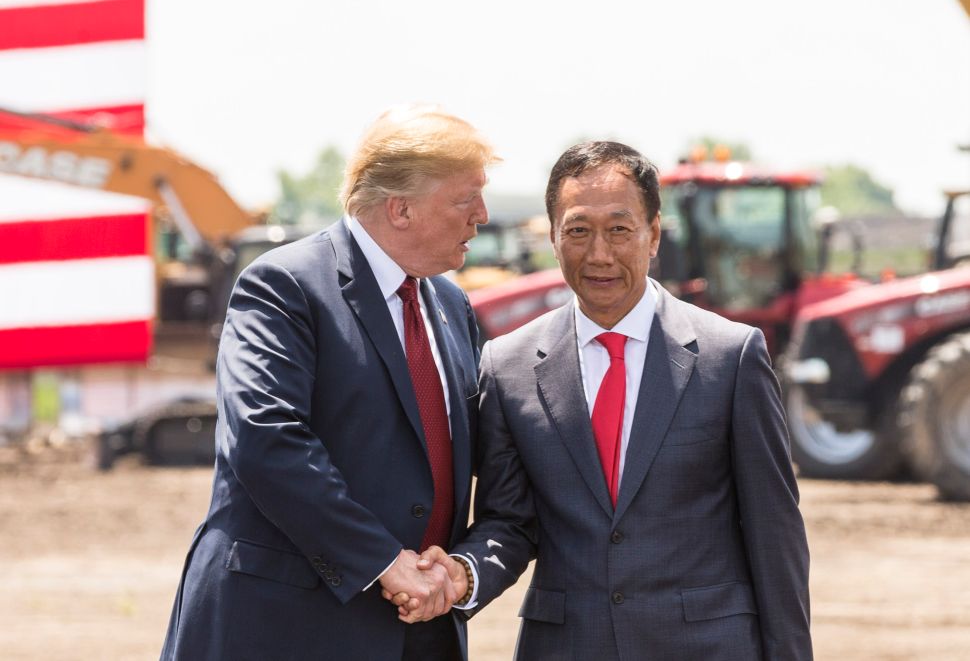 President Trump is landing in Milwaukee, Wis. today, the hometown of Harley Davidson. But, instead of trying to stop the motorcycle maker from moving production abroad, he is there to welcome the major arrival of a foreign company just miles away from Harley Davidson's headquarters.
Taiwan-based Foxconn Technology Group, which assembles all the iPad and iPhones in the world, will break ground today on its 20 million-square-foot, $10 billion manufacturing campus in Wisconsin, one year after Trump struck the deal with Foxconn chairman, Chinese billionaire Terry Gou.
The president tweeted out his excitement this morning, saying the new plant will create 15,000 jobs (although Foxconn only promised 13,000). The deal is a major milestone for Trump's promise to bring manufacturing jobs back to the U.S.
However, the real economic impact is a lot more complex.
To lure Foxconn to the state, Wisconsin offered nearly $4 billion of incentives, including $2.85 billion in tax credits, a sales tax exemption and other city- and county-level incentives. It's the largest taxpayer subsidy any state has ever made to a foreign company, and skeptics have been arguing whether or not it will be worthwhile since the beginning of the negotiations.
Wisconsin initially offered a $3 billion package. Municipalities in towns and counties where the plant will be built later added their own incentives.
According to an analysis by Wisconsin's Legislative Fiscal Bureau, a non-partisan agency, the state's investment won't begin to pay off until 2043.
Another worry is whether Foxconn will fulfill its promises. In 2012, Foxconn made similar job assurances when building a massive plant in Brazil. But most of the promised jobs are still waiting to be created.
The Wisconsin government, however, has high hopes that Foxconn can make Milwaukee a new national tech hub.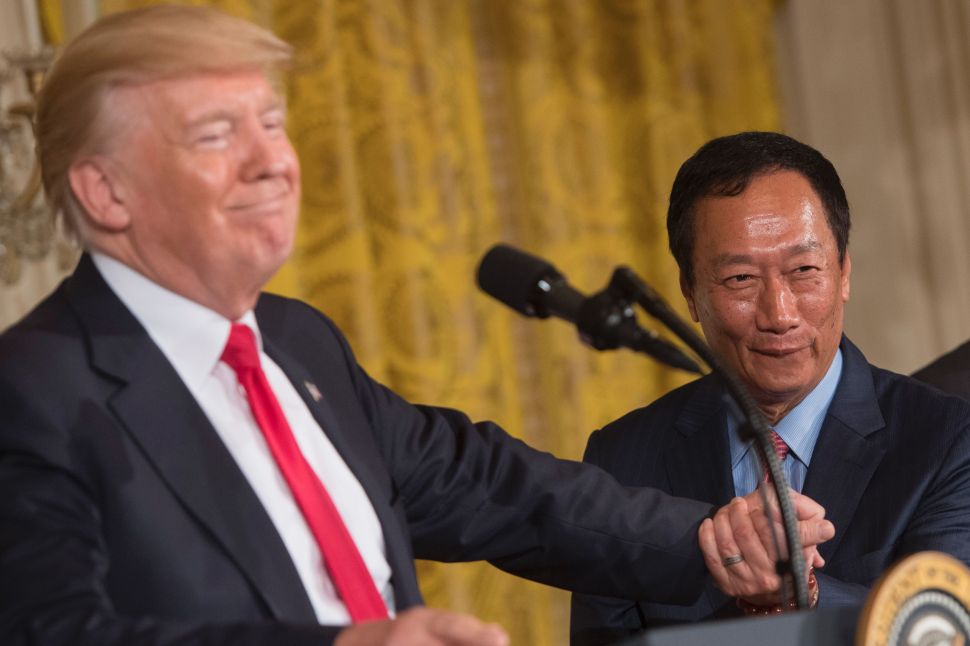 "This really starts to identify Wisconsin and the metro Milwaukee area as home to a new digital technology that's not being manufactured in the United States, so we see significant follow-on investment and the ability to develop a new digital economy," Tim Sheehy, president of the Metropolitan Milwaukee Association of Commerce, said on Thursday ahead of the groundbreaking ceremony.
Mark Hogan, CEO of the Wisconsin Economic Development Corporation, the agency responsible for negotiating the contract with Foxconn, told The Wall Street Journal this week that Terry Gou had personally promised to pay back part of the state's cost if Foxconn's promise doesn't materialize.
Foxconn also issued a statement saying it is "fully committed to this significant investment and to meeting our contractual obligations with the relevant government agencies."
In any case, the increased labor cost of moving to the U.S. will inevitably transfer to Foxconn's upstream companies like Apple. Foxconn pays an average worker in its Shenzhen, China factories $6,000 a year, while an average manufacturing job in Milwaukee asks for $37,000, according to Glassdoor estimates.
The Wisconsin facility will primarily make LCD screens for televisions and computers, but it's unclear what companies those products will be made for.