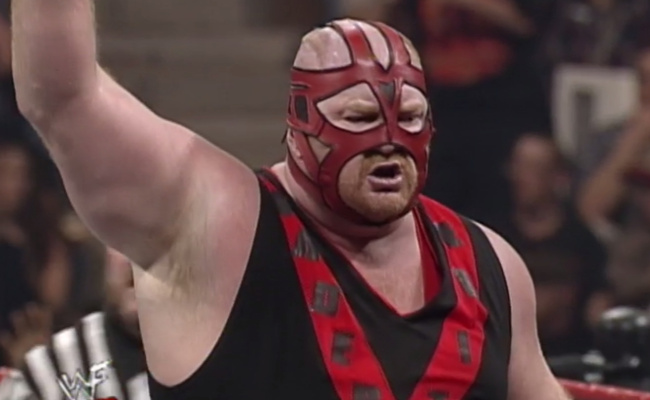 Former WWE legend Vader, real name Leon White, has passed away. The popular wrestler was 63.
Vader's Cause of Death
According to TMZ, White died after a two-year battle with congestive heart failure. White's son first broke the news on social media, writing: "Around a month ago my father was diagnosed with a severe case of Pneumonia. He fought extremely hard and clinically was making progress. Unfortunately, on Monday night his heart had enough and it was his time."
Back in March, White underwent open-heart surgery and appeared to be on the road to recovery. However, in April his health began to deteriorate.
A few years ago, he tweeted that doctors told him he had two years to live, but he later toned down the severity of his condition and said he regretted revealing his diagnosis to the public.
Vader's Career
As a pro wrestler, Vader—or Big Van Vader, depending on which organization you first saw him with—was an international star, earning the WCW heavyweight champ belt three times throughout his career. In the WWE, his matches against The Undertaker and Kane become the stuff of legend.
He most notably performed for New Japan Pro-Wrestling (NJPW), World Championship Wrestling (WCW), the World Wrestling Federation (WWF) and All Japan Pro Wrestling (AJPW) during the 1990s and 2000s. White, who gained legendary status in Japan, is widely regarded as one of the greatest super heavyweight wrestlers ever.
White also made TV appearances on shows like Baywatch and Boy Meets World, earning himself a fandom outside of the ring.
In 2016, beloved wrestler Mick Foley took to Facebook to pen a post about the four reasons why Vader deserved to be in the Wrestling Hall of Fame. He wrote:
1) He drew more money, with a wider variety of opponents, for different promotions, on a global basis, than just about any of his contemporaries.
2) He brought out the best in his opponents. Vader "paid it forward" by bringing out the very best in some of the greatest stars of his time, and of all time.
3) His matches stand the test of time. No matter what trends the business may go through, Vader's believable brawling, combined with his impressive athleticism, will never go out of style.
4) He was able to turn a 6'4, 300-pound maniac with a penchant for pain into a sympathetic underdog.
Vader's Personal Life
Before becoming a world famous wrestler, White excelled in football at the University of Colorado, even being named a two-time All-American. His college success led the then St. Louis Rams to draft White in the third around of the 1978 NFL Draft. White would go on to play in Super Bowl XIV against the Pittsburgh Steelers.
He is survived by his sons Jesse White and Jake Carter.