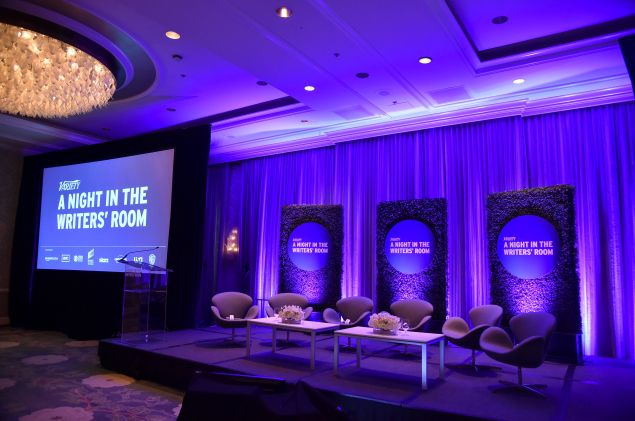 On Tuesday, June 5, after receiving an invitation to an annual and well-respected panel on what it's like to be a TV writer, Wendy Molyneux, herself a writer on the animated series Bob's Burgers, took to Twitter to point out something pretty obvious about the upcoming event.
Of the 12 writers participating, only one was female.
She wrote, "I guess what you'll find in the writers' room is over 90% men! Cool! I'll be over at The Jessica Hotel just menstruating with my sisters!"
The floodgates opened from there with a multitude of voices chiming in about the event's tone-deaf tenor, especially given Hollywood's claim that it's doing everything it can to bolster inclusion.
Not long after Molyneaux's post, Liz Hannah, who cowrote 2018's The Post, posed this question on Twitter: "So… are we all really just shouting into a vacuum?"
Emily Cutler, a writer and producer whose credits include Suburgatory, called out the sponsoring organization, saying, "There are enough female writers in Hollywood that you can certainly find more than ONE to be on any panel. Do better @Variety."
Yes, Variety, the iconic Hollywood publication, had put this whole thing together.
In short order, Hannah posted a missive, asking if any female showrunners would be willing to do a panel on the same night, offering to moderate and organize. Her post included shout-outs to Shonda Rhimes, Rachel Bloom, Ava Duvernay and Lena Waithe.
Krista Vernoff (of Grey's Anatomy), responded with a simple, "I'm in," while Sarah Watson (The Bold Type) and Amy Berg (Counterpart) jumped aboard as well.
The Writers Guild Foundation chirped in with, "How can we help," while Twitter Los Angeles offered a venue for the forming event.
Two of the men scheduled to sit on the Variety panel, David Shore (The Good Doctor) and Mike Schur (The Good Place), both said that they would happily be replaced by female writers.
More names of female showrunners were fervently tweeted out by both industry professionals and lay people as well. Did they ask if Lena Dunham, Marti Noxon (UnReal), Liz Flahive (GLOW) or Nahnatchka Khan (Fresh Off The Boat) were available?
Dawn Prestwich (The Killing), wrote that her writing partner Nicole Yorkin had reached out to Claudia Eller, the editor of Variety, about the glaring mistake. Eller apparently responded, "I'm on it." Prestwich added in her message, "It's crazy, but we just gotta keep making noise."
Meanwhile, Jenny Bicks pointed out that she couldn't have made it, even if they'd asked her. "Hey Variety, sorry I can't do your panel but I am busy that night on a panel celebrating 20 years of Sex and The City. A show I Executive Produced that celebrated women and had 7 writers in the room for the last 3 seasons, 6 of them female," she tweeted.
At approximately 7:15 p.m. ET, a response from Variety appeared on Twitter: "On behalf of Variety, we apologize for the egregious oversight regarding the lack of female writers participating in our upcoming A Night in the Writers' Room event. We hear you loud and clear, and are currently working on rectifying our mistake."
But, even in light of this announcement, Hannah says that her event will proceed with locations, panelists and more details to come.
What happened here is a shining example of progress. Obviously not on the part of Variety, but via the collective of individuals who called out this behavior. Variety may try to classify this as an "oversight," but it has to be asked: exactly how many people did this lineup go through before it was approved? An oversight is a failure to notice something. So not one person planning this event noticed that there was extreme gender bias here?
It's both interesting and ironic that the outcry came just one day before another Variety event was scheduled to take place…on this very topic. Titled Path to Parity: Eliminating Gender Bias in Media & Entertainment, it will begin at 9:30 a.m. PST today, and includes a panel on, of all things, gender discrimination in the writers' room.
The conference is billed as bringing together "thought leaders accelerating the advancement of women and true equality in entertainment and media executive suits [sic], boardrooms and on set." Maybe Variety should have mined those thought leaders for their opinions on their other upcoming programming.
In reading the description of their Parity in the Writers' Room panel, which takes place at 10:30 a.m. PST, it would seem that Variety is pretty aware of the problems at play."Historically a clubby man's cave—the writers' room is clearing the way for women to have a voice." They've asked people like Jill Soloway, creator of Transparent, Melissa Rosenberg, the showrunner of Marvel's Jessica Jones and Gloria Calderon Kellett, the showrunner and executive producer of One Day at a Time, to speak alongside male writers Kenya Barris of Black-ish, and Glen Mazzara of Damien and The Walking Dead.
So how does it happen that such a venerated institution like Variety manages to be so aware yet also so oblivious at the same time? Surely someone at today's event will have to talk about elephant in the room if it—or Variety—has any chance of being taken seriously in this climate of rapid change.