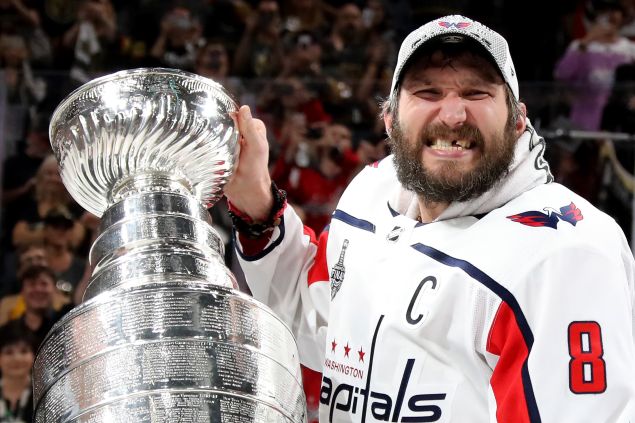 Now that the Washington Capitals have won their first Stanley Cup, will this championship hockey team—with its three Russian stars—make the short trip to the White House to celebrate with President Donald Trump?
In past years, the answer would have been a slam-dunk yes. It's the local D.C. team.
And, since Ronald Reagan's "Gipper" era of the 1980s, most national champion sports teams—professional, collegiate and Olympic—have stopped by the Rose Garden for a grip-and-grin photo-op with the chief executive and a corny presentation of a team jersey with his name on the back.
But at least two issues might bring complications to the visit the Capitals earned when they eliminated the Vegas Golden Knights 4 games to 1 with a 4-3 victory on Thursday night in Las Vegas.
For one thing, Capitals' team captain Alex Ovechkin and Vladimir Putin openly admire each other. According to the Washington Post, the Russian president gave Ovechkin an ornamental tea set for his 2016 wedding and sent a message to be read at the reception.
This season, Ovechkin endorsed Putin's re-election campaign and worked on his behalf. Russian journalist and author Mikhail Zygar told the Post that Ovechkin symbolizes to Putin a Russian ideal.
"He's a strong man who's an athlete who wins," Zygar said. "Putin plays hockey. Ovechkin plays hockey. It's a natural idea."
Another person with a high opinion of Putin is Trump. Perhaps he and Ovechkin could chat about their mutual pal. Trump often says he admires manly men who are "tough" and "strong" and Ovechkin sure is both.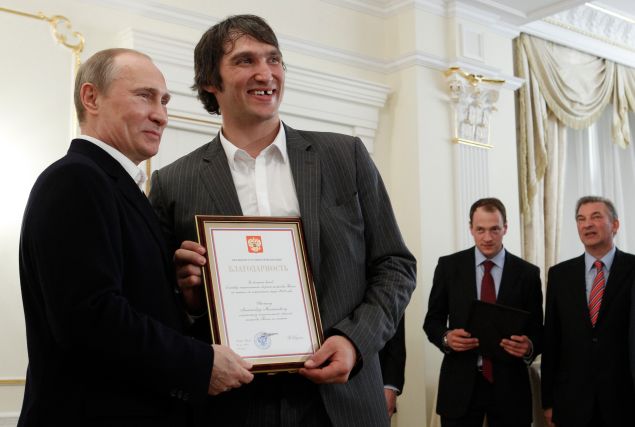 Two other Russian Capitals—Evgeny Kuznetsov and Dmitri Orlov—could create curious optics in that Russian access to Trump and his henchmen is being investigated by special counsel Robert Mueller amid allegations that the Kremlin interfered in the 2016 American election to favor Trump.
And the visit in May of last year by Russian Foreign Minister Sergei Lavrov and Ambassador Sergey Kislyak to the Oval Office produced visuals that were damaging to Trump's image. He looked like a Soviet minion getting his orders from the KGB.
Moreover, visits to the White House have become contentious in the Trump era because Trump has used "The Star-Spangled Banner" over the last year to insult African-American football players.
He has suggested they are unpatriotic men who should be fired and/or deported because some genuflected on one knee during the national anthem or stayed in the locker room as a silent and respectful protest against police violence that victimizes black citizens.
As a result, all but a few players of the Super Bowl champion team the Philadelphia Eagles refused to come to the White House this week, and Trump responded by disinviting the green team represented by the national bird.
In their place, Trump staged a celebration of a patriotic band and choral songs by military musicians. During it, the large, loud, 71-year-old, orange-faced, yellow-haired demagogue proved he didn't know the words to "God Bless America," an ancient hockey hymn of Philadelphia's Broad Street Bullies.
Trump's mix of race-baiting and sports also disgusts the defending NBA champion Golden State Warriors, who boycotted Trump last season.
They may stay away again if they clinch their final round against the Cleveland Cavaliers tonight in Cleveland. The Warriors lead the best-of-seven series 3 games to 0. LeBron James of the Cavs already has said his team wouldn't show up if it were to win.
And Golden State Warriors coach Steve Kerr expressed disdain for Trumpian shows of jingoism that include "these military sing-a-longs at the White House to show how patriotic we are—even though we don't know the words."
"The president is turning all of this stuff into a political game and a ratings game," Kerr said, "and it's a blatant display of nationalism."
If the Caps do show up at the White House, there might be hard feelings among some visitors. They have eight Canadian players, and Trump recently insulted Canada by suggesting Canadians burned down the White House during the War of 1812. (Fake News, Donald; they didn't).
In addition, Trump headed to Quebec for the G-7 summit on Friday amid threats of tariffs against trade with Canada. Prime Minister Justin Trudeau said he was insulted by Trump's bluster and plans to tell him so in Quebec before Trump flies to Singapore for the summit with North Korea.
Also, one Caps player, Devante Smith-Pelly, is both Canadian and black. Might he take a knee in the Rose Garden? Or might another Canadian urge (politely, of course) that leaders of his home and native land build a wall on its southern border to keep out the Yanks? That would be so gauche.
In comments to reporters before the final game, Smith-Pelly indicated he would refuse to go to the White House because of Trump. "The things that he spews are straight-up racist and sexist," Smith-Pelly said. "I think I already have my mind made up."
Other nations of origin for Washington players include Sweden, Denmark, the Czech Republic, Austria, Wales, Australia and Germany. Trump has already insulted several of those countries, particularly Germany, in part over NATO financial issues.
For a hockey player, Ovechkin has diplomatic skills. In the Post piece, a U.S.-based agent for Russian players said of Ovechkin: "All of my clients, everybody's rolling their eyes, basically saying, 'What the (heck)?' It's like he's lobbying for a job in politics."
At least Trump likes ice. (See: Wolman Rink). He used to like football, but some of his animus toward the NFL might date back more than 30 years to when he owned a football team called the New Jersey Generals in a league called the United States Football League.
Trump forced a lawsuit that he hoped to use as a wedge to get his franchise into the NFL. Technically, the USFL "won" the suit but collected only $3 in damages. Trump's team never joined the NFL and the USFL went out of business.
Now, Trump takes revenge on those NFL owners and plays the race card as well. Last fall in Alabama, at one of his mob rallies, Trump said an NFL owner seeing his player "take a knee" should tell his staff to "get that son of a bitch off the field."
Now that Trump has spewed his toxins across the formerly escapist landscape of sports, perhaps some athletes from some major sport—but probably not those Russian hockey stars—might lift a line from Trump and tell the American people from the Rose Garden that it is time for them to "get that son of a bitch out of the White House."