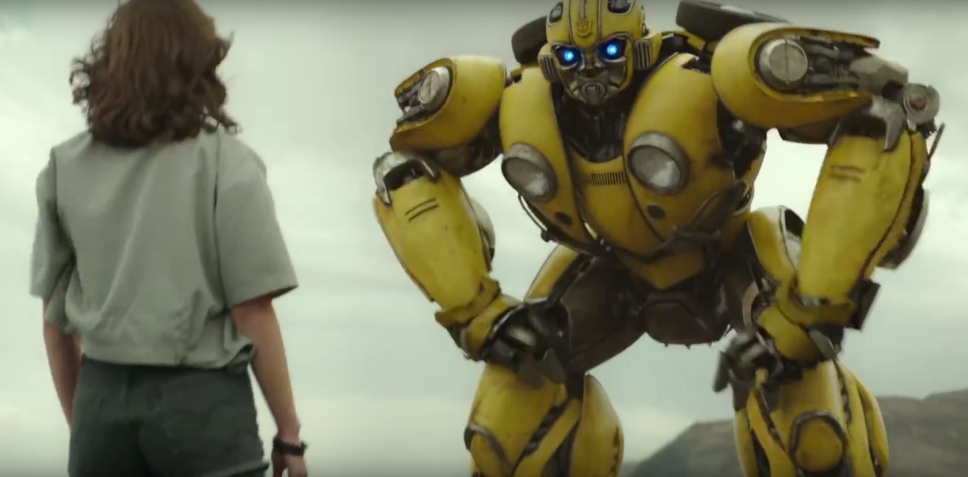 Hollywood sure has been busy this week. Normally, it takes a big convention like San Diego Comic Con or Star Wars Celebration to deliver a handful of exciting new movie trailers. But the last few days have seen the release of some major buzz-worthy first looks at upcoming features. It's a good time to be a film fan.
For convenience's sake, we've gathered all the trailers right here with a little info on each release. Have at it.
A Star Is Born—October 5, 2018
Three-time Academy Award nominee Bradley Cooper makes his directorial debut (while starring) in a remake of the classic A Star Is Born alongside Lady Gaga.
The musical genre has seen a critical and commercial comeback recently with La La Land (six Oscars, $446 million worldwide) and The Greatest Showman (one Oscar nomination,$433 million), setting the table for audiences to embrace the third cinematic version of A Star Is Born. The previous two films both scored Oscar nominations for various categories.
This an ambitious first film for Cooper to direct, but if it lives up to its predecessors than Cooper could immediately establish himself as a behind the scenes talent.
Widows—November 16, 2018
Well, this looks incredible.
From director Steve McQueen (12 Years a Slave) and a script co-written by Gillian Flynn (Gone Girl) comes what looks to be a gripping tale of four women left in crippling debt by their deceased criminal husbands. But these widows are going to forge their own path forward in what could be the best thriller of the year.
Right off the bat, the behind-the-scenes talent is enticing. But the cast is so absolutely stacked that it feels like Hollywood's version of the Golden State Warriors. You've got: Viola Davis, Elizabeth Debicki, Michelle Rodriguez, Cynthia Erivo, Liam Neeson, Colin Farrell, Robert Duvall, Daniel Kaluuya, Lukas Haas and Brian Tyree Henry.
I don't even care what the movie is about, I just want to see all of those talented people act together.
Ralph Breaks the Internet: Wreck-It Ralph 2—November 21, 2018
The first Wreck-It Ralph upended familiar video game tropes and developed a surprising amount of pathos for an in-game "villain." The sequel will try to do the same as Ralph (John C. Reilly) and Vanellope (Sarah Silverman) embark on an adventure inside the internet.
At this point, we might as well accept Walt Disney as our new corporate overlords. The studio dominates annual release schedules with crowd-pleasing blockbusters and big money makers. Wreck-It Ralph is an original animated property under the Mouse House banner that compliments their existing IP which includes Marvel, Star Wars, Pixar and the company's insanely lucrative live-action fairy tales.
Another year, another Disney win.
Mortal Engines—December 14, 2018
Lord of the Rings filmmaker Peter Jackson has a spotty track record as a producer. There's the good (District 9) and then there's the bad (The Hobbit movies).
Which category will Mortal Engines—which takes place in a future dystopia where humans survive on mammoth moving cities—fall in? With a $100 million budget, Universal is certainly hoping it's the first. We're not so sure though, as the trailer leave us with the feeling of a poor man's Waterworld (which is saying something).
Spider-Man: Into the Spider-Verse—December 14, 2018
Produced by Lord and Miller, Sony's continued expansion of the Spider-Man property looks far more attractive than The Amazing Spider-Man movies from a few years ago.
Centered around fan-favorite comics character Miles Morales (Shameik Moore), Into the Spider-Verse will have all the classic Spidey trappings—balancing high school life with superhero work—while exploring the idea of multiple universes. That's how we're able to get a crossover with Peter Parker (Jake Johnson) and Gwen Stacy (Hailee Steinfeld).
The animation looks fantastic, giving Spider-Man an entirely new feel, and the movie looks fresh, self-aware and hilarious. But will it be able to breakout in a crowded December month filled with blockbusters and Oscar contenders? Sony sure hopes so.
Bumblebee—December 21, 2018
Paramount Pictures has routinely found itself at the bottom of the box office barrel, as it has struggled to compete in Hollywood's franchise wars in recent years. Naturally, this led executives to conclude that spinning off the deflating Transformers series was a good idea.
But the first entry in that spinoff effort, Bumblebee, actually looks (dare I say it?) pretty good. It has more shades of E.T. and The Iron Giant than it does Transformers, which can only be a good thing. Star Hailee Steinfeld (The Edge of Seventeen) is a young treasure, and John Cena (Blockers) is endlessly entertaining.
Set in the 1980s, Bumblebee sees the only other Transformer that you know by name besides Optimus Prime seek refuge in a California junkyard before being revived by Charlie (Steinfeld).
The Lego Movie 2: The Second Part —February 8, 2019
2014's The Lego Movie remains one of the all-time most egregious Oscar snubs when the Academy failed to nominate the hilarious and heartfelt comedy for Best Animated Feature. What directors Phil Lord and Chris Miller were able to do with a concept that no one believed in was downright incredible.
New director Mike Mitchell (Trolls) hopes to build on that with the anticipated sequel that will pick up five years after Taco Tuesday. In the movie, the Duplo invaders have transformed Bricksburg into a post-apocalyptic wasteland, entertainingly riffing on Mad Max and the popular disaster sub-genre.
Warner Bros. has invested quite a bit into the Lego franchise, and with two of the first three films in the series crossing $300 million worldwide, the pressure is on The Lego Movie 2 to make good on the studio's investment.