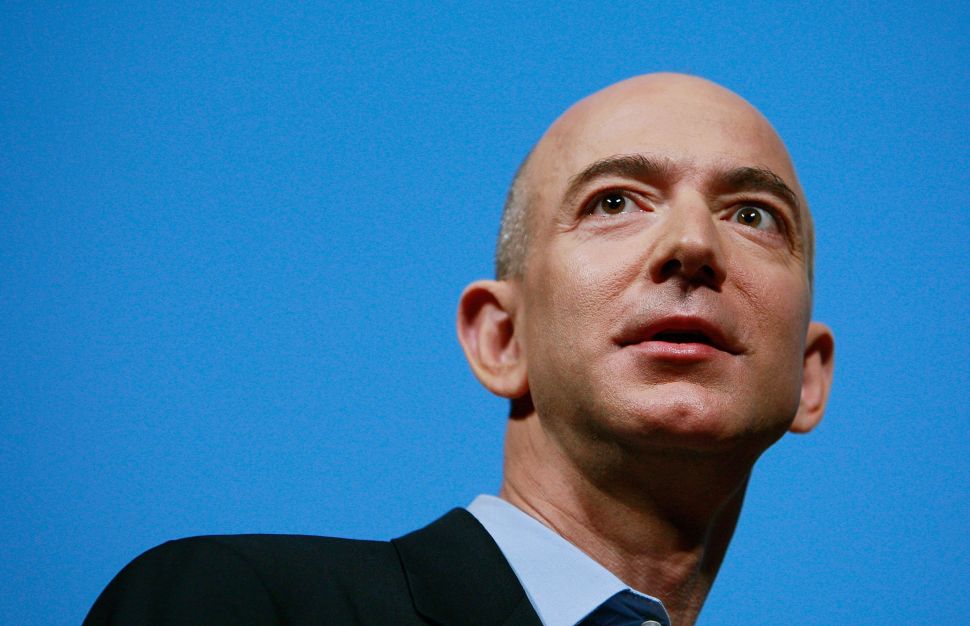 With the extraordinary boom of Amazon stock this year, the company's founder and CEO, Jeff Bezos, saw his personal wealth surpass that of any other living human on Earth. But, given his astronomical net worth (most recently estimated at $140 billion), Bezos has been criticized for a lack of involvement in philanthropy compared with his billionaire peers like Bill Gates and Warren Buffet.
But that is about to change. Earlier this week, Bezos announced on Twitter that he has chosen two areas to devote his long-term charity efforts to. What two areas? He didn't say. He promised to reveal the answers before the end of this summer. There will also be new hiring activities to lead that effort.
Exactly one year ago, Bezos openly solicited ideas for long-term philanthropic causes to pursue on Twitter. The request has received over 49,000 comments and 10,000 shares. Affordable housing, environmental protection and workers' rights are among the most popular suggestions.
In an August 2017 tweet, Bezos said the responses had been "very helpful and have already changed my thinking about how to approach this."
Based on these crowd-sourced opinions, along with his past charity contributions and his personal interests, we humbly made four predictions on how Bezos will spend some of his $140 billion.
Health Care
The idea of helping human beings live longer excites many billionaires. Bill Gates has committed $100 million to curing Alzheimer's disease; Mark Zuckerberg and his wife, Priscilla Chan, have even vowed to cure all diseases within one generation in a $3 billion pledge through their family foundation.
Last year, Bezos donated $35 million to a cancer research center through the Bezos Family Foundation. Amazon is also working with JPMorgan Chase and Warren Buffett's Berkshire Hathaway on a health care venture to fix America's troubled health care system. To start, they're making health care more affordable for their own employees.
Education
So far, education seems to be what Bezos is most passionate about in the realm of philanthropy. His family foundation has had scholarship programs for high school students since 2005. The nonprofit also has several programs devoted to scientific research in early childhood education and funding education in underdeveloped countries.
In January this year, Bezos announced he would donate $33 million to help 1,000 "dreamers"—people who moved to the U.S. illegally as children—go to college.
It won't be a huge surprise if he decides to expand his presence in education, a cause he clearly cares about and has built some influence in.
Equal Rights in the Workplace
Amazon is a superstar on many fronts: technology, retail and even media. But its back office doesn't look nearly as glamorous. Amazon is often criticized for a lack of diversity in its workforce and poor working conditions in some of its warehouses.
In that light, having a philanthropic stake in promoting workplace rights could not only serve as a counterweight to Amazon's suffering reputation in this area, but may actually foster positive changes in its own corporate system.
Environmental Causes
Despite owning a space company (Blue Origin), Bezos has made it clear in social media posts as well as interviews that his true love is Earth. In fact, the whole idea of Blue Origin is to "go to space to save Earth."
"Earth is the best planet in our solar system. We go to space to save Earth," Bezos tweeted on this year's Earth Day (April 22) during a trip to the Arctic Circle in Norway. 
"We've sent robotic probes to every planet in this solar system. Earth is BY FAR the best one. We go to space to save Earth," he echoed in a separate tweet in February.
Bezos is one of the 20 investors in Bill Gates' Breakthrough Energy Ventures fund, which is focused on fighting climate change. Besides that, he hasn't made many commitments to environmental causes. It's wouldn't be surprising if he focused on preserving Earth in his  bigger and longer-term efforts.