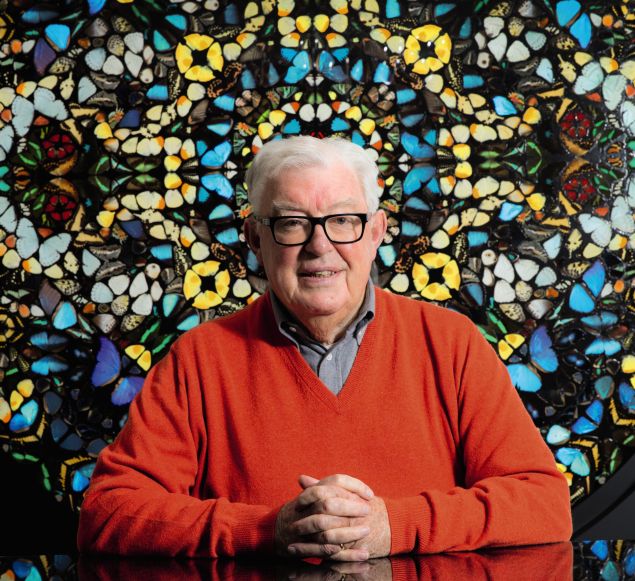 Damien Hirst may have made a splash in the art world in the early 1990s with his formaldehyde-preserved shark, but at this point the British artist is just as famous for his sizable wealth as his irreverent work favored by hedge fund managers the world over.
With one of the most infamous auction records in the biz and a net worth that hovers somewhere around $280 million, Hirst is undoubtedly one of the richest artists in the world—a feat born out of zealous self-branding and market-savvy maneuvers he readily admits he couldn't have done without the help of his business manager of 15 years, Frank Dunphy.
Now Dunphy is selling much of his Hirst holdings at Sotheby's in London this September, prompting plenty of early speculation about what kind of prices the often pointedly personal works might fetch, especially given that Dunphy once told Hirst, "An artwork is only worth what the next guy is going to pay for it."
Valued between £6 and £8.4 ($8 and $11) million, the collection of over 200 objects amassed by Dunphy and his wife, Lorna, over the last 30 years boasts plenty of iconically "Hirst" works as well as a smattering of other pieces by the artist's fellow iconoclastic Young British Artist (YBA) peers like Tracy Emin and Rachel Whiteread, as well as a few Warhols sprinkled in for good measure.
Given his instrumental role in Hirst's unprecedented meteoric rise, collectors are eager to see if Dunphy managed to glean some of the artist's best works.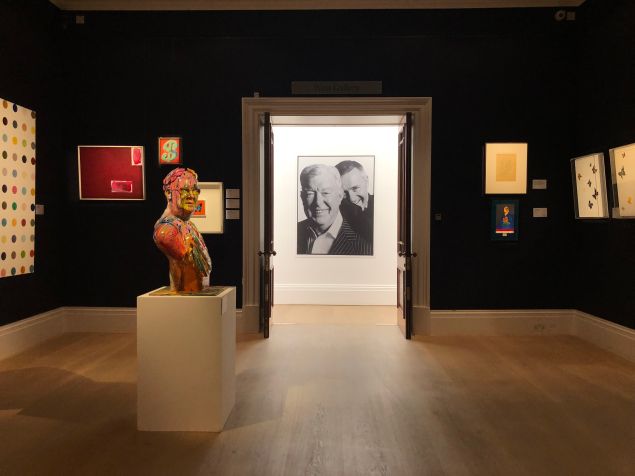 Formerly a show-business manager to dancers and circus acts before taking on accounting clients such as music manager Peter Grant and singer Gene Pitney, Dunphy worked closely with Hirst from 1995 to 2010. During that time, he was instrumental in orchestrating some of the artist's most high profile sales and career-defining moments, including an unusual fire sale of random objects—including urinals—from Hirst's London restaurant, Pharmacy, that tallied up £11 ($14.6) million in 2004. These kinds of stunts made both men a pretty penny (Dunphy reportedly took a commission of 10 percent of all of the artist's sales) and Hirst told the Wall Street Journal a few years later that "every artist should have someone like Frank."
This statement came just before the most notable example of Dunphy's shrewd maneuvering—the 2008 Sotheby's auction, Beautiful Inside My Head Forever, that set the art world on fire in a blaze of cold, hard cash. The event bucked market conventions by bringing a huge quantity of brand new works directly to auction, cutting Hirst's high-profile dealers—Jay Jopling of White Cube and Larry Gagosian—out millions of dollars in commissions. Even more incredibly, perhaps, is that the auction coincided with the day of Lehman Brothers' staggering collapse, the event that signalled global financial crash. Nevertheless, Hirst's Dunphy-designed auction still brought in a staggering £111 ($147) million. The event remains one of the most defining moments in contemporary art to date.
If the preview exhibition of the Dunphy collection sale, on view at Sotheby's in London through June 26, is any indication, there will be plenty of exemplary works by the art market star for collectors to snap up, although many of these hardly seem remarkable beyond their veritable Hirst-ness. They include a host of the now ubiquitous butterfly works and dot paintings that the artist has been churning out for the past 15 years. And while these may be crowd-pleasers, it remains to be seen if several more idiosyncratic pieces—such as paint-splashed, Classically inspired bust of Dunphy created in 2008 for his 70th birthday and a pill cabinet given to Dunphy in 1997 while he was ill—will bring in the big bucks.
Although the pair dissolved their business relationship eight years ago, the Dunphys continued collecting Hirst's work. Now 80, the collector says the decision to offload a bunch of artwork—even those made as gifts and intimate mementos, like the small bejeweled butterfly painting Cracking Little Painting for Lorna—is a simple matter of "doing some housekeeping," at least according to Oliver Barker, the deputy chairman of Sotheby's Europe, who described it as such in a statement to The Art Newspaper. 
And while this might seem like a bit of a slight to a long and fruitful friendship, the Independent reported that the collector has been offloading works from his collection with zeal since 2010, often donating to museums because of inheritance tax implications. So this seems to be the latest in line of strategic collection management moves, rather than an indication he's selling up his Hirst collection all together. And given the artist's prolificacy and the duo's longtime relationship, it makes sense that Dunphy has Hirst's work in abundance.
The upcoming Sotheby's sale perhaps further underscores Dunphy's cheeky statement made just after the announcement of the direct-to-consumer 2008 event at the esteemed auction house: "All the time, I'm thinking I haven't exploited Damien sufficiently enough." It's probable that Dunphy knows exactly what he's doing for both Hirst's bottom line and his.