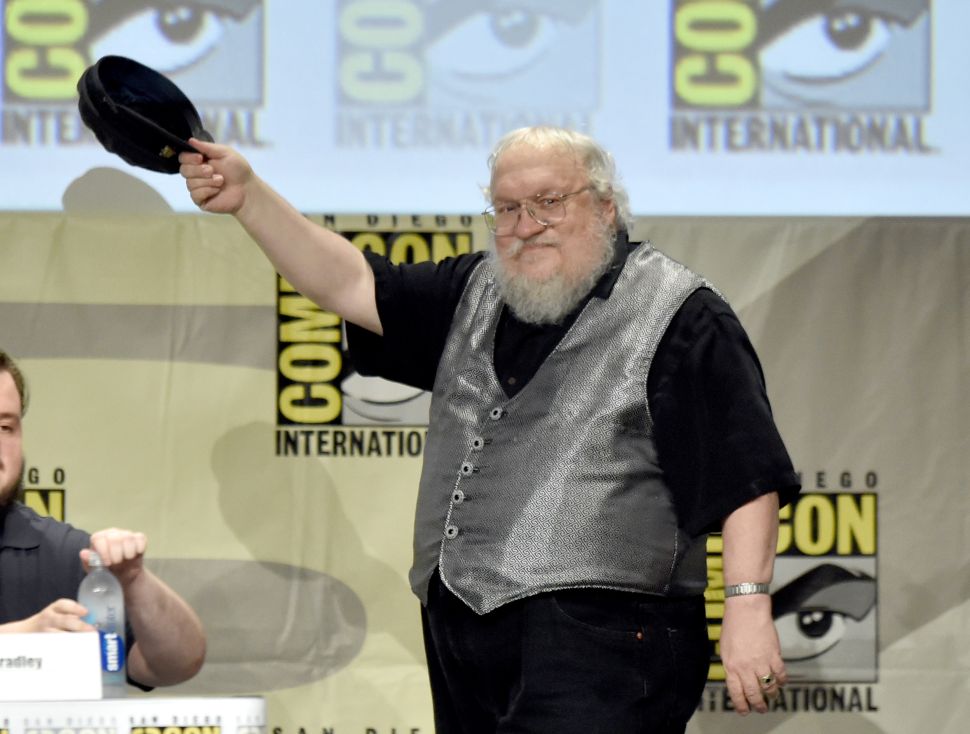 (Sigh) We've been here before, far too many times to count in fact. Like the cyclical nature of the White Walkers, no matter how long of an absence, this inevitable evil always returns to claim fresh new innocent victims.
I'm talking, of course, about the release date for The Winds of Winter, George R.R. Martin's long-awaited sixth entry into his A Song of Ice and Fire series, which are the books that HBO's Game of Thrones is based on.
Last week, HBO ordered a pilot episode for one of the five prequel spinoff shows, which Martin calls "successor series," that are in development. Martin has consulted on all of them (though one project is believed to have been shelved) but stressed that this first series is the true baby of writer/producer Jane Goldman (Kick-Ass, Kingsman: The Secret Service), who will serve as showrunner.
Per THR and HBO: "Set thousands of years before the events of Thrones, the project chronicles the world's descent from the golden Age of Heroes into its darkest hour. A logline from the network teased the plot without divulging any specifics. 'Only one thing is for sure: from the horrifying secrets of Westeros' history to the true origin of the White Walkers, the mysteries of the East to the Starks of legend—it's not the story we think we know.'"
While expanding on the news on his personal blog, the author offered the most modest of updates on Winds of Winter. Warning: it will not satiate your appetite whatsoever.
"And yes, before you ask, work on WINDS OF WINTER continues, and remains my top priority," he wrote. "It is ridiculous to think otherwise. If I wasn't busy with WINDS, don't you think I'd be scripting one or more of these pilots myself? It's not as if I've never written for TV… "
Earlier in his career, Martin set numerous hopeful publication dates for these beloved books, which he subsequently missed, leading to anger among fans. Since then, he has vowed not to put a firm date on his work.
In February of this year, Martin ignored fan questions related to the release date of Winds. In August of last year, while speaking about the differences between his book series and the TV show, he defended his writing process as fans clamored for the next book, saying:
"I did not start to write slower over the years. I was working on the first book for six year and four years on the second one. Fantasists who release their novels every year, do not offer books of large volume. These are not 1.5K pages like mine, but, for example, 500. In addition, I have not become younger. Age does not add enthusiasm."
The elapsed time between his ASOIAF publications has been growing as Martin's series becomes ever more sprawling. Of the five available books, there were gaps of two years, two years, five years and six years between releases. At seven years and counting, the wait for the next one feels roughly equivalent to The Long Night.
Our best guess is that if The Winds of Winter ever sees the light of day, and that is a big IF at this point, it won't happen until after Game of Thrones concludes its run in 2019.