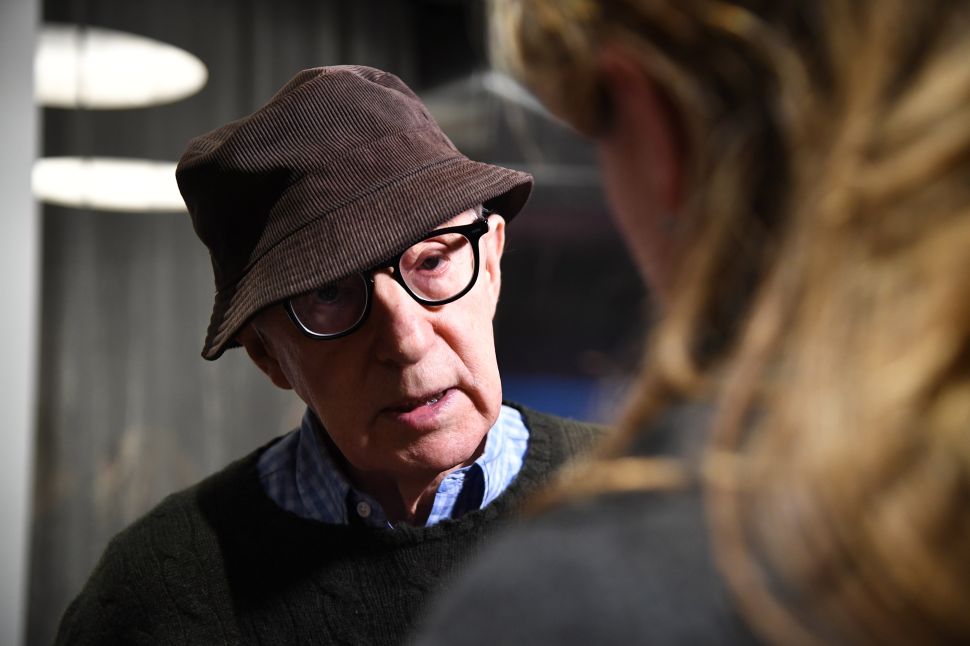 During an interview with Argentinian news program Periodismo Para Todos released on Monday, filmmaker Woody Allen commented on the sweeping #MeToo movement currently underway in Hollywood.
"I'm a big advocate of the #MeToo movement," Allen said. "I feel when they find people who harass innocent women and men, it's a good thing that they're exposing them. But you know I, I should be the poster boy for the #MeToo movement. Because I have worked in movies for 50 years. I've worked with hundreds of actresses and not a single one—big ones, famous ones, ones starting out—have ever ever suggested any kind of impropriety at all. I've always had a wonderful record with them."
Allen's adopted daughter Dylan Farrow previously claimed that the filmmaker sexually abused her on August 4, 1992 when she was seven years old. Allen repeatedly denied the allegation at the time and in the ensuing years. The alleged assault is said to have taken place a few months after Allen's ex-wife Mia Farrow discovered that he was having an affair with another of her adoptive daughters, Soon-Yi Previn, who later married Allen in 1997.
No charges were ever brought against Allen, but he admits that it "bothers" him that he is sometimes discussed in the same space as disgraced Hollywood mogul Harvey Weinstein, who was recently indicted on rape and criminal sexual act charges after scores of women came forward with stories of alleged harassment and assault.
"I think in any situation where anyone is accused of something unjustly, this is a sad thing. I think everybody would agree with that… Everyone wants justice to be done. If there is something like the #MeToo movement now, you root for them, you want them to bring to justice these terrible harassers, these people who do all these terrible things. And I think that's a good thing," Allen said.
"What bothers me is that I get linked in with them. People who have been accused by 20 women, 50 women, 100 women of abuse and abuse and abuse—and I, who was only accused by one woman in a child custody case which was looked at and proven to be untrue, I get lumped in with these people," he continued.
The interviewer asked Allen if he sexually assaulted Farrow 28 years ago, allegations that have resurfaced recently in the wake of the #MeToo movement and Farrow's January interview with CBS News.
"Of course not, I mean this is just so crazy," Allen said. "This is something that has been thoroughly looked at 25 years ago by all the authorities, and everybody came to the conclusion that it was untrue. And that was the end and I've gone on with my life. For it to come back now, it's a terrible thing to accuse a person of. I'm a man with a family and my own children. So of course it's upsetting."
Allen has won four Academy Awards in his career. His next film, A Rainy Day in New York, will arrive later this year.
You can watch the filmmaker's full interview here.