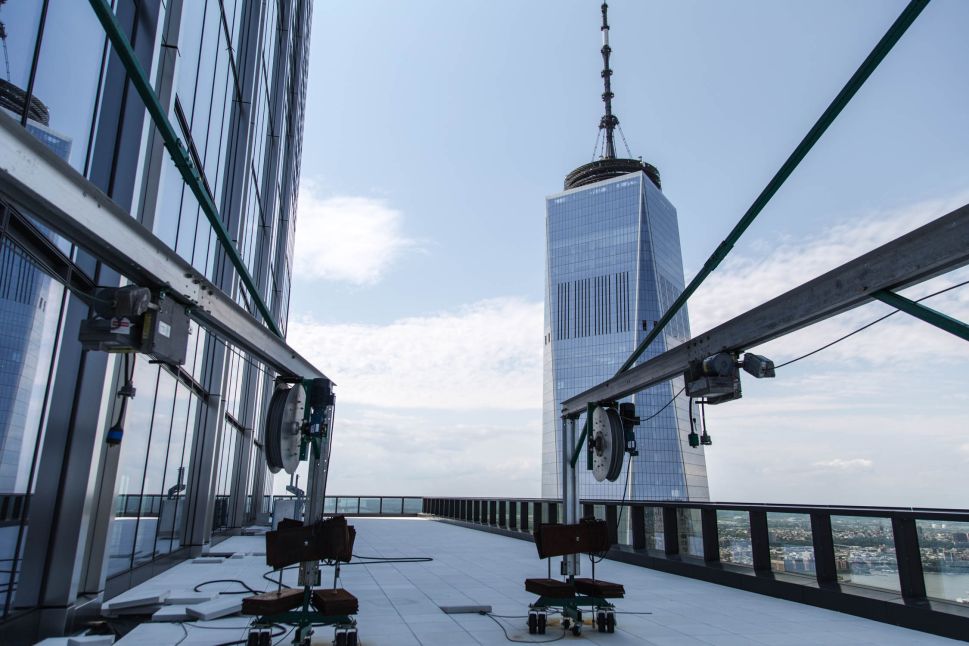 Three World Trade Center, the third skyscraper to be built on the site of the original Twin Towers in Lower Manhattan and the fifth tallest building in New York City, officially opened on Monday morning.
With a total of 2.5 million square feet of office space, the $2.7 billion, 1,079-foot-tall, 80-story tower—located at 175 Greenwich Street—has 30,000 to 70,000-square-foot floors with 360-degree Manhattan views and up to 24-foot ceilings.
Three floors offer tenants access to outdoor terrace space. And it has five retail levels: the ground floor, two below-ground levels and two levels above ground. Three WTC is also welcoming more than 6,000 new employees to Lower Manhattan this year from tenants GroupM, McKinsey and IEX.
The developer, Larry Silverstein, chairman of the Silverstein Properties, oversaw the rebuilding of the World Trade Center campus. The Port Authority of New Jersey and New York is the land owner.
Rogers Stirk Harbour + Partners, a Pritzker prize-winning architecture firm, designed the tower.
"This is a moment of great pride for me and for everyone in the Silverstein organization and the thousands of women and men who had a hand in creating this amazing building," Silverstein said at the ribbon cutting ceremony on Monday morning. "When our city was attacked on 9/11, our collective response and our civic responsibility went far beyond merely rebuilding what we had lost on that day."
Silverstein said that their first duty was to create a "stirring memorial" for the victims of the 9/11 attack—which claimed the lives of nearly 3,000 New Yorkers—but that they were also charged with producing a "more vibrant and connected neighborhood."
"The World Trade Center and the surrounding neighborhoods are living up to those ideals," he continued. "Of course, none of this would have happened without the hard work and dedication of many people in this room today."
The tower was plagued by delays stemming from disagreements between government agencies, Silverstein, insurers and the family members of 9/11 victims, who preferred that the site serve only as a memorial for the victims.
Rick Cotton, Port Authority's executive director, offered praise for the new tower, also noting that the opening is a "huge step forward" in the effort to continue to pay tribute to 9/11 victims.
"Today is a truly major milestone to mark the triumph of renewal, resilience and revitalization at the World Trade Center," Cotton said, also noting the impact on the surrounding area. "The World Trade Center campus is truly transformed from a construction site to a living, breathing and vibrant member of the Lower Manhattan community."
Rep. Carolyn Maloney (D-Manhattan) praised the new tower, saying that Silverstein has "done a good job" and that it has "truly been a renaissance." But she also paid homage to the victims.
"We remember that terrible day where almost 3,000 New Yorkers were murdered because they merely showed up for work," Maloney continued. "And I can tell you, it was never the same."