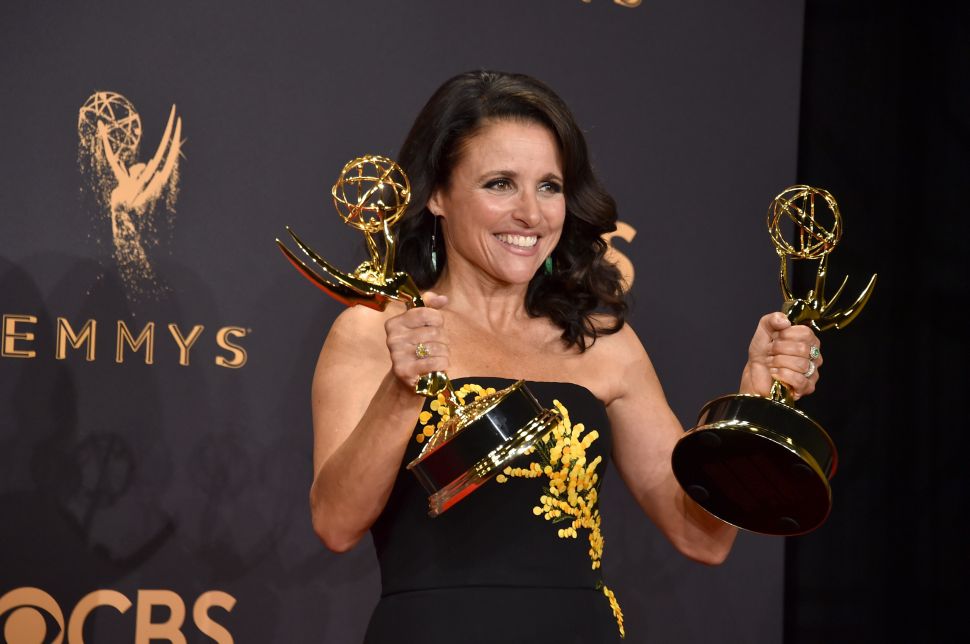 Hey you! Yeah, you with the face.
Did you know that by the end of 2018, television will support more than 500 scripted series? That's the most in small screen history and more than any one person could possibly consume (challenge accepted). With such an expansive plethora of options, the major Emmys races have become more competitive than every before.
Which makes this year's class of statue-hopefuls extra intriguing as the opportunity for upsets and unpredictability are at an all time high. Who wants to start taking side bets on the first celebrity to cry? How do we set odds on which A-lister gets the drunkest? First F-bomb dropped? We'll talk later.
On Thursday, July 12, this year's nominees will officially be announced. But ahead of the real deal, here are our educated guesses at which shows and which stars will be nominated.
Best Drama Series
Game of Thrones (HBO)
The Americans (FX)
The Crown (Netflix (NFLX))
This Is Us (NBC)
The Handmaid's Tale (Hulu)
Killing Eve (BBC America)
Stranger Things (Netflix)
Season seven of Game of Thrones may have taken something of a step backward from previous award-winning iterations, but it remains the biggest and most popular series in the world. The Handmaid's Tale debut season was too relevant for comfort, but can it hold up on the biggest stage post-election?
Best Actor in a Drama Series
Sterling K. Brown (This Is Us)
J.K. Simmons (Counterpart)
Matthew Rhys (The Americans)
Liev Schreiber (Ray Donovan)
Milo Ventimiglia (This Is Us)
Freddie Highmore (The Good Doctor)
Don't be surprised if Jeffrey Wright sneaks in instead of J.K. Simmons given the pedigree of HBO and Westworld compared to Starz's Counterpart. ("The system is rigged," he yelled conspiratorially.)
Best Actress in a Drama Series
Elisabeth Moss (The Handmaid's Tale)
Keri Russell (The Americans)
Evan Rachel Wood (Westworld)
Mandy Moore (This Is Us)
Claire Foy (The Crown)
Sandra Oh (Killing Eve)
It's possible that Emilia Clarke makes it on to the board for Game of Thrones, but this feels like the right slate. Regardless of how it shakes out Thursday, this race is absolutely stacked. Moss, who took home the prize last year, and Oh are likely considered the frontrunners.
Best Supporting Actor in a Drama Series
David Harbour (Stranger Things)
Nikolaj Coster-Waldau (Game of Thrones)
Mandy Patinkin (Homeland)
Peter Dinklage (Game of Thrones)
Justin Hartley (This Is Us)
Joseph Fiennes (The Handmaid's Tale)
Since Game of Thrones was ineligible for last year's Emmys due to its premiere date, expect a heavy presence from Westeros this time around. While I love the Lannister brothers, it feels like this category belongs to Dad Bod Master Harbour, Emmys mainstay Patinkin or Hartley, whose This Is Us remains one of the few remaining big hits from broadcast.
Best Supporting Actress in a Drama Series
Lena Headey (Game of Thrones)
Chrissy Metz (This Is Us)
Thandie Newton (Westworld)
Millie Bobby Brown (Stranger Things)
Alexis Bledel (The Handmaid's Tale)
Sidelining Newton's Maeve for three episodes was one of Westworld's most costly missteps in an uneven second season. Bledel is the reigning champ from this category but hasn't been given as much screentime this year. Brown technically should be in the lead actress category, but she stands a better shot at winning here.
Best Comedy Series
Atlanta (FX)
GLOW (Netflix)
Silicon Valley (HBO)
The Marvelous Mrs. Maisel (Amazon (AMZN))
Barry (HBO)
Black-ish (ABC)
Donald Glover's Atlanta and Amy and Daniel Palladino's The Marvelous Mrs. Maisel are the clear-cut frontrunners, but I sure would be thrilled if NBC's The Good Place could take Silicon Valley's spot.
Best Actor in a Comedy Series
Donald Glover (Atlanta)
Bill Hader (Barry)
Anthony Anderson (Black-ish)
William H. Macy (Shameless)
Eric McCormack (Will and Grace)
Ted Danson (The Good Place)
Is there any room for Larry David? We'll find out later this week. Glover took home this award last year but brilliantly sidelined his own character for much of Atlanta's stellar second season. Hader was a revelation in Barry as the series became progressively darker throughout its rookie run, and Danson is simply a national treasure. Hard to go wrong in this category.
Best Actress in a Comedy Series
Tracee Ellis Ross (Black-ish)
Rachel Brosnahan (The Marvelous Mrs. Maisel)
Alison Brie (GLOW)
Allison Janney (Mom)
Pamela Aldon (Better Things)
Jane Fonda (Grace and Frankie)
Rachel Brosnahan or bust, people.
Best Supporting Actor in a Comedy Series
Henry Winkler (Barry)
Louie Anderson (Baskets)
Tony Shalhoub (The Marvelous Mrs. Maisel)
Alec Baldwin (Saturday Night Live)
Tituss Burgess (Unbreakable Kimmy Schmidt)
As the shtick has become more familiar, Baldwin's Trump impersonation has lost a bit of its flavor. Anderson continues to turn in some of the most overlooked work in television, and Shalhoub and Burgess are both key cogs in their respective shows. But Henry Winkler is so ridiculously hilarious in Barry that I can't even begin to fathom anyone else winning this award (though my gut tells me the voting body won't agree).
Best Supporting Actress in a Comedy Series
Laurie Metcalf (Roseanne)
Megan Mullally (Will & Grace)
Kate McKinnon (Saturday Night Live)
Rita Moreno (One Day at a Time)
Jessica Walter (Arrested Development)
I'd be fine if we just started giving Kate McKinnon every award for everything from now. Any arguments?
Best TV Movie
Fahrenheit 451 (HBO)
Flint (Lifetime)
Paterno (HBO)
The Tale (HBO)
"U.S.S. Callister," Black Mirror (Netflix)
It's The Tale. There is no other acceptable answer here.
Best Limited Series
American: Crime Story—The Assassination of Gianni Versace (FX)
Twin Peaks (Showtime)
The Looming Tower (Hulu)
Godless (Netflix)
Howards End (Starz)
Versace may not have fully coalesced, but it was one of the bolder takes we've seen on TV in recent memory. The Looming Tower proved to be a buzzy political drama for Hulu but may not have quite lived up to the hype. Twin Peaks is an incomprehensible masterpiece, and Godless came and went with a solid reception but not a significant cultural footprint. This category is anyone's race.