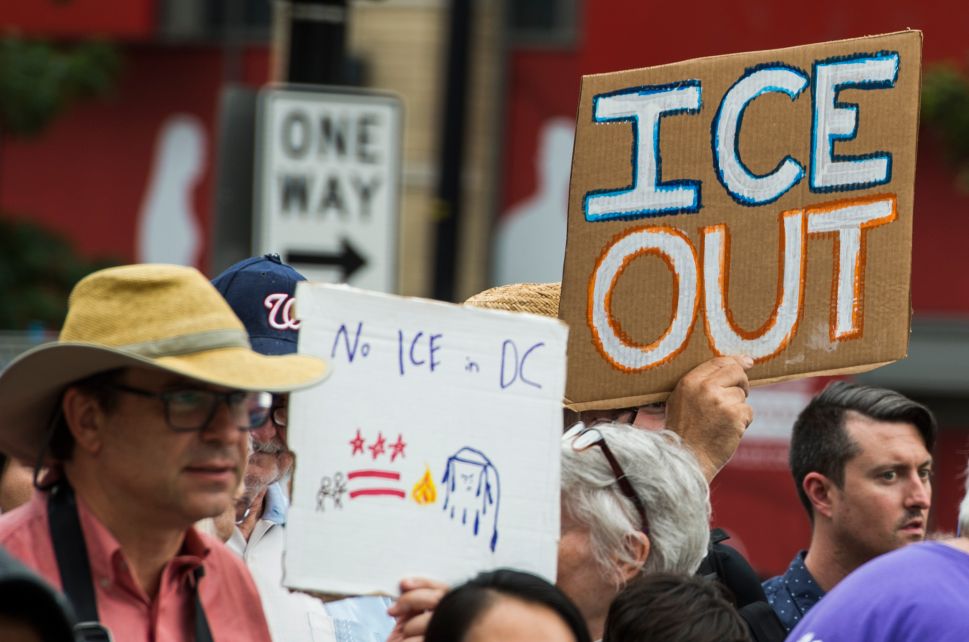 Recent conversation about the "Abolish ICE" movement is raising an important question: Does it matter who came up with or popularized an idea, as long as the message gets across to people who actually have the ability to effect policy change? When it comes to activists who have been advocating for the abolition of ICE for years and the influence of NYC think tank co-founder Sean McElwee, the answer is unequivocally yes. 
Under capitalism, there's a popular phrase which essentially amounts to this: It doesn't matter whose idea was first, it matters whose idea was best. In other words, due to the insurmountable demands of the free market, some would posit that making sure the originator of a vision receives proportionate accolades is of little importance when compared to the societal necessity of producing things that work. The particulars of the "Abolish ICE" movement calls the validity of this commonly held maxim into question.
On Saturday, BuzzFeed News published a story by reporter Steven Perlberg which interrogates the influence of McElwee, a leftist advocate and community organizer who co-founded the think tank Data for Progress. McElwee is well-known in New York media spheres and elsewhere in politics for, amongst other things, his use of the phrase "Abolish ICE," which he tweets frequently and also wears emblazoned on a black T-shirt.
Perlberg wrote that "activists and political operatives don't credit McElwee for conceptualizing the abolition of ICE," but also points out that it's indisputable that many of McElwee's peers are comfortable with unambiguously patting him on the back for "helping to usher the policy conversation from the far left into a question to which every Democrat must provide an answer."
Within my tight-knit media circle, it certainly hasn't gone unnoticed that journalists, many of whom happen to be white and male, somewhat cheekily credit McElwee (who, full disclosure, is an acquaintance of mine) with elevating sentiments which are currently igniting certain factions of the Democratic party. Fourteenth congressional district primary winner Alexandria Ocasio-Cortez, for example, is just one of many rising political stars who either advocates for total abolition in their platforms or otherwise proposes that the government should "reimagine" ICE.
Of course, the notion of abolishing ICE has been promoted and pursued by activist groups since the U.S. Immigration and Customs Enforcement was established in 2003; both Perlberg and McElwee are fluent in their acknowledgment and recognition of activist labor. Still, the question lingers: How much credit and praise should be afforded to a college-educated white guy who has essentially marketed an idea, successfully introducing "Abolish ICE" to a wider audience?
McElwee told Perlberg he's "100 percent comfortable" with what credit he has gotten for popularizing "Abolish ICE." I asked if this was still the case.
"Our current media eco-system has a lot of people who know how to navigate digital media and standard issue politics, but often have trouble in activist spaces, often because outlets don't to enough to build up contacts in these spheres," McElwee told Observer over Twitter DM on Monday. "I think the coverage from people like Julianne Hing who have these roots has done a better job of contextualizing the movement in an activist space. None of this could have happened without the work that activists have been doing for decades." 
I asked McElwee how he feels when people like Washington Post political reporter Dave Weigel jokingly refer to him as "DNC chairman."
"I think it speaks to what I am able to do—as a journalist and advocate I am often in spaces where I am able to get politicians on the record about left issues, from abolishing ICE, to ending solitary confinement to cancelling student debt or Medicare for All," McElwee said. "There is a lot of privilege that allows me to be in conversation with politicians and I hold that in my mind during those conversations."
"At the end of the day, politicians adopt these policies because of the work of activists, the hundreds of thousands of people who are in the streets," he continued. "They adopt these positions because candidates like Ocasio-Cortez have shown that if you aren't ready to stand for immigrants you will fucking lose your seat. We saw a bunch of people supporting abolish ICE after [Alexandria Ocasio-Cortez] proved that [Democratic] voters wanted it and groups like [Make The Road] and [United We Dream] proved that people would show up with signs demanding it and occupy ICE showed it was possible to literally slow the gears of the deportation machine."
Uncomfortably enough, although it's necessary, parsing through the concept of McElwee's influence inarguably steers the center of debate and conversation even further away from the immigrants and activists being acutely harmed by increasingly draconian United States immigration policy. Here we are, talking about whether McElwee deserves commendation, when women seeking asylum are being sexually assaulted in U.S. detention centers, the Trump administration is attempting to force sanctuary cities to submit to federal watchdog statutes, and ICE has the authority to both forcibly separate children from their parents and manipulate traumatized detainees, essentially with impunity.
"ICE enacts the nation's racist anxieties and anti-immigrant paranoias—a cultural and political function that won't disappear with a structural rearrangement," writes Julianne Hing at The Nation.
Ultimately, I'd argue that attention is a zero-sum game. If one person is getting it due to misinterpretations or a misunderstanding, there's a good chance a person or group who deserves just as much is being prevented from collecting what they're owed.