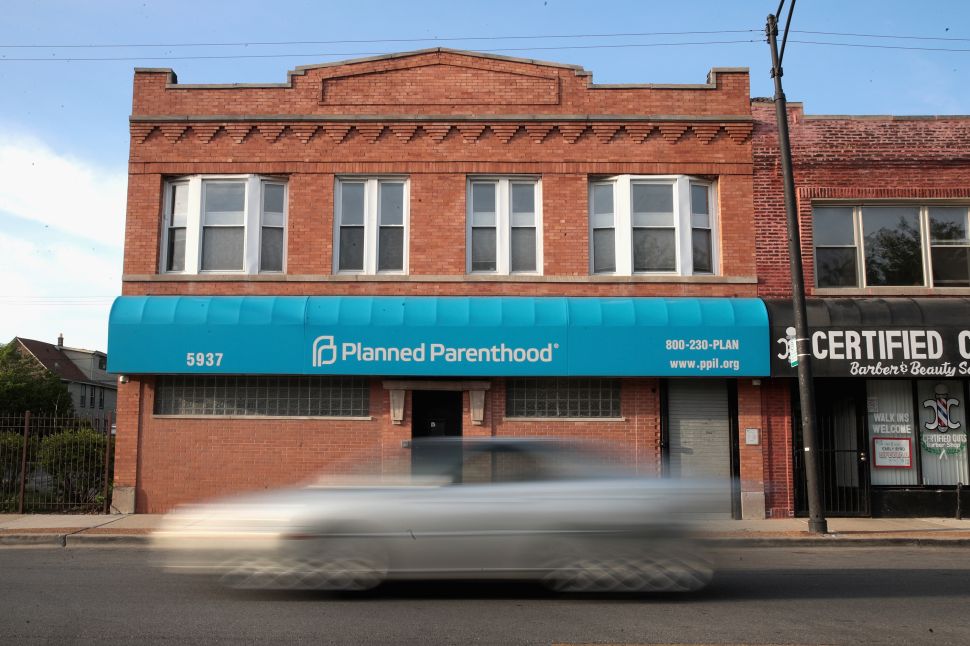 When it comes to taking away women's healthcare, South Carolina Governor Henry McMaster just can't make up his mind.
Last Friday, McMaster signed an executive order requiring Medicaid to continue to provide "important women's health and family planning services." But the order had a catch—no clinics providing abortions could receive Medicaid funding.
McMaster's objective seems to be to target Planned Parenthood's funding, while also denying family planning services to as many low-income South Carolinians as possible. Unfortunately, with only 5,000 seeking medical services from South Carolina's Planned Parenthoods every year, this could be a conservative pipe dream.
Why would an executive order be needed for Medicaid to continue a service? A week before signing it, McMaster vetoed an entire $16 million that would have gone to Medicaid, solely to prevent $100,000 of it from going to Planned Parenthood. At the time, he said during a press conference, "I have stated many times, I am opposed to what Planned Parenthood is doing. And the veto I have is the most direct way."
Planned Parenthood subsequently released a response, calling the veto a "publicity stunt."
"As a result of this political move, none of the South Carolinians who rely on Medicaid for their healthcare will be able to access family planning services at any of the state's 4,000 Medicaid providers," Planned Parenthood explained in a statement. "The veto does not 'defund' Planned Parenthood, but it will ensure that South Carolinians who use Medicaid as their primary insurance will be unable to access affordable, basic health care."
Ironically, the Hyde Amendment prevents any taxpayer dollars from directly funding abortion, so the minute $100,000 that Planned Parenthood was denied will actually be cut from other family planning and women's reproductive services. The veto was most likely a calculated move to shore in McMaster's unflinchingly pro-life constituency just in time for the upcoming 2020 elections.
Texas' record of defunding Planned Parenthood provides a clue to the ramifications of McMaster's current order.
In January of 2013, Texas' conservative-dominated legislature tried a similar method, cutting off Planned Parenthood from receiving state funding. Within the next 18 months, areas with a Planned Parenthood facility experienced a 22.9 percent drop in injectable contraceptive use and, more alarmingly, a 1.9 percent increase in childbirth covered by Medicare. In other words, when Planned Parenthood was denied state funding, it could be proportionally tied to a pregnancy increase.
But that didn't stop Michigan from trying the same maneuver. Last month, the Republican-dominated House and Senate voted to approve a new budget of $56.8 million that would cut all funding to Planned Parenthood. A spokesperson for the organization explained, "The new language would have made it impossible for us to provide Title X services in any county where there was another non-abortion provider."
Apparently, Michigan Governor Rick Snyder realized that denying the organization any money may not even be legal. A Title X law already dictates that available funding must be given to healthcare providers that do not perform abortions first. Only afterwards can Planned Parenthood receive the 40 percent of its money that comes from Medicaid.
In the end, the budget signed by Snyder did not include the cut to Planned Parenthood, even though it is likely he would have signed off on the new provision if he could have. He found the law to be unconstitutional, saying: "We did a legal review of that, and it's not enforceable, because it is trying to change another statute that pre-exists."
Following Trump's announcement last week of Brett Kavanaugh, former staff secretary for George W. Bush, as his Supreme Court pick to replace Justice Anthony Kennedy, all eyes have turned to the fate of abortion in America, particularly a possible overturning of Roe v. Wade. Both Trump and  Kavanaugh's positions on the issue still remain relatively unclear.
The most telling clue regarding Kavanaugh's true abortion stance could be his ruling on Garza v. Hargan, a case in which the ACLU took the Trump administration to court on their prevention of a 17-year-old immigrant from leaving her shelter to obtain an abortion. When the court ruled in favor of the immigrant, Kavanaugh wrote a harsh dissent, stating: "The Government has permissible interests in favoring fetal life, protecting the best interests of the minor, and not facilitating abortion, so long as the Government does not impose an undue burden on the abortion decision."
In an interview with Fox News' Maria Bartiromo, Trump said "… Roe v. Wade is probably the one that people are talking about in terms of having an effect, but we'll see what happens. But it could very well end up with states at some point."
Considering that local attacks on Planned Parenthood like McMaster's are already common, the status of Roe v. Wade is of only relative importance. Even if the fears of pro-choicers become reality and abortion is left up to the individual states, how much difference would it really make?
Pro-life legislators have already imposed other under-the-radar methods of taking aim at abortion providers. In January, a bill penned by none other than South Carolina Sen. Lindsey Graham (and supported by Trump) that would ban abortion after 20 weeks failed to pass the Senate. While many breathed a sigh of relief following the bill's defeat, 21 states, mostly in the South, already have passed different forms of the 20-week ban. The number 20 is predicated on an oft-cited pro-life talking point that after that period of time, a fetus is capable of feeling pain.
It is undeniable that Roe v. Wade's potential overturning would deal a swift blow to abortion clinics around the nation. While abortion services in deeply blue states like California and New York would remain the same, the decision would almost immediately obliterate abortion throughout the South, making the process far more taxing for lower income women from those states who would be forced to travel long distances to seek out a clinic.
Already, seven states—Kentucky, West Virginia, Missouri, Wyoming, North and South Dakota, and Mississippi—have only one abortion provider. For those in rural areas, travelling to the single abortion clinic in the state is already inconvenient and expensive.
Roe v. Wade is among the most influential SCOTUS decisions over the last 50 years, so its overturning would be no small matter. But that said, the media focus on abortion has been skewed nationally, when in reality, the greater effect on women around the country is caused by local abortion politics and state legislatures. State restrictions on abortion are every bit as influential, if not more so, than Brett Kavanaugh's speculated opinions on Roe v. Wade.